"The Pixel 4 price reportedly will start at CAD 1,049.95 (about Rs 56,000), whereas the Pixel 4 XL prices are tipped to begin at CAD1,199.95 (roughly Rs 64,000)"
The Google Pixel 4 launch is only about a week away, and by now, we have seen an exhaustive amount of leaks regarding the devices already. While we already have a reasonable idea of what to expect from Google's latest flagship smartphones, a new report by Evan Blass of @EvLeaks fame has gone further ahead and tipped the possible prices of the upcoming Pixel phones. According to reports based on Blass' tweet, the Google Pixel 4 and Pixel 4 XL are said to be offered only in 64GB and 128GB storage variants. The Pixel 4 price for the 64GB variant is tipped to cost CAD 1,049.95 (~Rs 56,000), while the 128GB variant is tipped at CAD 1,199.95 (~Rs 64,000).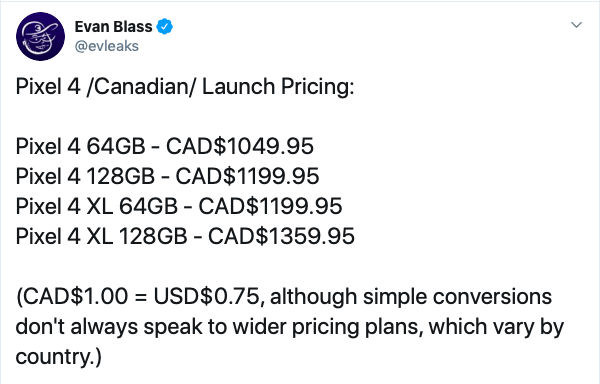 For the Pixel 4 XL, prices are said to begin at CAD 1,199.95 (~Rs 64,000) for the 64GB variant, while the 128GB variant is said to cost CAD 1,359.95 (~Rs 72,400). While the tipped prices are not exorbitant when taking into account how much flagship phones cost nowadays, it seems a bit unusual for Google to still offer only two, relatively limited storage variants of its Pixel phones.
Prime rivals of the Google Pixel lineup all offer significantly higher native storage — the new iPhone 11 lineup can be availed with up to 512GB of storage, while Samsung offers its Galaxy S10/Note 10 devices with up to 1TB native storage. It remains to be seen if this becomes a notable point once the Pixel phones go up on sale, since 64GB of native storage is nowadays often seen as the bare minimum required, given the exhaustive usage of apps.
Pixel 4, Pixel 4 XL specifications
To recall, the Google Pixel 4 and Pixel 4 XL are slated to be powered by the Qualcomm Snapdragon 855 Plus processor, accompanied by Neural Core for advanced AI and ML tasks, and 6GB of RAM to facilitate all of it. While the Pixel 4 is said to feature a 5.7-inch display, the Pixel 4 XL may come with a 6.3-inch one. Both the displays are expected to come with 90Hz refresh rates, and Ambient EQ for automatic brightness and colour tone optimisations.
To the rear, both the devices are slated to feature dual-camera units, with 12-megapixel primary and 16-megapixel telephoto units. The Pixel 4 may feature a 2,800mAh battery, while its larger brethren is tipped to come with a 3,700mAh battery. Google is also expected to introduce ancillary features such as Motion Sense, although the latter is not expected to be present in the Indian units of the phones.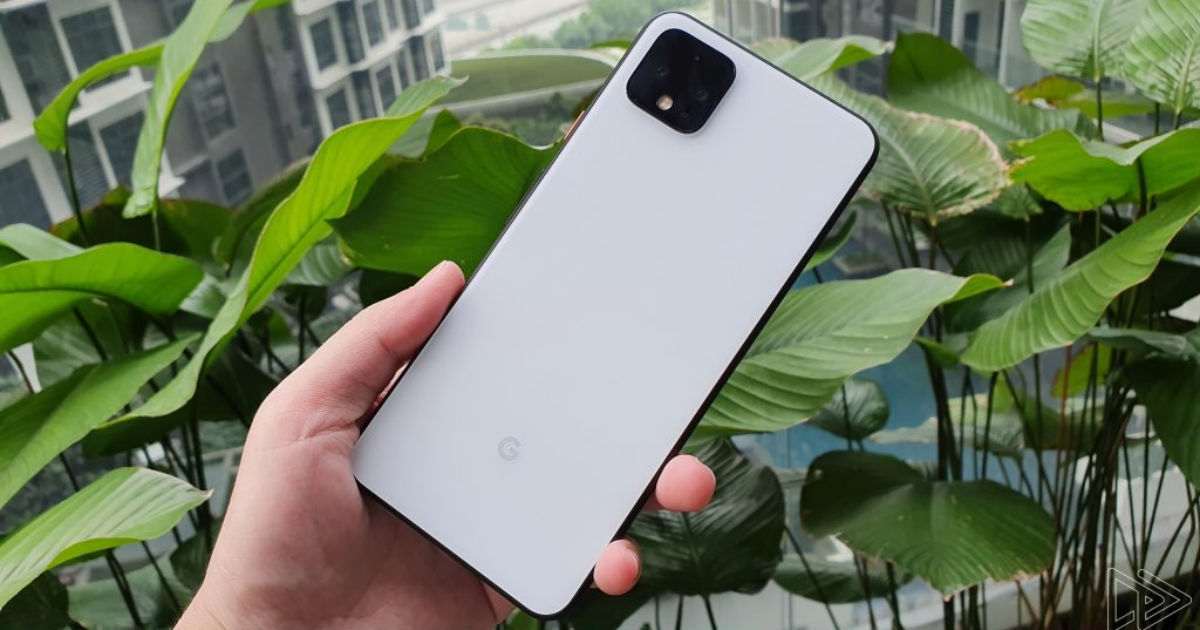 The Google Pixel 4 and Pixel 4 XL is expected to be unveiled at an event in New York City, USA on October 15th, alongside other new hardware from Google's arsenal. The new devices will be a part of Google's entire smart home ecosystem, with the phones being the flagbearer of what Google wants its hardware and software efforts to amalgamate into.