"The Pixel 4a is expected to be the affordable offering of the flagship Google Pixel 4 series"
Google Pixel 4a may debut alongside the flagship Pixel 4 series smartphones next month. The reference to the Pixel 4a has allegedly been spotted on an unreleased "dogfood" version of the Google Camera app. 9to5Google did some digging within the app and found as many as two references of the device codenamed as "needlefish." It was listed alongside the "coral" and "flame" codenames that are believed to be the upcoming Pixel 4 and Pixel 4 XL smartphones. The "needlefish" device, on the other hand, is speculated to be Pixel 4a.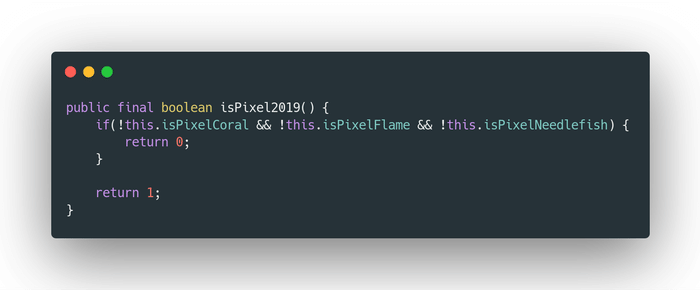 The snippet of the camera app (above) reveals three codenames under "isPixel2019" — Coral, Flame, and Needlefish. Hence, the rumours that the Pixel 4a could launch at Google's upcoming hardware event – allegedly scheduled for next month. These are mere speculations, but the codenames have been floating around for months. Back in April, two "fishy" codenames, "Coral" and "Needlefish", surfaced comment from a developer that listed many devices from both Google and other companies. It was later discovered within the Google App that "Coral" and "Flame" would be the codenames for the mountain view company's upcoming flagships.
It would be surprising to see Google refreshing its mid-range Pixel 3a series, which was introduced back in May, so soon. The series had two smartphones, namely Pixel 3a and Pixel 3a XL, both bringing the Google's camera goodness on flagships Pixel 3 series to Rs 30,000-40,000 price segment. While the Pixel 3a price in India starts at Rs 39,999, the Pixel 3a XL will set you back to Rs 44,999.