"The December update for the Pixel 4 and 4 XL will improve Face Unlock and fixes several bugs"
Google has released the latest Android security patch update for all compatible Pixel phones. The Pixel 3a and 3a XL, Pixel 3 and 3 XL, Pixel 2 and 2 XL, Pixel, and Pixel XL have received the update. Unfortunately, the original Pixel and Pixel XL phones will not be receiving this update. Meanwhile, the Pixel 4 and Pixel 4 XL have also started receiving the update this week. The official change-log for the update shows that the company has fixed several bugs on all devices. Apart from these fixes, the update also brings several new features and improvements to the Pixel smartphones.
According to users who installed the December security update on the Pixel 3a and older devices, there are several new features that haven't been mentioned in the change-log. For example, Pixel Themes is now live on all supported Pixel smartphones. This feature allows users to change font, icon shape, and other features from a single page. Users can also create custom themes using this features. The update also brings gesture navigation support to third-party launchers on older phones.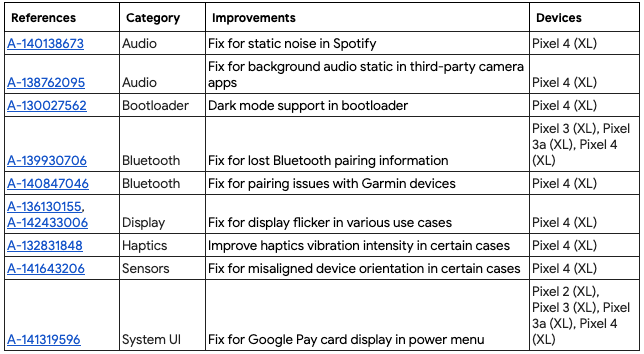 Live Captions is now fully functioning with the latest update, and the swipe-down gesture is also available in the Pixel launcher. Most of these features were exclusive to the Pixel 4, but have now been brought to the older devices. The official change-log reveals that Google has fixed several issues on the Pixel 4 and 4 XL. For example, the static noise issue in Spotify, background audio static in third-party camera apps, pairing issue with Garmin products, lost Bluetooth pairing information issue, misaligned device orientation bug, display flicker issue, have all been fixed in the latest December update.
Google also notes that apart from these bug fixes, the update includes other improvements in terms of performance, stability, camera, display, and Face unlock. However, the update for the Pixel 4 and 4 XL will only start arriving next week. This update should fix the Face Unlock issue and improve its security. For now, users with other supported Pixel phones can download the update and enjoy all the new features and bug fixes.