"The new Google Shopping feature will list products and their prices across various online retailers, and has been integrated into Google Search."
Google India has launched a new feature for shopping in Search, aptly named Google Shopping. The service works as an indexing page for products of wide varieties and available across a wide range of online marketplaces such as Flipkart, Amazon, Ethos, CaratLane, and more. Google Shopping is now available as a dedicated, made to browser page of its own, as well as in the integrated form with Google Search and Style Search with Google Lens, as a more advanced form of shopping for specific fashions and looks.
Surojit Chatterjee, vice president of product management at Google India, said in a press statement, "More than 40 million Indians are coming online every year, and search is an integral part of their online journey. From seasoned desktop shoppers to first-time users with entry-level smartphones, we hope this new shopping experience will make finding what people are looking for just a little bit easier."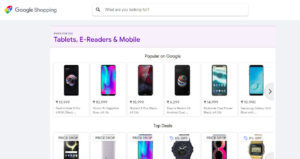 The Google Shopping page will make it easier for individuals to search across multiple online marketplaces in a sweep. To make searches easier, the Shopping page further includes adaptive filters that change depending on the product(s) that you search for. Google India has also stated that to keep up with the usual online shopping experience, the Shopping page will factor in elements like recent price drops and most popular products at the top of the Shopping search results, in line with what most online retailers already do.
The Shopping tab on Search, meanwhile, is available in both Hindi and English, thereby providing the offer to a wider range of users. Google's Style Search in Google Lens is a take on the visual search features of Google, facilitating a basic implementation of augmented reality through the Google Lens app. This is more or less in accordance with third party fashion search features that some developers have tried to implement already.
Google Shopping is live already, and can be accessed from the Shopping homepage, or by clicking on the 'More' tab in Search.