There's no denying the fact that India is one of the biggest smartphone markets in the world. As per IDC, the country's smartphone segment saw a 9.9 percent jump year-on-year, and a 14.8 percent quarter-on-quarter growth in Q2 of this year. A total of 69.3 million mobile phones were shipped, and as usual, team 91mobiles has been hard at work monitoring and tracking not just the brands and the devices, but also key trends.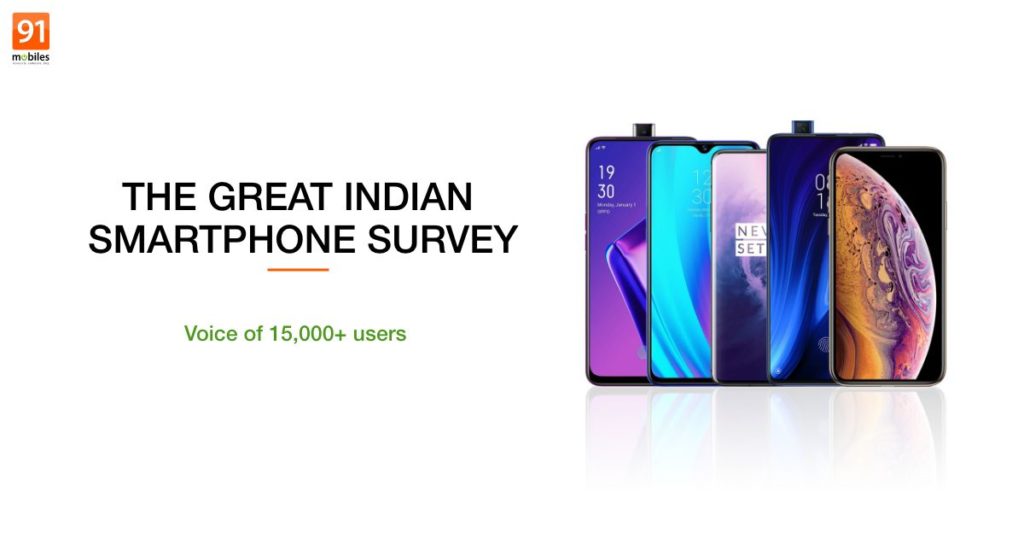 The Great Indian Smartphone Survey 2019 is a follow-up to the Consumer Insights Study we did last year, and attempts to understand how satisfied consumers are with their current smartphone, the issues they face, the features they want, and the brands they want to migrate to next. We have tons of insights to offer, based on our recently-concluded survey that saw over 15,000 smartphone users participate and respond to our questions. We also came up with quite a few interesting data points when we compared results from the data we collected now to user responses we received last year.
Here are a few highlights:
Smartphone brands that improved in popularity in 2019 as compared to last year
Realme's growth in the subcontinent has been nothing short of amazing. The brand launched one loaded smartphone after another, was quick to embrace new trends like triple/quad cameras etc, and chose a very aggressive pricing strategy. In fact, Realme is the first brand to launch a smartphone with a 64MP primary camera, and recently, has also ventured into mobile accessories. While the 64MP camera smartphone (Realme XT) and the accessories are recent developments, the brand's efforts have clearly paid off, increasing its share from a measly 0.3 percent in 2018 to a very enviable 10 percent this year, as shown by the survey data.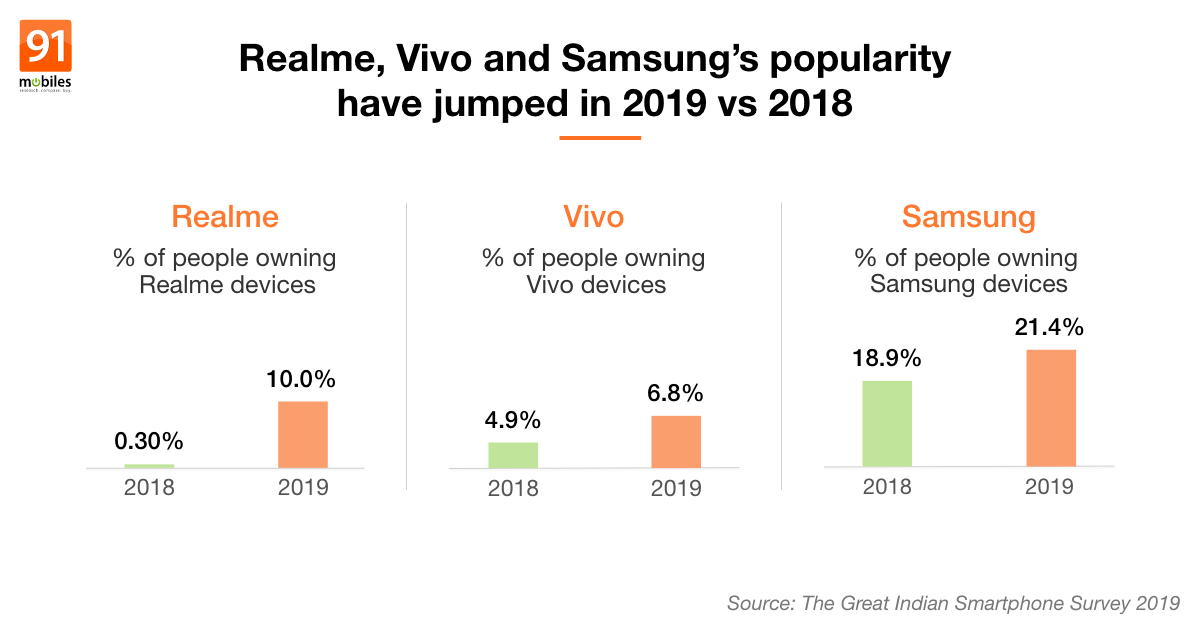 Then there's Vivo, which has also gained more popularity as compared to last year. Riding on the popularity of attractive, feature-laden smartphones, the brand has definitely upped the ante this year. It has churned out one compelling phone after another, playing not only on design, but specs and camera capabilities too. Vivo's jump may not look too significant, especially as compared to Realme's, but we're quite sure that this is another brand worth keeping a close watch on in the time to come.

The other brand that has shown increase in popularity is Samsung, which has taken its share from 18.9 percent in 2018 to 21.4 percent this year. This is a marginal bump, sure, but is still significant given how many other existing brands have fared. Samsung's growth can be attributed to the aggressive strategy it has employed this year. The Korean brand focussed on the online retail segment with its new M series, which includes devices that come across as solid value for money, and can hold their own against the onslaught of compelling smartphones from rivals. Samsung also launched a slew of capable models in its A series, and chose to go aggressive with pricing of its flagship S series and Note range as well.
How market share will change in the future
Based on responses on the brands users want to migrate to next, we were able to draw up insights on future ownership trends. The data shows how the share of smartphone brands will change in the time to come, as and when users let go of their current smartphones and buy new ones. With a projected growth of 12.6 percent when the current ownership patterns are compared to projected future ownership, OnePlus shows the highest bump. The brand's loyal user base, combined with offerings such as the OnePlus 7 that score high on value and offer flagship specs, and continued focus on the user experience has definitely paid off.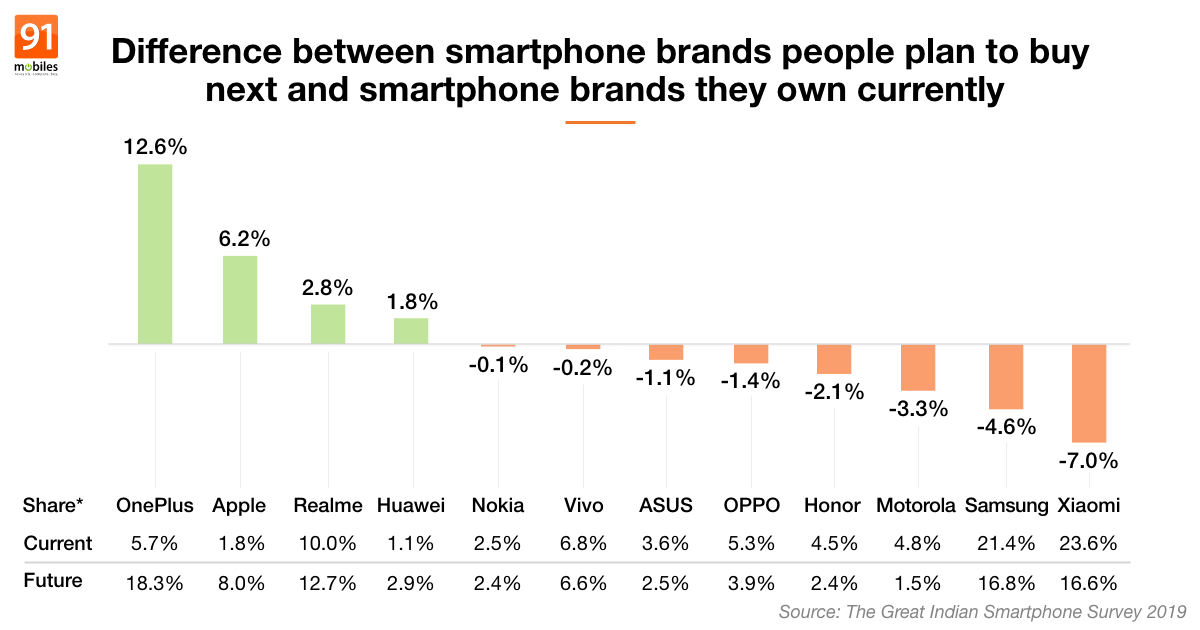 OnePlus is followed by Apple, which the survey data indicating a growth of 6.2 percent. Apple has always been an aspirational brand for many, but a large chunk of the growth for the brand has come from its more affordable devices such as the iPhone XR. Going forward, the reduced pricing of the existing models, plus interest in the new iPhone 11 lineup, is promising to yield results for the American major. And with 2.8 percent respondents saying they might buy a Realme-branded phone next, Realme's prospects also look bright.
On the flip side, both Samsung and Xiaomi's shares might fall in the future. In the case of Samsung, it might see a drop of 4.6 percent, and Xiaomi 7 percent, going by the survey responses on the smartphone brands users want to buy whenever they upgrade their devices next.
Xiaomi likely to lose potential market share without POCO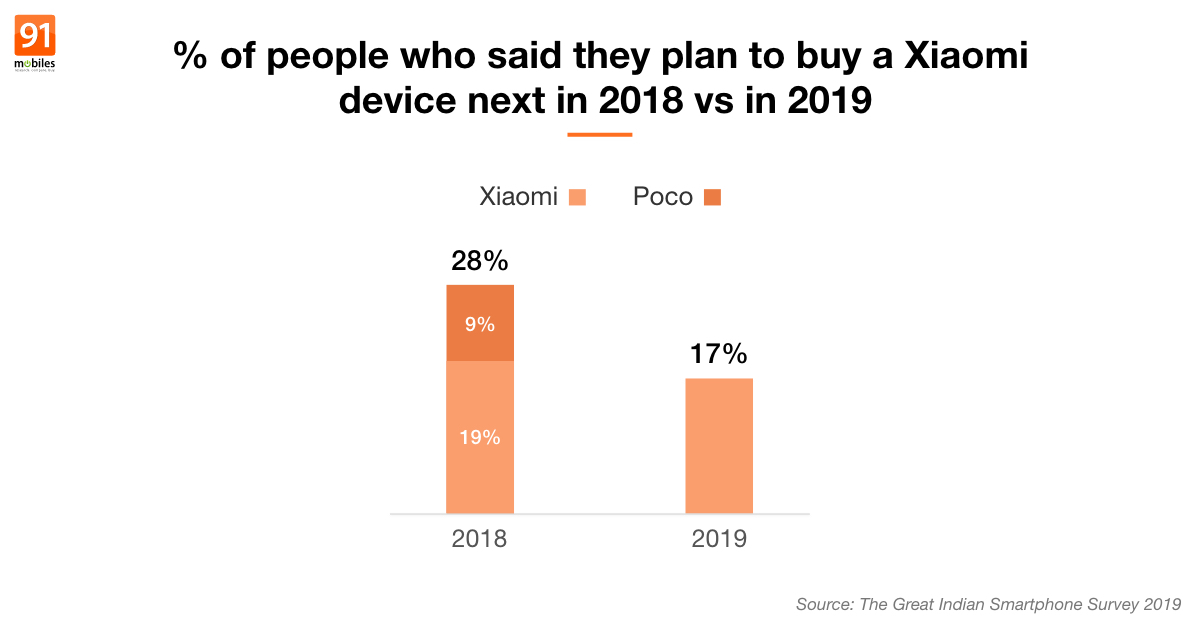 In the survey we conducted last year, about 28 percent respondents had said they'd want to move to a Xiaomi device, whereas this year, just about 17 percent respondents replied in favour of Xiaomi. However, the point here to note is that last year's numbers included POCO, whereas this year, that sub-brand is nowhere in the picture. While Xiaomi is trying a similar route with its Redmi K20 series this year (specifically the Redmi K20 Pro), it seems that the strategy with POCO was a better one in terms of attracting more users towards the company's smartphones.
Smartphone features that users want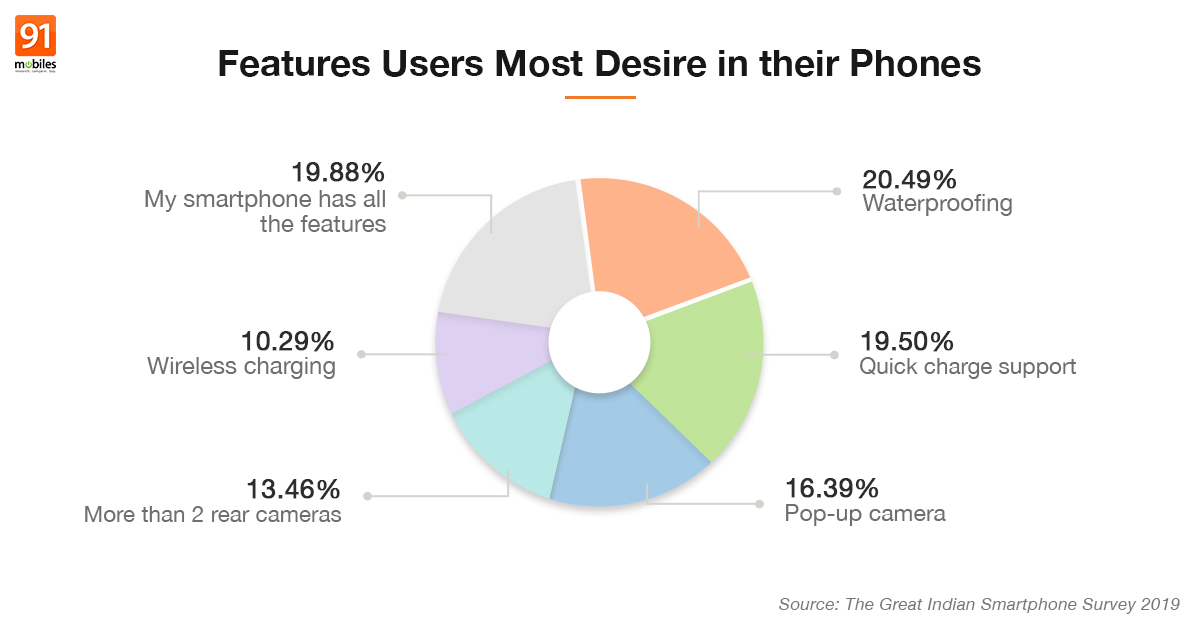 This really doesn't come as a big surprise, but features like waterproofing and quick charge support have again topped the list of highly coveted smartphone features. Given that the latter has now started appearing in mid-range and affordable phones too, hopefully it will cease to be a bone of contention soon. That still leaves waterproofing, and with over 20 percent respondents voting in favour, seems to be much in demand. Pop-up cameras are quite in demand too, with over 16 percent respondents voting in favour.
Smartphone brands that are more popular among younger users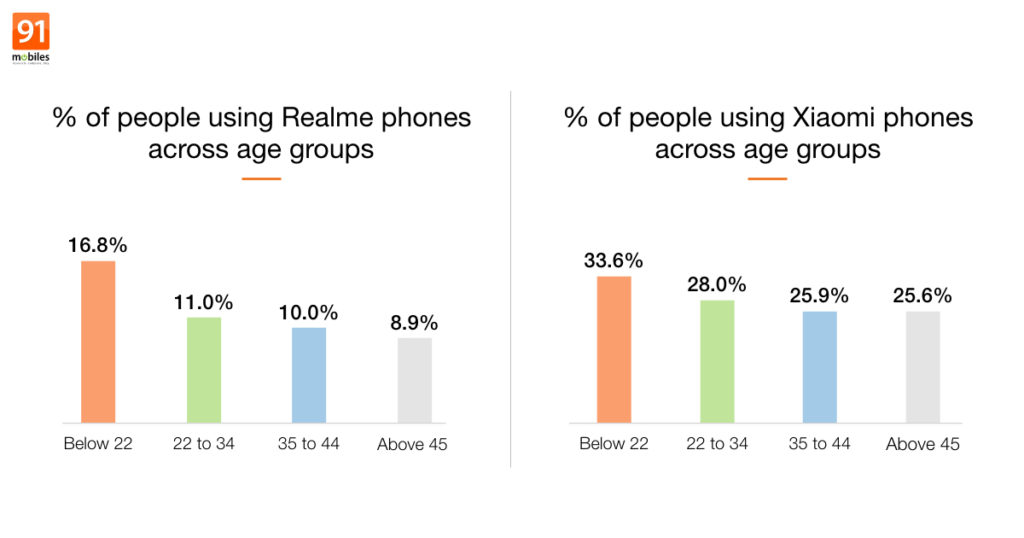 With aspects like photography and mobile gaming rising in popularity, it's important for brands to make sure that their offerings appeal to younger audiences. Our survey data indicates that Xiaomi and Realme are the brands most popular with users aged below 22. In fact, almost 34 percent of users below this age use Xiaomi, where the same figure for Realme stands at 17 percent.
How smartphone brands rank on user satisfaction based on performance
One of the key aspects we're trying to understand with our survey is how satisfied users are with their current smartphone. As part of that effort, we also asked respondents to rate their experience based on specific aspects, like camera, battery, performance, and so on. Talking about performance, OnePlus turned up at the top of the list, with over 88 percent of its users saying they are satisfied with their phone. Apple follows with almost 80 percent users saying they're satisfied with the way their iPhone performs.
Service centre visits and experience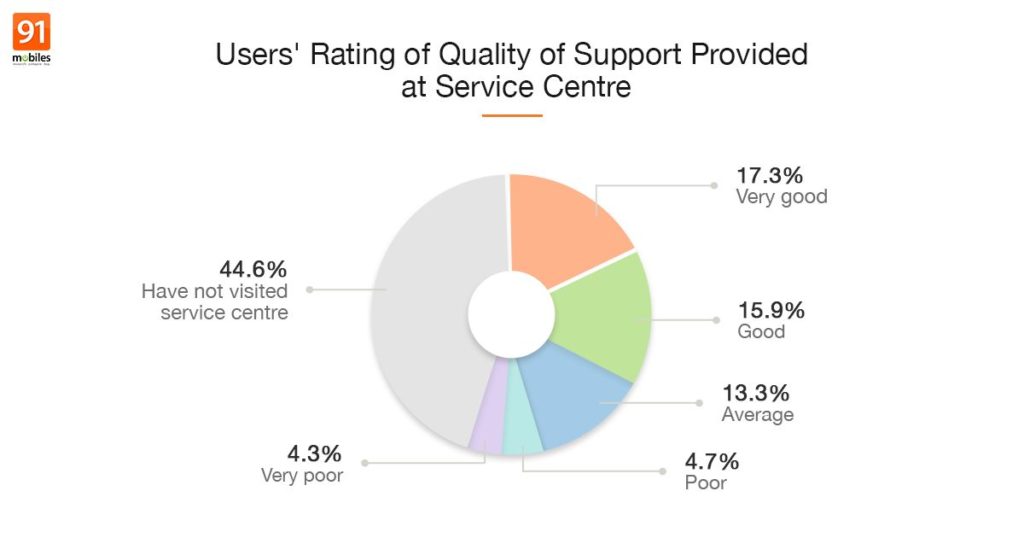 Service and support is a crucial factor for user satisfaction, and while companies want to make sure their users do not need to visit a service centre at all, they also want to ensure the experience is a good one in case they do. Our survey data says that over half (55 percent to be precise) of all respondents had to visit a service centre to get issues with their smartphone fixed. While this is certainly a high percentage, one can possible take solace in the fact that most of the respondents who did end up going to a service centre reported their experience as "good" or "very good".
The above are just some of the insights from the Great Indian Smartphone Survey 2019. Watch out for more details and insights, coming your way very soon. For a copy of the full report, please write to us at survey@91mobiles.com.