Windows 8.1 is an updated version of Windows 8 and features several intuitive enhancements which we've covered in our Hands-on with Windows 8.1. One of the biggest changes in the OS was ability to customize Start Screen. Today we bring to you tips and tricks which will help you to make the most of the new Start Screen-
Changing Background
While Windows 8's start screen looked totally stagnant as there was only one background, Windows 8.1 allows it to liven up a bit by offering dynamic background- which either animates or moves when user scrolls the tile giving a nice effect. To change the background, follow these steps- 1) In the Start Screen, open Charms Bar by going to right hand side of the screen and go or pressing
Windows+C.
2) Select
Settings
option. To go directly to Settings from Start Screen, you can use the keyboard shortcut
Windows+I.
3) Open
Personalize
Option. 4) Here you can see numerous backgrounds and clicking on them will immediately change the background of the Start Screen. 5) Not only the Background, you also have the flexibility to change the Background Colour and Accent Colour.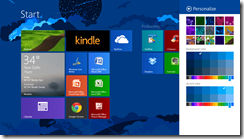 As mentioned in our review, if you don't want such abstract backgrounds, then Windows 8.1 also offers you the option to use the Desktop wallpaper as background. To activate this option, at Step 4, simply select the last image which would be your desktop wallpaper. Another method of activating this option is-
Going to Properties Menu after right clicking on the taskbar.
Click on Navigation option.
Check the box against the option 'Show my desktop background on Start'.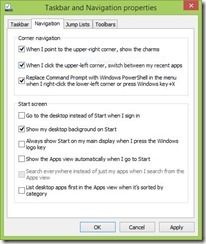 Personalizing Tiles
The Tiles in the Start Screen can be totally personalized by their size and arrangement in a group. To resize a tile, right click on it and select
Resize
option. Depending upon the tile, its functionality and whether its live or not, you can resize them in following sizes-

Apart from resizing, right clicking a Tile also gives you option to Unpin Tile from Start Screen (You will still be able to access them through All Apps Menu), Uninstall it, is its live tile then you can turn it off as it will constantly hog your internet connection, for programs you get more options such as Running them as administrator, opening their location, etc.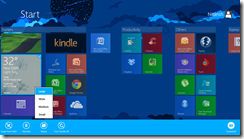 The tiles can be put in a group so that it's easier and quick to click a program when you know in which group it would be. To regroup the tiles, Right Click in the free space in the Start Screen and select
Customize
.
You can also right click multiple tiles to select and then drag and drop them together to a new group. You also get the option to name the group.
Accessing Apps View Directly
While all the above-stated changes to Start Screen is refreshingly good, they can't make up for the Start Button functionality of Windows 7 and previous versions allowing users one-click access to any of the apps installed. While the same can't be replicated in Windows 8.1, it does gives you an alternative to open All Apps Menu whenever one clicks Start Button (Don't worry, if one in a while you wish to see Start Screen, you can do so by clicking upward arrow from All Apps Menu). To activate this option, you've to open the
Taskbar and Navigation properties
, which we accessed in Changing Background option as well. Here, simply check the option which says
'Show the Apps view automatically when I go to Start'.
Also uncheck the option beneath this option
'Search everywhere instead of just my apps when I search from the Apps view'
to make sure that searching in the Apps view will show you related apps only and nothing else.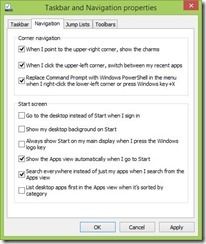 Another tip is to view the apps by category to make it easier to find the app(s) you're looking for speedily and also enable the option in Taskbar and Navigation properties to
'List desktop apps first in the Apps view when it's sorted by category'
.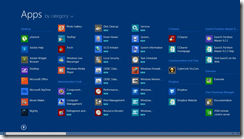 Boot to Desktop mode
When all the above niceties about Start Screen, Tiles and Apps view in Windows 8.1 fail to tempt you, then you even get the option to not accessing them at all. Windows 8.1 provides an option to directly open the desktop (similar to previous Windows) when the computer starts. This option can be enabled by going to
Taskbar and Navigation Properties
and checking the option
'Go to Desktop instead of Start when I sign in'.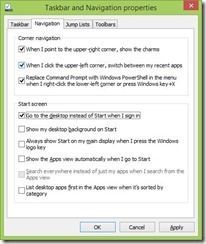 That's it for today's Tips and Tricks about Windows 8.1. Be sure to check again as we'll bring more such tips. Let us know in the comments below if you're looking for something specific in Windows 8.1