"The Harman Kardon Citation series speakers feature Chromecast and Google Assistant built-in, and can be configured in home theatre setups."
Harman Kardon has launched its latest lineup of Citation series home speakers, with smart connectivity powered by the Google Assistant. The flagship lineup of home speakers includes four wireless speakers, a wireless soundbar, a sub-woofer, wireless tower speakers and wireless surround speakers, all of which are available in brushed aluminium and black finishes. Except for the sub-woofer, all the products in the Harman Kardon Citation lineup include support for the Google Assistant, feature Chromecast Audio built-in, come with Bluetooth connectivity and have high definition colour LCD displays on top for relaying information on connectivity, charge status and more. The range is priced across a wide range, from Rs 22,999 and Rs 1,50,000.
The range of Harman Kardon speakers introduced in India today include Citation One, Citation 100, Citation 300 and Citation 500 smart speakers that can also function as standalone, wireless smart home speakers — similar to the Bose SoundTouch lineup. The Harman Kardon Citation Bar can also be bought as a standalone product to be paired with TVs, and come with all the smart, wireless connectivity frills of the speakers. The pinnacle products of the smart speaker range include the Citation Tower pair and the Citation Surround pair, both of which can be configured in varying combinations for home theatre setups. The latter duo can also be used in combination with premium, third party receivers to further enhance the audio delivery and home theatre experience, and the presence of Google Assistant on the speakers further enhance the smart home experience.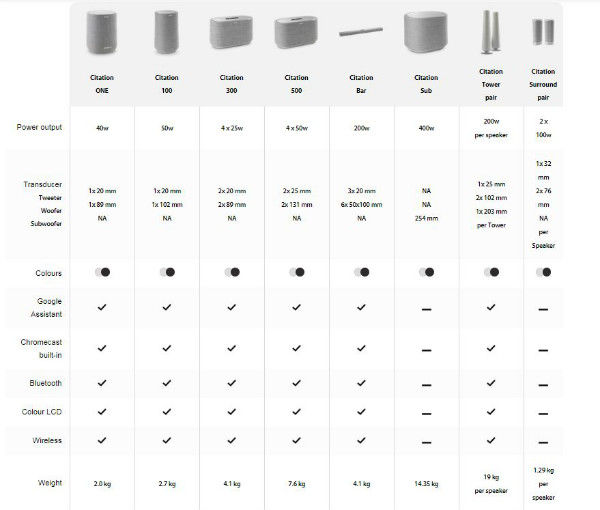 The Citation One and Citation 100 entry-level speakers feature single-speaker drivers, with audio output rated at 40W and 50W, respectively. The Citation 300 and Citation 500, meanwhile, feature four-driver configurations, with power outputs rated at 4x25W and 4x50W, respectively. The Citation Bar features 200W audio output, and its speaker configuration is as yet unspecified, although Harman Kardon claims 5.1 surround sound output from the soundbar on its official website. The Citation Sub comes with 400W power output for providing a backbone to the Citation home theatre configuration and is the only product that comes with wired configuration. The Citation Tower speakers feature 2x200W power output, while the Surround pair, that can work as effective, single-channel tweeters in home theatre configurations, feature 2x100W output.
Each of the speakers features Harman Kardon's industrial design language, with solid, brushed aluminium builds. Despite the wireless connectivity, the speakers do not really qualify as portable, since the smallest, Citation One speaker weighs 2kg as a result of its premium, durable build. All the products announced today work as multi-room speakers and can be configured via Wi-Fi into the smart home network. The added presence of Google Assistant further makes it configurable with Google Nest products, which adds to their smart home capabilities.
In terms of prices, while Harman Kardon India has not specified individual prices for all the products, the Citation One is priced at Rs 22,999, and Citation 100 is priced at Rs 28,299. The products have selective availability right now, and can only be seen in single-brand Harman retail outlets right now. Wider availability, including detailed pricing and online sale would presumably be made available soon, going forward.