The HONOR 9X has finally hit the Indian market as a very strong option for those looking for smartphones under Rs 15,000. The smartphone grabs your eye immediately with its full-screen fascia, devoid of any ugly notch. This handset is a great option for those looking for a smartphone with a fantastic triple camera setup, storage that never falls short, and a high-res 16MP pop-up selfie camera. Among the things that make the HONOR 9X such an attractive smartphone is the performance thanks to the Kirin 710F chipset. This Huawei-made SoC offers super-fast performance along with efficient battery consumption. If you're looking to buy the new HONOR 9X, this detailed overview of the Kirin 710F will definitely give you a good idea of what you'll be signing up for.
What's at the core?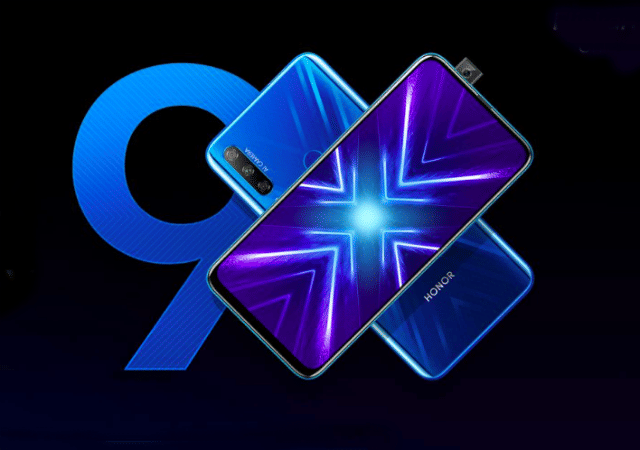 The Kirin 710F chipset used in HONOR 9X has been built on the 12nm process, which not only shrinks the size of the components but also improves performance and efficiency, compared to previous-gen processes. The CPU onboard this chipset comprises of four Cortex-A73 cores clocked at 2.2GHz each that are dedicated to strong performance. These help with heavy tasks like watching videos, playing games, editing photos and more. As for the four remaining Cortex-A53 cores running at 1.7GHz, they are meant for low-intensity tasks such as web browsing, handling your social game via Facebook, WhatsApp, Instagram, TikTok, etc. Compared to the last-gen Kirin 659, the Kirin 710F is able to offer a 75 percent performance improvement in single-core and a 68 percent improvement in multi-core benchmarks. This is great news for HONOR 9X users, who can expect strong and swift performance from the smartphone all the time, without any lag or jitters.
Graphics that never fall short
The Mali-G51 MP4 GPU has made its way onto the Kirin 710F chipset. You can expect excellent graphics performance from this GPU thanks to its four-cluster nature. Based on the Bifrost architecture, this unit supports all modern graphics APIs like OpenGL ES 3.2, Vulkan 1.0, OpenCL 2.0, and more. So whether its high resolution games, playing 4K videos, or editing videos, you can rest assured that the Kirin 710F SoC on HONOR 9X will never falter!

The Kirin 710F is also complemented by GPU Turbo 3.0 technology of HONOR 9X. Among other things, this technology uses the GPU sparingly, which results in a 10 percent reduction in power consumption. But that's not the only highlight of GPU Turbo 3.0. It also reduces lags in games, apart from delivering faster touch response. This technology even helps the phone identify intense scenarios and offer 4D vibration feedback, just like console game controllers. These factors make a huge difference during frantic gaming sessions.
Artificial Intelligence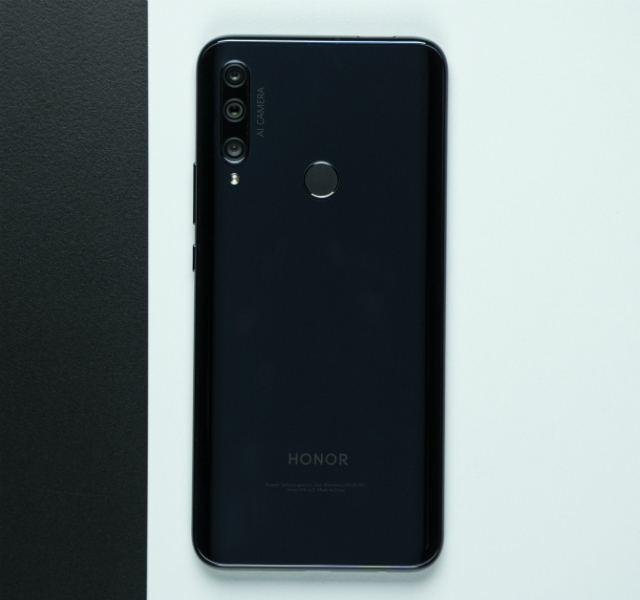 Like all modern SoCs, the Kirin 710F also embraces AI. The Image Signal Processor (ISP) of the chipset uses AI to render scene recognition features to identify the subjects of your photographs to alter the camera settings automatically and deliver the best possible shots. Thanks to this, the HONOR 9X can recognize 22 different categories in over 500 different scenarios. That's great news for those who don't like playing around with the camera settings much. They can just point their cameras and hit the shutter button, and AI will take care of the rest.
Artificial Intelligence also assists in night photography modes like the AIS Super Night Mode on the HONOR 9X. It works towards stabilizing the scenes to offer clear and detailed images even in low-light environments. AI features such as AI Handheld Detection, AI Light Detection, and AI Processing also make their way to the HONOR 9X, providing utmost clarity in photos and videos. And then there's AI Video Stabilization to empower you to shoot pro-grade videos on the go.
Connectivity that keeps you going
The dual VoLTE support onboard the Kirin 710F means that both the SIM slots of the phone can now occupy 4G SIM cards. This will definitely please those who use dual SIM cards and don't like the fact that the second slot is capped for only 3G connectivity. The Kirin 710F chipset is rated for LTE Cat.12/13 speeds, which means you can expect a maximum speed of 600Mbps on the downlink and 150Mbps on the uplink.
The Kirin 710F is really the heart and soul of the HONOR 9X smartphone. Thanks to the advanced nature of this chipset, the handset is able to offer an all-round excellent user experience to users. Backing it is up to 6GB of RAM, which means you will never run out of memory in any of your endeavours.
Price that doesn't burn a hole in your pocket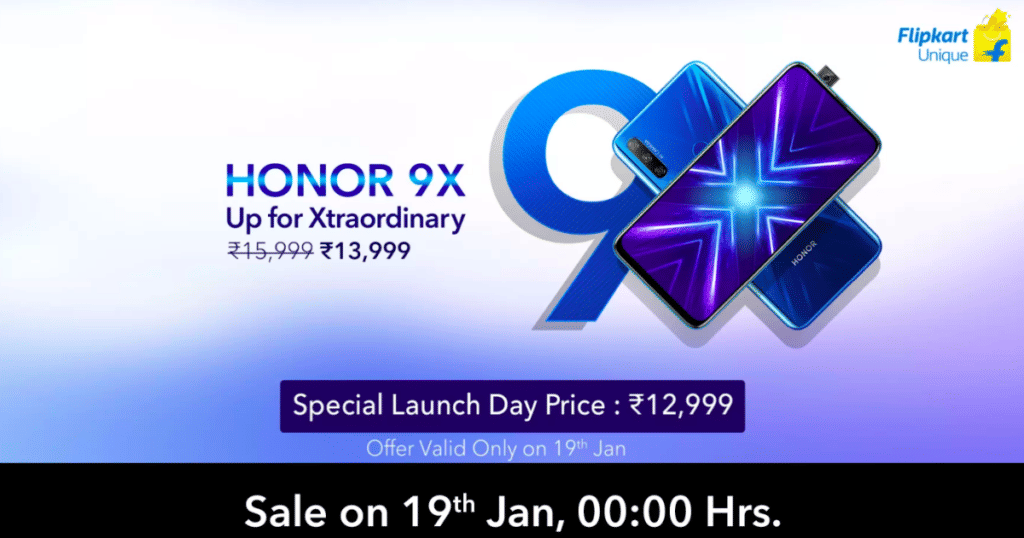 With 128GB storage you will get to choose the HONR 9X in 4GB and 6GB RAM options for a fantastic smartphone experience, priced at Rs 13,999 and Rs 16,999, respectively. With such amazing features, HONOR 9X will be on the top of your list of affordable smartphones to buy this season. The smartphone goes on sale at midnight on January 19th in Sapphire Blue and Midnight Black hues. The best part? No flash sales to struggle with!
But the deal gets sweeter — buyers will of the HONOR 9X 4GB variant will get Rs 1,000 off on the first day of the sale, i.e. January 19th. There will be an additional 10 percent discount on purchases made using ICICI Bank credit cards or Kotak Mahinda debit or credit cards from January 19th to 22nd. Moreover, Jio users who buy HONOR 9X in the next 3 months will get benefits worth Rs 2,200 on the Rs 249 and Rs 349 recharges. With the Jio benefits, buyers will get Rs 50 discount for the next 44 recharges. On top of that, they will get 125GB additional data, with 5GB complimentary data with the next 25 Jio recharge packs.
Buy from Honor 9X from Flipkart