The launch of HONOR 9X Pro in India has introduced the world's third-largest app marketplace – AppGallery – to the country. Within two years of its global launch, AppGallery has made its mark in over 170 countries with more than 400 million users getting to experience all the finest apps it has to offer. It has a network of over 1.3 million registered developers who are making sure that all the popular apps make their way to the AppGallery, providing them the best user experience. In fact, the AppGallery has achieved immense success already because it manages to aggregate popular global apps as well as various local apps in India, and the rest are being added at a great pace on a regular basis.
HONOR 9X Pro is one of the top models in the affordable smartphone segment when it comes to power and performance. It comes powered by the top-notch Kirin 810 chipset, which is fabricated using the latest 7nm process. With Mali-G52 GPU, 6GB RAM, Turbo 3.0 technology, and liquid cooling system on board, the smartphone easily and smoothly handles all your multitasking and graphics-heavy gaming needs. Coming to the apps part, you are sure to find a lot of them in the AppGallery itself, which are across various categories such as social media, games, music and video streaming, photography and photo/ video editing, payments, shopping, etc. If you are wondering how to download apps such as WhatsApp, Facebook, Instagram, Amazon Prime, PUBG, etc. and all the others that you can't live without, we are here to help.
To help you understand all the great ways to download apps on HONOR 9X Pro, we will start from the very beginning i.e. setting up your device and then detailing the seamless and smooth the process of transferring content from your old phone to your new handset. After that, you will go through all the great and simple ways to download and install your favourite apps HONOR 9X Pro.
Setting up HONOR 9X Pro and transferring apps using Phone Clone
The joy of unboxing your new HONOR 9X Pro can only be matched by the wonderful experience it offers once it is loaded with all your preferred apps and games. Once you take your new HONOR 9X Pro out of the box and have charged it fully, you just need to tap on the screen a few times, accept the user agreement, and also create a Huawei ID. That's it! The entire setup process is so easy and seamless that it can be completed in just these 3 steps. Now your smartphone is ready to receive all the apps, photos, and other data from your handset and give you the best user experience in the affordable segment.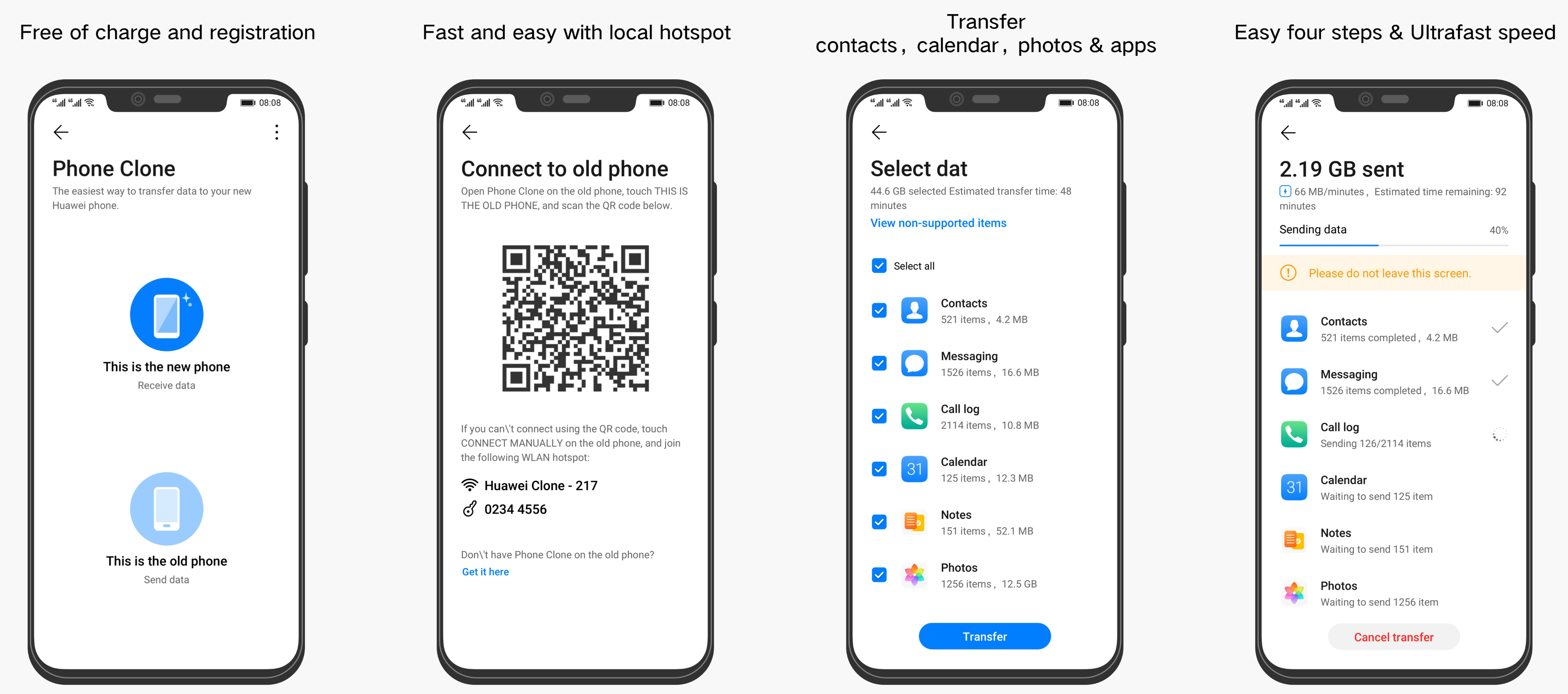 To transfer your apps, games, photos, videos, documents, and everything else from an old phone to the HONOR 9X Pro, the company offers the Phone Clone app. Before you start the process of copying your content and the favourite apps from your old smartphone, make sure to install Phone Clone and both the old and new phones. You can download Phone Clone from any available app store on your device. After that, just perform the following steps:
Click on the 'This is the new phone' option on HONOR 9X Pro
Click on 'This is old phone' option on the old phone
Select the content and apps that you want to copy from old to your HONOR 9X Pro
Hit the Transfer button
Wait for the transfer process to finish
Once the same is done, you'll find that all the content and apps you selected from the old phone have moved to your HONOR 9X Pro and this takes care of content and most of the apps. This means you can continue using Facebook, Amazon, MS Excel, etc. on your new smartphone without ever feeling a difference.
But what if the old smartphone is not an Android or HMS smartphone, in which case the apps may not be in .apk format and, hence, may not work? What if there were some apps that were not there on the old phone or by any chance not transferred? What if you are upgrading from a feature phone to a smartphone or the old phone is too old to support new apps that work on the latest smartphones? Do not worry at all. HONOR has all of you covered with its all-new and enhanced marketplace – the AppGallery.
AppGallery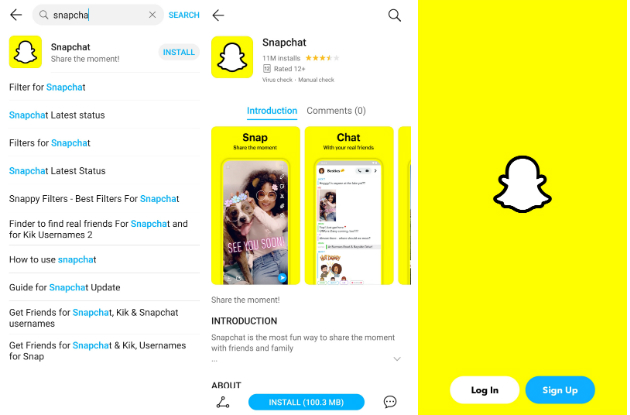 AppGallery is the official app distribution platform for the HONOR 9X Pro. The marketplace has been curated to contain apps across various categories such as entertainment, games, etc., and collections such as Local Recommendations, Editors' Choice, My Kids, and many more. Moreover, you can discover a host of new and popular apps on the platform thanks to the Curated Lists this app store maintains, making it easier for the user to search through a plethora of apps on the marketplace. Here's how you can download apps using AppGallery on the HONOR 9X Pro:
Open AppGallery on the HONOR 9X Pro
Search for the app by name using the search bar on the top
Once you find the app, click on the Install button
The app will now be downloaded on your HONOR 9X Pro and will be ready to use in a few short minutes. It's that simple! So, apps like Aarogya Setu, Snapchat, TikTok, Starmaker, Paytm, Phonepe, Flipkart, Myntra, Snapdeal, Ajio, Club Factory, UC Browser, Yatra, ShareIt, CamScanner, MX Player, Voot, Hungama Music, Gaana, JioSaavn, Jio Cinema, MapMyIndia, Unacademy, and many more of your favourite apps are already there. For the convenience of the users, AppGallery also has links to download and install WhatsApp, Facebook, and Instagram from their respective websites.
Now, what if some of your apps are still awaited on the AppGallery? You will immediately put it on the wishlist so that HONOR can work on it. The next step is to go check the Quick Apps.
Quick Apps
The Quick Apps feature has been developed to give users access to all the best features of popular apps without ever actually downloading them. The Quick Apps version of any app offers the same functionalities as the regular apps without eating into a lot of space on the phone, saving you storage space for other things like photos, videos, and more. There are two ways to download Quick Apps – downloading from AppGallery or downloading from Quick App Centre.
Downloading Quick Apps from AppGallery
Search for the app by name in App Gallery
If the Quick Apps version of the app is available, AppGallery will show it
Tap on the Open App button and the app's icon will appear on the homescreen
Downloading Quick Apps from Quick Apps Centre
If you have fallen in love with Quick Apps and want to explore more of them, then you should download the Quick App Centre from AppGallery. It is home to all the Quick Apps you can get for HONOR 9X Pro and lets you parse through the entire collection more easily.
Quick Apps will allow users to experience over 2,000 apps with just 1GB of space. Not only are they lightweight and convenient to use but Quick Apps will always make you feel like you are using the full version of the app! Moreover, they get updated with the latest features as soon as the apps' creators introduce something new.
If you still have some apps that you personally like but you are not able to find it so far, simply go for Xender or APKPure to transfer from other sources, download alternative apps, or use WAP shortcuts.
Xender AG Assistant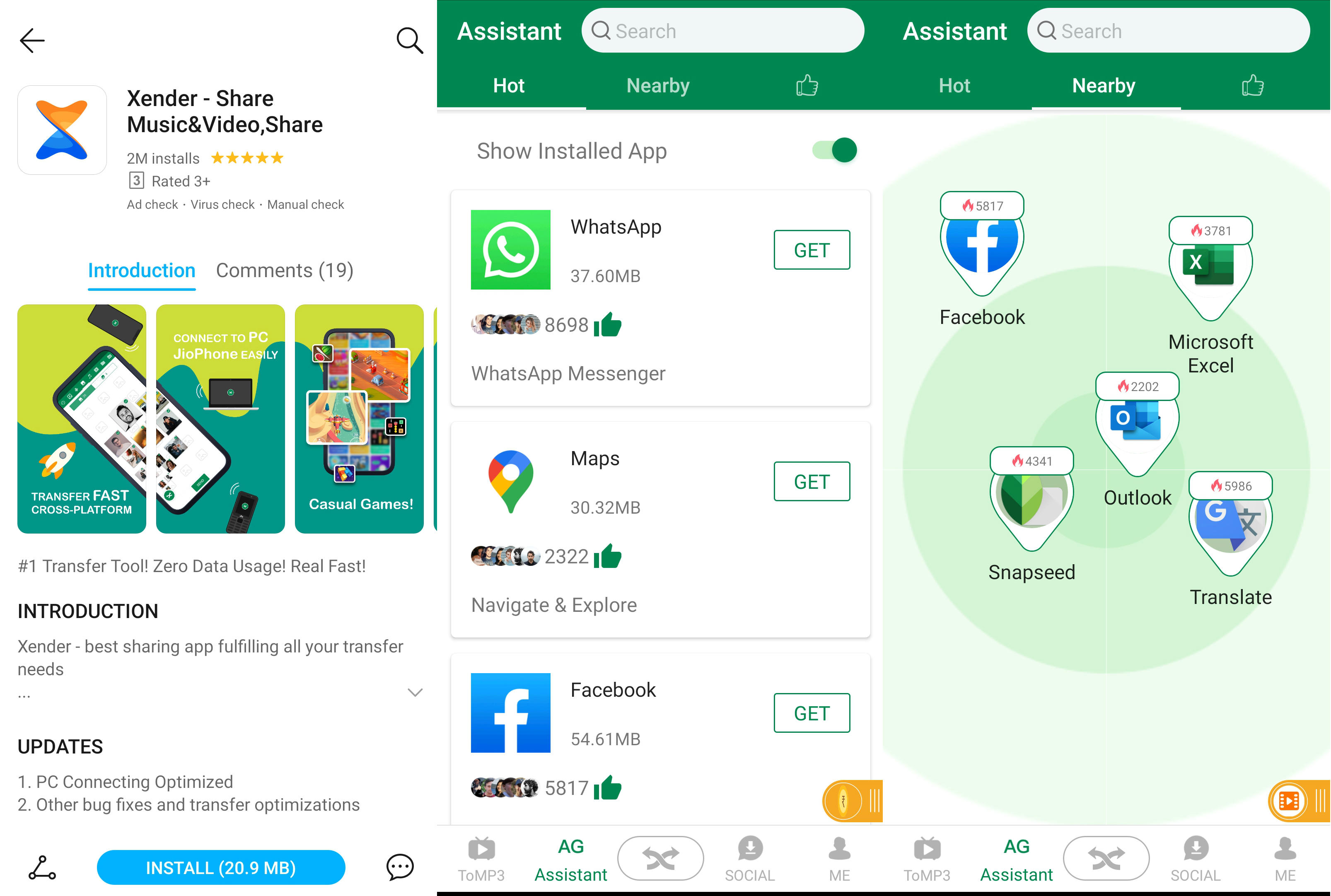 Another great way to download apps on HONOR 9X Pro is using the Xender AG Assistant, which is part of the Xender app on AppGallery. Xender AG Assistant lets you select which apps you want to move from nearby smartphones to your new handset over a secure Wi-Fi Direct link that's created using Bluetooth and Wi-Fi. This link is super-fast and lets you transfer files 50 times faster than on Bluetooth. Here's how getting apps using Xender AG Assistant works:
Download Xender app from AppGallery to the HONOR 9X Pro
You can choose the apps from two lists: Hot and Nearby
Tap on the Get button to download the selected apps on your phone
The apps will be download to the HONOR 9X Pro in no time
APKPure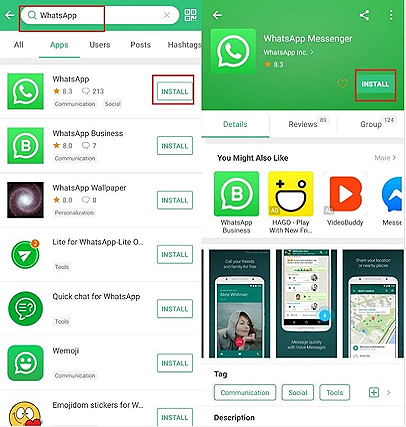 This popular third-party app store is another interesting option to download apps on the HONOR 9X Pro. You can download APKPure from the internet and give it one-time permission to install apps on the phone. And the best thing about APKPure is that it lets you not only download apps but also manage them and get the latest updates as well.
Search for APKPure on Google and install it
Look up your favourite apps on APKPure and tap the Install button
Now you will need to give the phone permission to download apps from APKPure. Don't worry, this is just a one-time thing and you won't ever have to do this step again
Start searching all your favourite apps on APKPure and download them on HONOR 9X Pro
Alternative apps
If, even after all this, you're still not able to find some apps to use on HONOR 9X Pro, you can use APKPure to download alternative apps that offer similar features and work as advertised. Here are some apps you should give a try:
Photos Tool: Download this app from APKPure on the HONOR 9X Pro to backup, manage, and share your photos and videos
File Commander: Easily access all the files stored on your HONOR 9X Pro, including those saved on the cloud or any network location. The intuitive interface of the app will make it easy for you to collate all your data! And on top of the convenience the app brings, it also offers you bonus 5GB free storage on MobiSystems Drive. Now that's a sweet deal!
Cloze: If you're looking to store and manage all your contacts on HONOR 9X Pro, then Cloze is your best choice. With this app, you can create a user profile that consists of email IDs, call history, text messages, and a lot more.
WAP shortcuts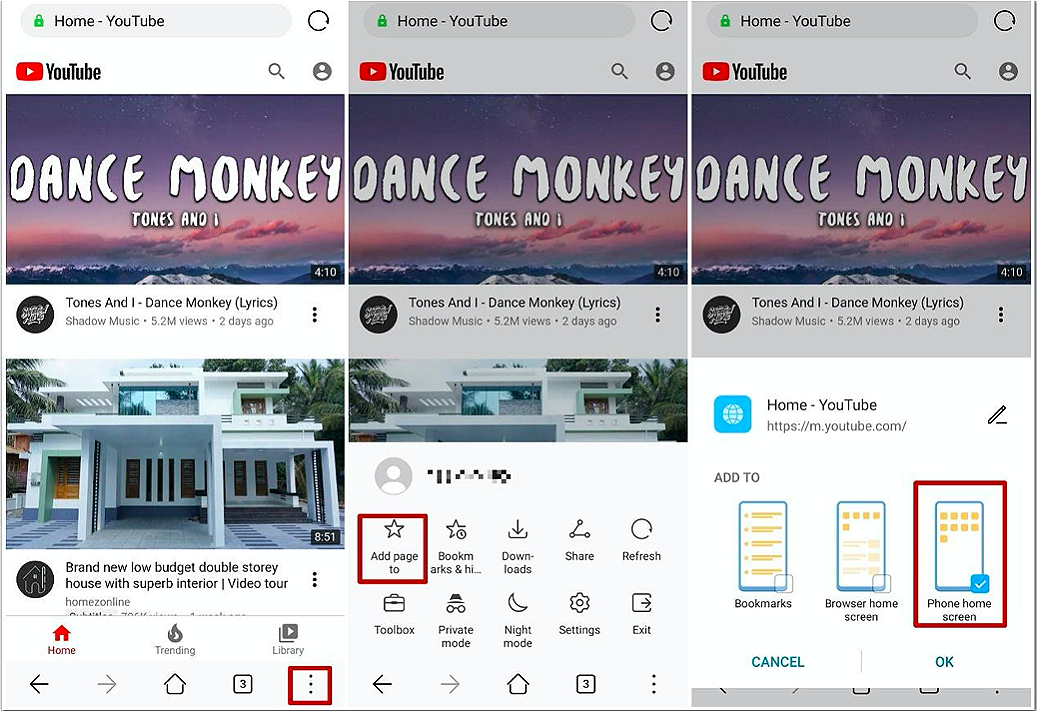 If you want to access services that work seamlessly on the web browser, such as YouTube, then you can create shortcuts for the app on the HONOR 9X Pro.
Go to the internet browser on the HONOR 9X Pro
Open YouTube and select 'Add page to' option
Add YouTube to 'Phone home screen' and tap the 'OK' button
You'll find the web shortcut for YouTube on the phone's main screen
More about the power-packed HONOR 9X Pro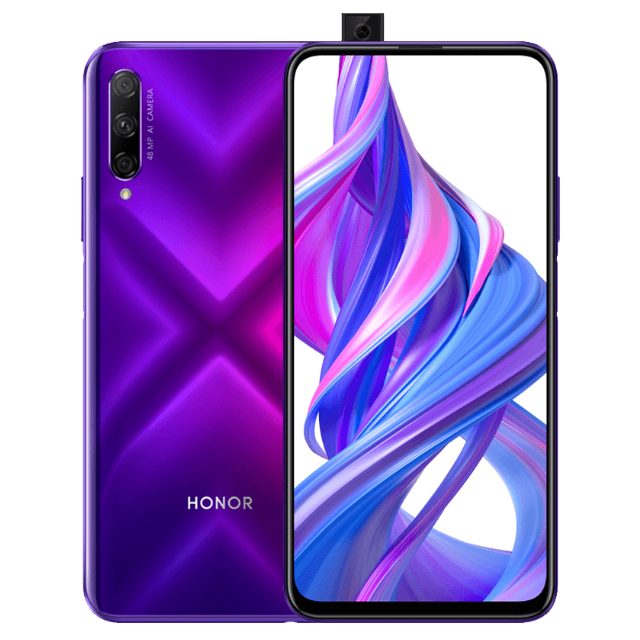 In addition to all your favourite apps, the HONOR 9X Pro also lets you experience other services like HUAWEI Browser, HUAWEI Cloud, HUAWEI Video, HUAWEI Music, HUAWEI Themes that come pre-installed on the phone. These will make your daily usage seamless and user-friendly. All these features make the AppGallery your gateway to exploring the majestic world of HONOR 9X Pro. Packing 6GB RAM and 256GB storage, HONOR 9X Pro is priced at Rs 17,999 (do look for any prevailing offers on Flipkart before buying) and offers incredible value for the features that are loaded on this powerful smartphone.
The HONOR 9X Pro features a 6.59-inch FullView display with full-HD+ resolution which offers vibrant colours and easy to read even under the sunlight. The smartphone is powered by the 2.27GHz Kirin 810 chipset and it has a liquid-cooling system to keep this powerful phone cool. The HONOR 9X Pro doesn't miss out on best-in-class photography features either. Sporting a flagship-level triple rear camera setup, headlined by the 48MP primary sensor, this smartphone lets you take the perfect photos and videos whether it's day or night. The HONOR 9X Pro is ably supported by the 4,000mAh battery that allows you to play games, watch movies, surf the web, and still be left with plenty in the tank.
The HONOR 9X Pro is a good blend of hardware and the app ecosystem offered by AppGallery. No wonder then that the smartphone comes across as a compelling option.