HONOR has seen immense success in the wearables category over the past few years. From SpO2, stress, and heart rate monitoring to sleep tracking to more than 95 fitness tracking capabilities, it has taken the wearable industry by storm. Recently HONOR launched two of its powerful smartwatches — the HONOR Watch ES and HONOR Watch GS Pro — in India. Both the smartphones look very appealing in its price segment and promises a lot of new advancements. HONOR Watch ES, which is designed for the go-getters, offers a large 4.16cm (1.64′-inch) AMOLED touch display, 12 animated courses, fast charging, 95 workout modes, and a lot of other features at the most affordable price in its segment. HONOR GS Pro is India's first Pro-grade smartwatch, is built for the urban explorer, and offers features such as a rugged design, up to 25 days of battery life, Bluetooth calling, GPS Route Back amongst other unique features, and undergoes 14 types of MIL-STD-810G tests to ensure durability.
Let us understand both the products in detail and find out whether the HONOR Watch ES is actual the most affordable smartphone in the price segment and if HONOR Watch GS Pro can actually be called as the 1st pro-grade smartwatch in India.
HONOR Watch ES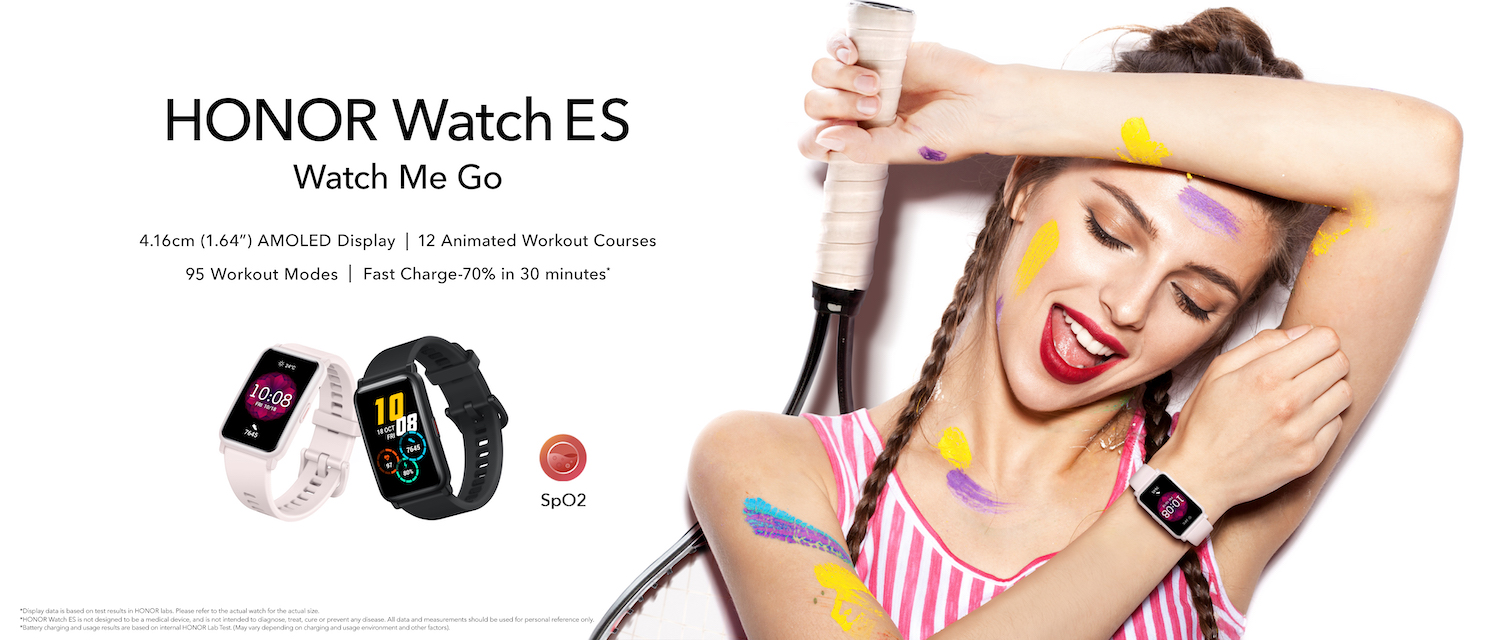 A large AMOLED display with vibrant colours
The HONOR Watch ES has been designed and built for those who prioritise fitness and want to achieve their health goals, yet maintain their style statement. The smartwatch sports a large and easy-to-read 2.5D AMOLED display measuring 1.64-inch. The watch's rectangular shape has been designed to be less intrusive but easily accessible, with colours that pop and deliver vivid visuals.
The smartwatch has a spectacular 70 percent screen-to-body ratio which offers all the relevant information at a single glance. With 456×280 pixels resolution and 326ppi pixel density, the smartwatch displays the sharpest images and clearest graphics on the large display. The HONOR Watch ES weighs just 34 grams, is merely 10.7mm thick, and has an ergonomic design, making it fit comfortably on the wrist for those long workouts.
With over 200 trendy and stylish watch faces and customisable and always-on display, the HONOR Watch ES will always complement your #OOTD now. HONOR has done a really good job putting a great display, design, and comfort into this smartwatch.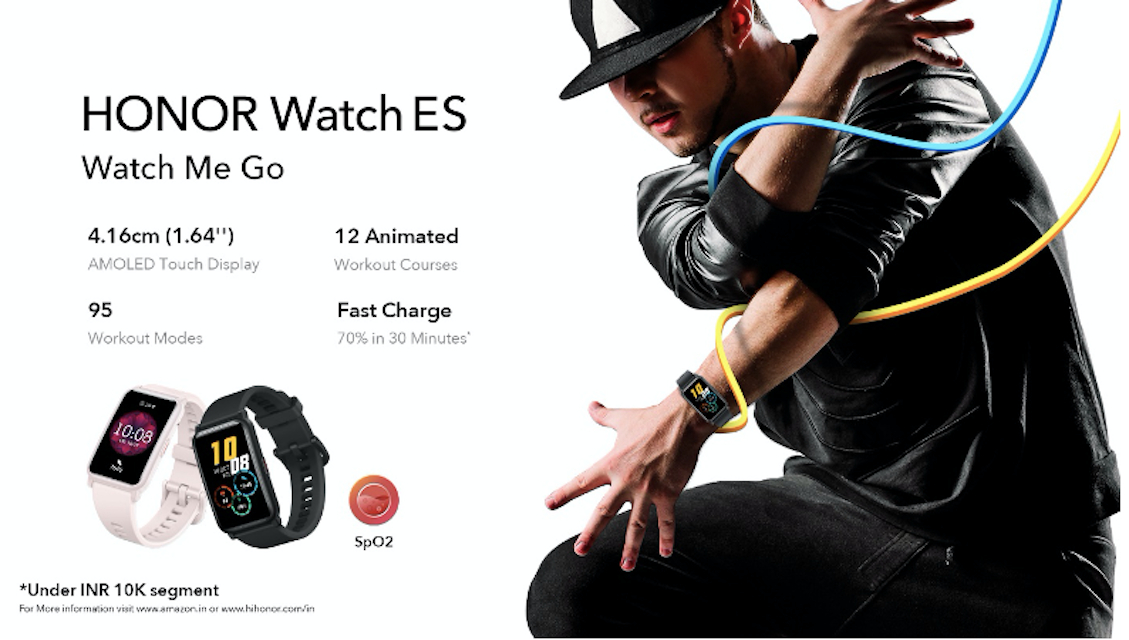 Meet fitness goals with a multitude of workout courses and exercise moves
Speaking of workouts, the HONOR Watch ES has 12 animated workout courses, 44 animated exercise moves, 95 workout modes, and automatic workout detection for the widely preferred exercises that help users meet their short-term as well as long-term fitness goals in style. With a wealth of health and fitness data, such as trail (distance), speed, duration, calories burnt, heart rate, stride frequency, cumulative elevation, maximum oxygen uptake, swimming stroke recognition, stroke frequency, stroke count, SWOLF, average swimming pace, swimming laps, etc., users can have a full-body workout without having to visit a gym. Moreover, HONOR Watch ES guides wearers through exercise moves that demonstrate various workout postures that are ideal for improving users' form and proper technique while training/ exercising.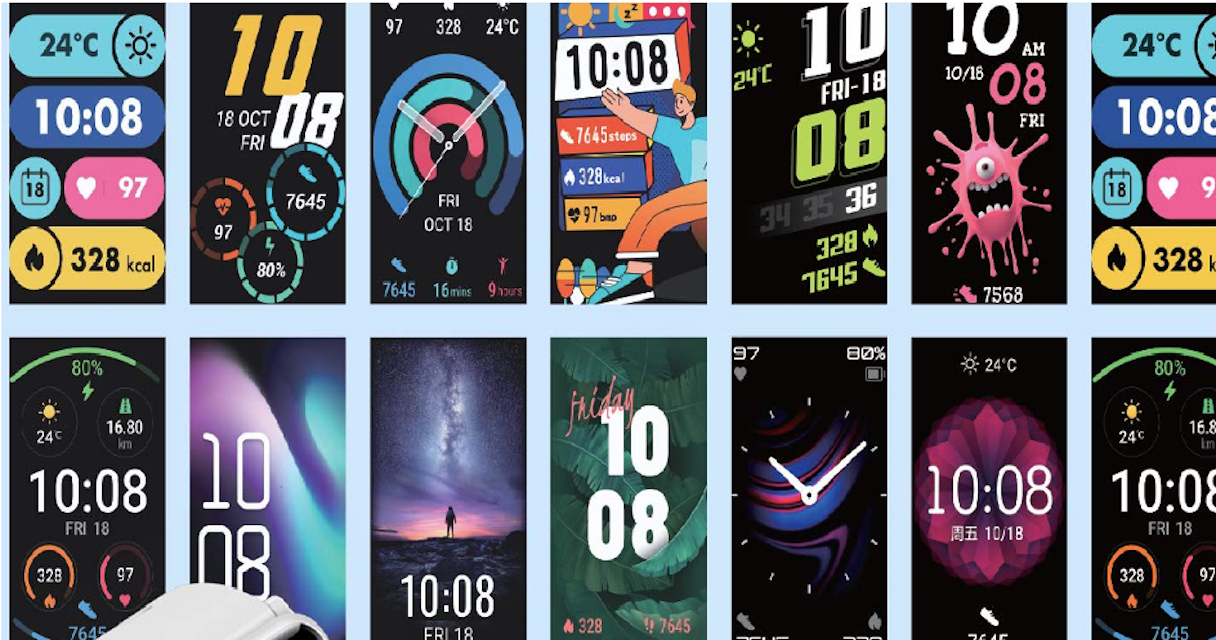 The HONOR Watch ES ensures the wearer is always engaged and never misses to track the personalised activities and workouts. The smartwatch continuously monitors the effectiveness of training routines and offers personalised instructions as well as optimised recommendations, which are based on real-time indicators. Some motivation is always good when it comes to achieving your set goals. The HONOR Watch ES exactly does that, as it gives rewards and notifications when new milestones are reached to keep pushing during activities and workout sessions.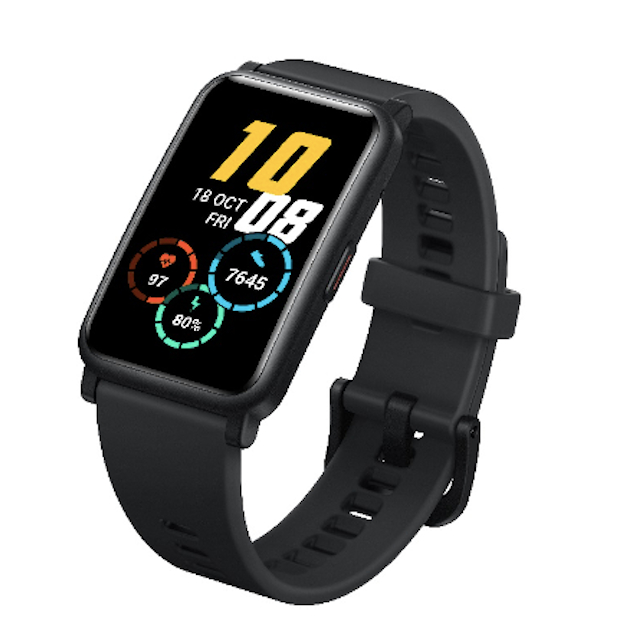 Monitoring health with a ton of fitness sensors
The HONOR Watch ES comes packed full of sensors, which include SpO2 Monitor, 24/7 TruSeen 4.0 Heart Rate Monitor, TruSleep Sleep Monitor, and TruRelax Stress Monitor. Apart from the health-centric features, the HONOR smartwatch also includes music control, call notifications and reject call option, find my phone, push notifications, weather, alarm, stopwatch, timer, and many more.
Despite the large range of sensors onboard, HONOR Watch ES never stops tracking your fitness thanks to the 10-day battery life after a full charge. Coming to the most interesting part is its fast charging capability that charges up to 70 percent in just 30 mins. This has got to be one of the features, all smartwatch brands must start to invest in.
HONOR Watch GS Pro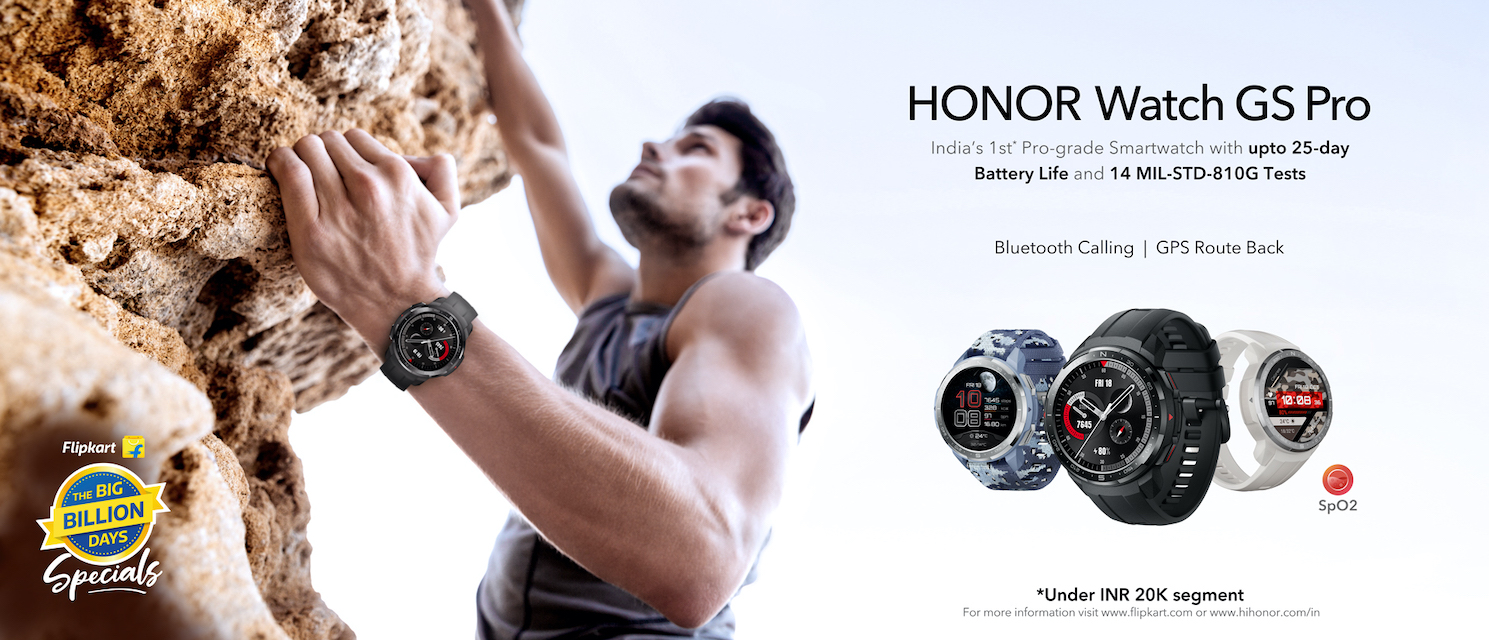 Built for the true adventurer who dares to challenge nature
The core of the HONOR Watch GS Pro is toughness and rugged design that is blended well with some style and a lot of interesting functions for the explorers. The device has passed 14-MIL-STD 810G tests, which itself is a proof of the pro-grade design that it offers. With features like up to 25 days of battery, Route Back, Bluetooth calling, and SpO2 monitoring bundled with the several health, fitness, and other smart features, the HONOR Watch GS Pro will all set to take steal the heart of adventure seekers and urban explorers.
Design with toughness and style as priorities
Like its sibling, the HONOR Watch GS Pro sports a round 1.39-inch AMOLED touch display. The watch's 454×454 pixels resolution with 326ppi pixel density is more than enough to give the wearer a rich and vibrant viewing experience in any lighting conditions.
Like mentioned earlier, the smartwatch has undergone 14 types of MIL-STD-810G tests to ensure it can go anywhere the adventure takes you and still offer the best of smartwatch technology. All these activities require next level of ruggedness, which the HONOR Watch GS Pro has. Due to the 14 types of military standard tests, wearers can be assured that this smartwatch can withstand extreme conditions, including temperature-humidity-altitude resistance, salt spray, sand resistance, and humidity resistance. There's 5ATM water resistance too, which allows users to take the HONOR smartwatch in water with complete peace of mind. Moreover, swimmers have stroke recognition, stroke frequency, stroke count, SWOLF, average swimming pace, swimming laps, and several other types of performance measuring metrics.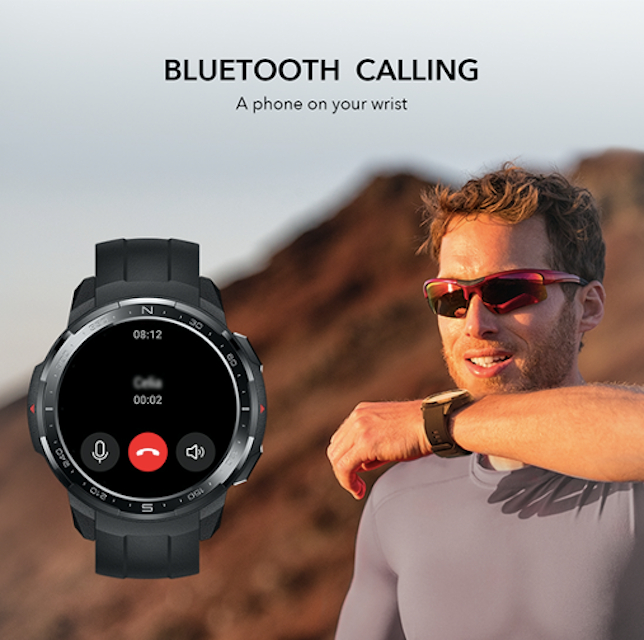 Smartwatch that guides you safely without needing a smartphone
Being the companion of adventurers is no easy task as the trail can take them into truly immersive wilderness. Hence the HONOR Watch GS Pro comes equipped with GPS Route Back feature that can guide users back to the starting point. The built-in high precision dual satellite navigation system that, once enabled, saves the path from the starting point to the destination and can bring you back to the starting point. This significantly saves battery life of the accompanying smartphone that you would have otherwise used to return. Conserving your smartphone battery or using the conserved battery for photography and other important activities is what you would want when you are into the adventurous path to wilderness.
The HONOR Watch GS Pro comes with several practical functions that offer outdoor information such as sunrise, sunset times, moon and tidal phases, and bad weather alerts that help make outdoor activities better, safer, and much more enjoyable. In addition to the adventure-centric features, there are also 100+ workout modes such as skiing, hiking, mountain climbing, trail running, swimming, and a lot more. Along with all the activity and data tracking that HONOR Watch ES does, it can also act as your personal skiing coach — the smartwatch can track detailed data including total duration, average speed, heart rate, average, pace, biggest slope, climbed distance, and calories burnt.
Toughness that outlasts all adventures
In addition to the features and sensors that the HONOR Watch GS Pro has in common with HONOR Watch ES – such as SpO2 Monitor, 24/7 TruSeen 4.0 Heart Rate Monitor, TruSleep Sleep Monitor, TruRelax Stress Monitor – it also comes with several premium and practical watch faces, which users can further customise. Love your dog? Now, you can click his picture on your smartphone and put it as the watch face. The smartwatch can also, store up to 500 songs; alternatively, you can also use the smartwatch to stream music from their smartphone. Other features include controls for music playback, check calls, messages and social media notifications, reject calls, see the weather, set alarms, use the stopwatch, timer, and much more.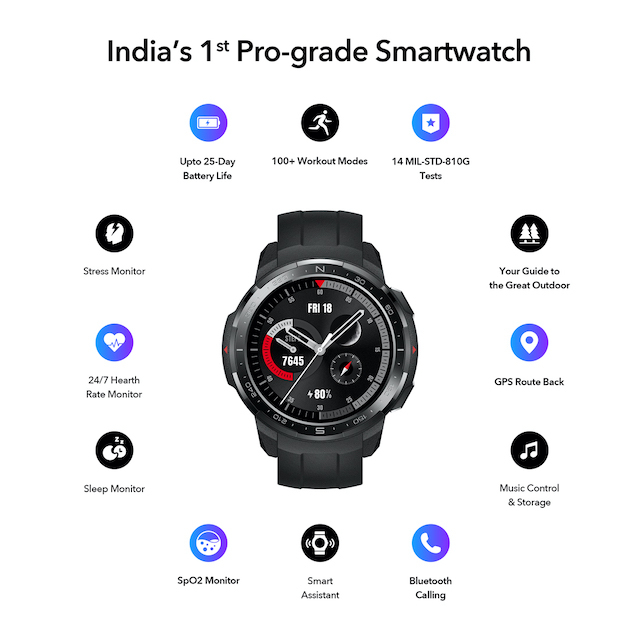 Use the Huawei Health app to track the health-centric features of HONOR Watch ES and Watch GS Pro
The HONOR Watch ES and HONOR Watch GS Pro watches work well with the Huawei Health App, which is available on the AppGallery app marketplace. Buyers are recommended to scan the QR code available with the smartwatches to easily and safely download the app on their smartphones. Syncing the HONOR smartwatches with the Huawei Health App is extremely easy and quick. You may watch the video to understand these easy steps: https://bit.ly/2I8oRS5
When and where to buy HONOR Watch ES and HONOR Watch GS Pro
Both the smartwatches are definitely great when it comes to powerful performance and advanced features. While the HONOR Watch ES, with all the offerings, is indeed one of the most affordable smartwatches available in the market, the HONOR Watch GS Pro is a Pro-grade smartwatch that will disrupt the market.
The HONOR Watch ES is available in Meteorite Black colour and will be sold via Amazon India. The feature-packed fitness smartwatch from HONOR sports an aggressive price tag of Rs 7,499. The smartwatch will be available from October 17th midnight onwards during the Amazon Great Indian Festival. Amazon Prime Members will have the privilege of buying the smartwatch a day earlier, i.e. starting October 16th. Amazon's Great Indian Festival offers easy payment options such as no-cost EMI for up to 6 months as well as 10 percent instant discount on HDFC Bank credit or debit cards.
Click for more details on the HONOR Watch ES: https://amzn.to/2FdRPPd
The HONOR Watch GS Pro is a Flipkart Big Billion Days Specials product. This means the smartwatch is part of the BBD Specials, which is a unique line of products curated by Flipkart to meet the aspirations of consumers across the country.
The HONOR Watch GS Pro will be available in Charcoal Black on Flipkart with a price tag of Rs 17,999. The rugged and feature-packed smartwatch will be sold from midnight on October 16th, but Flipkart Early Access members will get the opportunity to purchase the smartwatch a day earlier. The Flipkart Big Billion Days Offers easy payment offers such as no-cost EMI for up to 12 months. SBI credit or debit card holders will get an additional 10 percent instant discount.
Click for more details on the HONOR Watch GS Pro: https://bit.ly/2GQd2iQ