A chance to peek into the mind of the consumer is what most marketers dream of. If you know what the customer wants, you can tailor your product or service, and package it in such a way so that it appeals to your target audience. The 91mobiles Smartphone Buyer Insights Survey 2020 is an effort to give you an eyehole into the minds of Indian phone users, and those looking to buy new devices in the near future. Analysis of the 15,000+ responses from our survey throws up insights on how people decide on a new smartphone, attributes that matter, and how they prefer to buy a device, among other things like ownership trends and brand loyalty. The insights emerging from this survey would be invaluable to any professional engaged in the marketing and promotion of smartphones in India, arguably one of the toughest jobs in the world given how competitive this space is. Let's jump right in.
How people decide on a new smartphone
Factors that influence buying decisions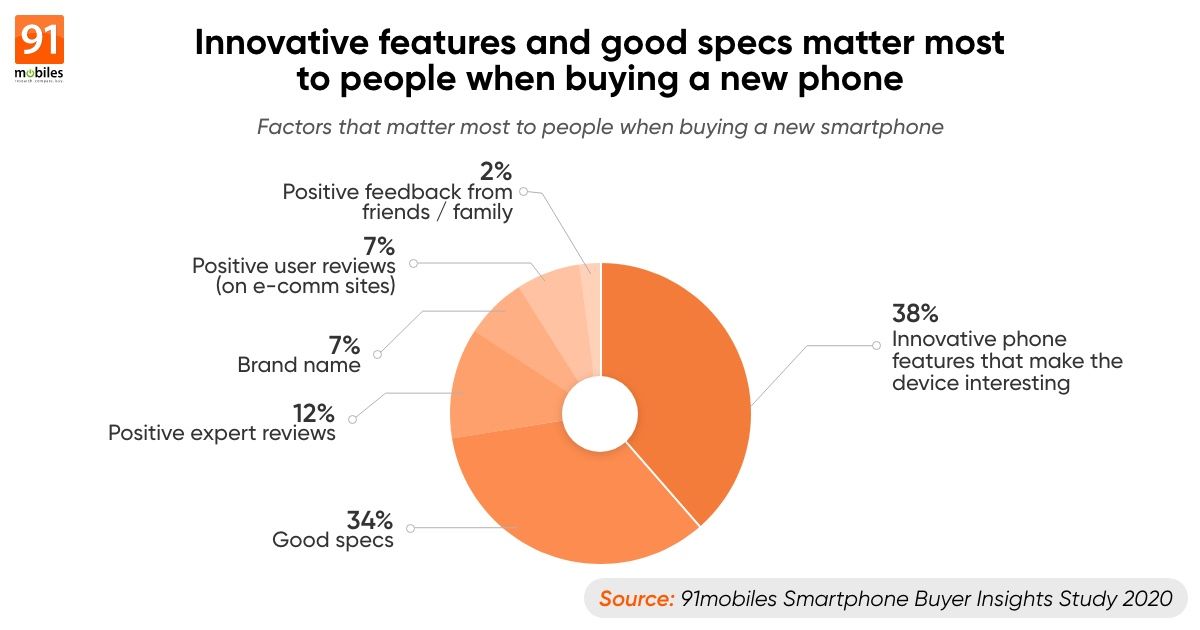 Busting the myth that specs are the most important factor for potential smartphone buyers, 38 percent users said they'd give more weightage to innovative features that make the phone interesting. This proves how important differentiation is, so if you're a smartphone marketer, you should make sure that your product and the communication that revolves around it should highlights the key points of differentiation. Another thing to note is that many users look towards these innovative features as conversation starters, and help them flaunt their devices in front of others. That said, a significant 34 percent have still voted in favour of specs being the most important criterion.
Here's a summary of the related insights that emerged from this analysis:
Users below the age of 25 years care more about specs as compared to users of older age groups. So if your target audience is the youth, you should make sure that your marketing campaigns and promotional activities cater to this requirement as much as possible.
People aged between 25 and 44 care more about innovative features while buying a new phone as compared to users of other age groups. Since most users in this age group would have regular sources of income, and would be considering mid-range or premium phones, offering clear differentiating factors in your products should definitely help.
Frequency of smartphone upgrade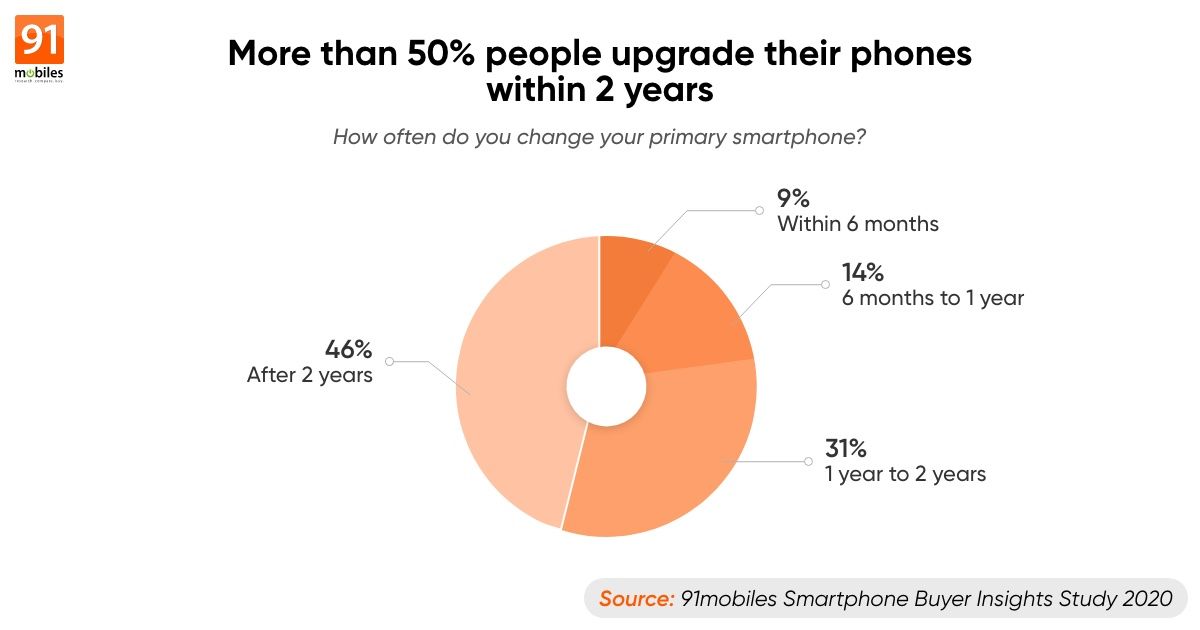 More than 50 percent (that's one in two) smartphone users upgrade their devices within two years of purchase, with 23 percent (about a fourth) upgrading within the first year itself. As a smartphone marketer, what this could mean for you is to ensure you come up with new offerings frequently, all the while keeping an eye on emerging trends in terms of the latest features and innovations.
Primary reason for buying a new phone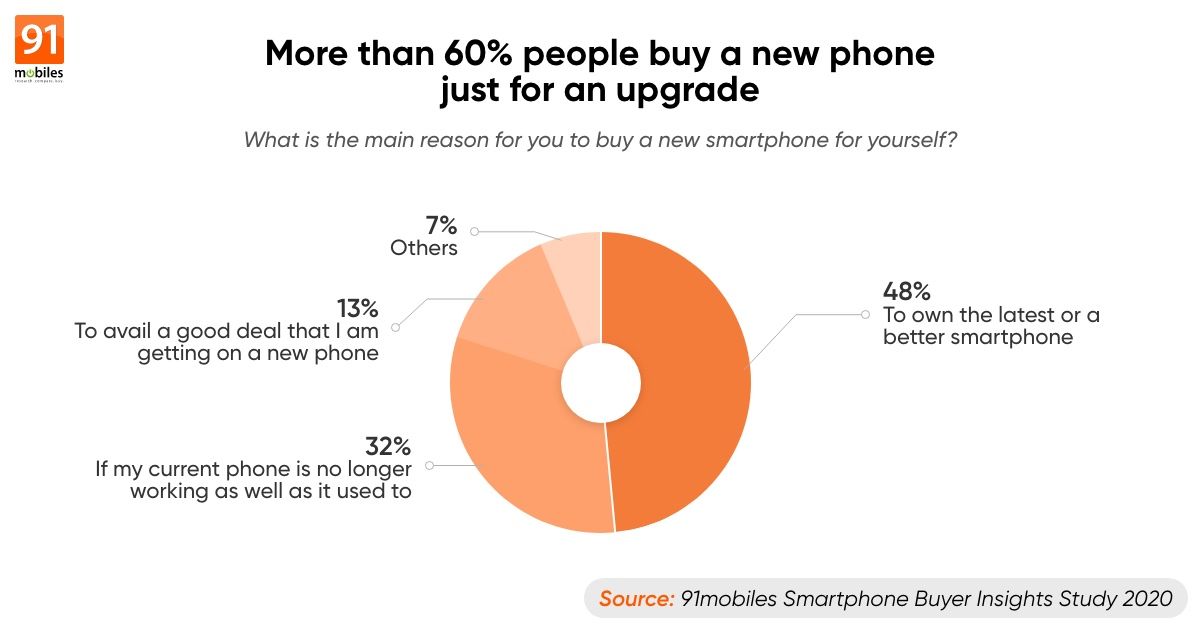 While analysing how users buy new phones, it's also pertinent to know why they buy. While 32 percent users said they'd buy a new smartphone when their current one starts giving problems, over 60 percent users said they'd purchase a new phone just to experience new features or avail a good deal. For a smartphone marketing professional, this highlights how important those discounts and bundling offers are, apart from the fact that smartphone brands constantly need to innovate, and arm marketers with relevant arsenal to beat rivals.
Here are some more related insights on smartphone research behaviour:
65 percent respondents said they take more than a week to decide and zero in on their next smartphone purchase. Out of his, about 25 percent actually take more than 4 weeks to decide.
People spend more time on research as the price of the device increases. Almost 50 percent of buyers seeking phones priced upwards of Rs 30k said they'd take more than 2 weeks to decide.
Research behaviour – how people decide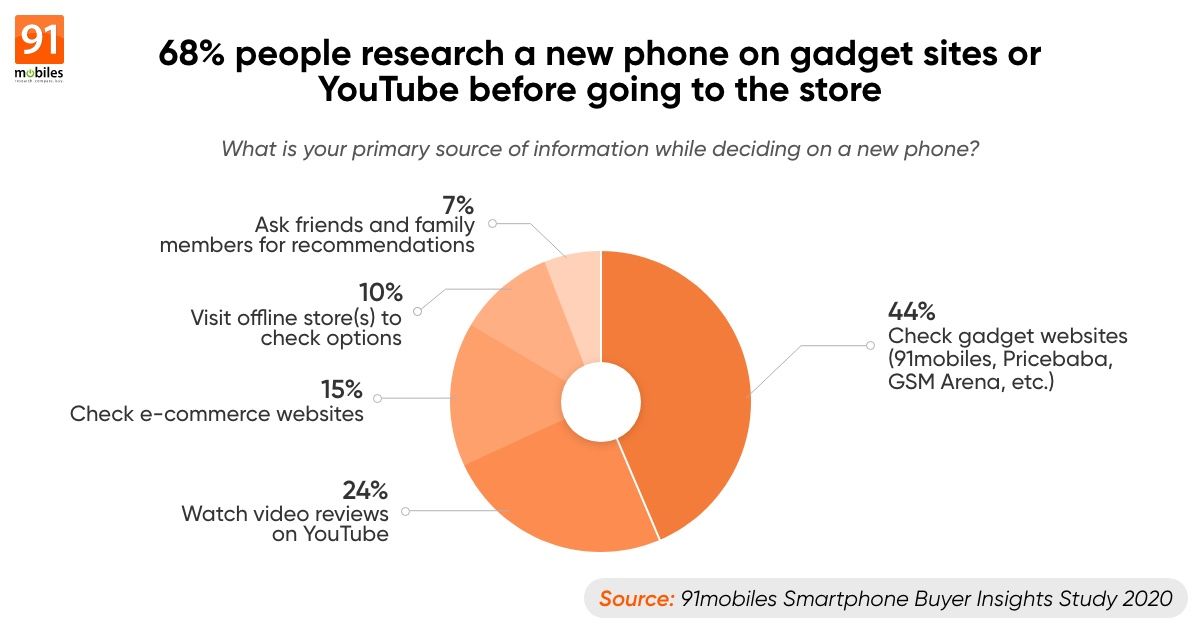 Most users (68 percent, as per survey data) use gadget websites or YouTube to research and shortlist smartphone models for purchase. Out of this, the largest chunk made of 44 percent users, who said they refer to gadget websites like 91mobiles. Pricebaba and GSMArena. Therefore, using such websites to promote your smartphones and piggybacking on their reach to target your audience might be worth considering. 24 percent users said they refer to YouTube videos and 15 percent check user reviews on e-commerce platforms like Amazon and Flipkart.
Here are some more related points:
Over 70 percent refer to two or more expert reviews before purchasing a new phone.
90 percent users compare at least two devices before buying.
More than 90 percent check smartphone prices online before buying, regardless of where they might buy from.
Smartphone attributes that matter most to people while buying a new phone
Unsurprisingly, over 56 percent users chose performance when asked about the smartphone attribute that mattered the most to them while hunting for a new daily driver. Camera capabilities were a distant second, with 14 percent users voting for those. Just 11 percent chose brand name, indicating that they might not be loyal towards a particular manufacturer and are likely to migrate to a different brand if they feel they're getting something better.
While evaluating performance, almost 50 percent users feel that the chipset brand is the most important. 24 percent put emphasis on RAM capacity, 18 percent on processor clock speed, and just about 10 percent on benchmark scores (referring to key benchmarks like AnTuTu, Geekbench etc).
For evaluating camera performance at the time of deciding upon a new smartphone, 42 percent users consider camera megapixels as the most important, followed by 26 percent who feel AI capabilities and software features are the most vital. 15 percent consider aperture the most important, while just 11 percent look at the number of rear cameras. A mere 6 percent consider selfie capabilities the most important while evaluating the cameras. A point to note here is that as compared to last year, a larger percentage of users (34 percent in 2019 versus 42 percent in 2020) consider megapixels crucial. This is tied to how high-resolution camera sensors (48MP, 64MP, 108MP etc) have started appearing on smartphones within the last year or so.
Fast charging has emerged as the feature most people would want in their new smartphone, with 27 percent respondents voting in its favour. 5G capabilities come in a close second, with 26 percent votes. This is despite the fact that 5G networks aren't commercially available in India, and aren't expected to go live for another year at least, if not more. High levels of camera zoom are considered important by 14 percent users, while 13 percent have voted in favour of 108MP cameras in their next smartphone.
How people buy a new smartphone
Popular price segments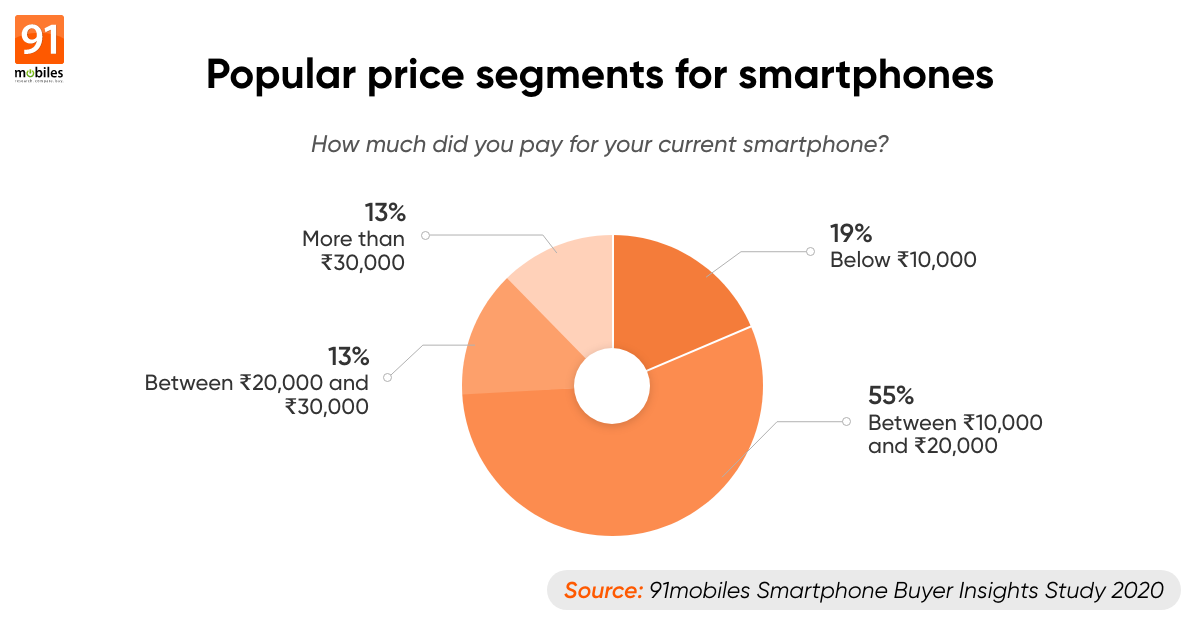 Considering the amounts survey respondents paid for their current smartphones, the Rs 10k-Rs20k segment has emerged as the most popular, with 55 percent users owning devices in that bracket. The budget (sub Rs 10k) segment is the next most popular, with 19 percent users owning phones in that range. The mid segment of Rs 20k-30k has 13 percent share, while another 13 percent users own handsets priced upwards of Rs 30k.
Preferred modes of buying
47 percent of our survey respondents (up from 44 percent last year) have said they'd prefer purchasing a new smartphone online, as against 28 percent who said they'd buy offline. About 25 percent weren't sure where they'd buy from.
Preferred modes of payment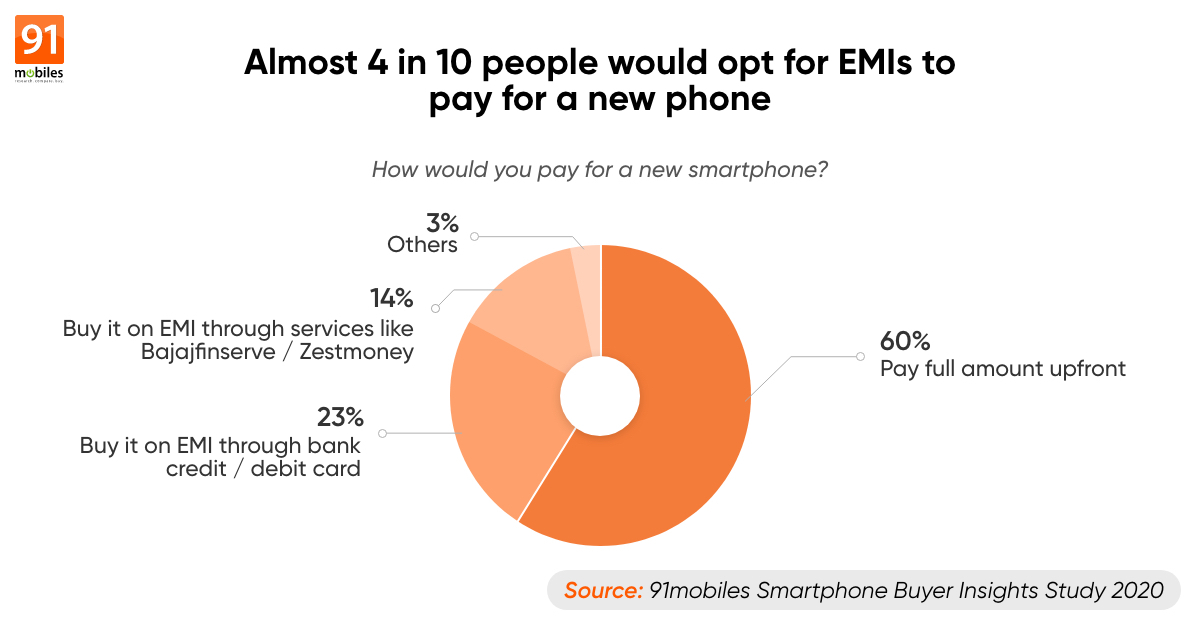 37 percent of the surveyed users said they'd opt for EMIs while paying for new smartphones. Within this, there are 27 percent who'd opt for EMIs on credit or debit cards, while 14 percent said they'd opt for cardless EMI solutions like ZestMoney or Bajaj Finserv. 37 percent prospective buyers opting for EMIs is a significant number, and smartphone vendors should benefit if some value adds or deals can be provided along with easy EMI options at the time of launch itself.
People aged below 25 are more likely to pay the full amount upfront as compared to older age groups, while those aged between 25 and 44 are more likely to buy smartphones on EMI. Also, men are more likely to buy a new smartphone on EMI as compared to women.
On a related note, 1 in 6 users would be open to the idea of renting a smartphone instead of buying one. About 30 percent users said they'd be willing to rent a smartphone if they see clear benefits of doing so. These factors include the rent being affordable, the chance to experience premium smartphones without buying them, the flexibility to change smartphones frequently, and the ability to rent smartphones easily.
Other factors related to purchase behaviour and services
32 percent respondents said they'd like to opt for extended warranty on their new smartphone, after being told that the cost of the same is likely to be 5 to 7 percent of the phone's price.
49 percent survey respondents said they'd wait for a sale before buying their chosen phone, so that they can save some money. 32 percent users said they'd buy a smartphone right away, after deciding and shortlisting the one they want. Users aged below 18 years are least likely to wait for a sale.
Almost 30 percent users said they'd be willing to get a new credit card just because it offers a healthy discount on a phone they want to buy. There could be an opportunity here for a potential tie-up between a bank and a smartphone brand, for providing special benefits during the launch of a big ticket smartphone.


What people do with their old devices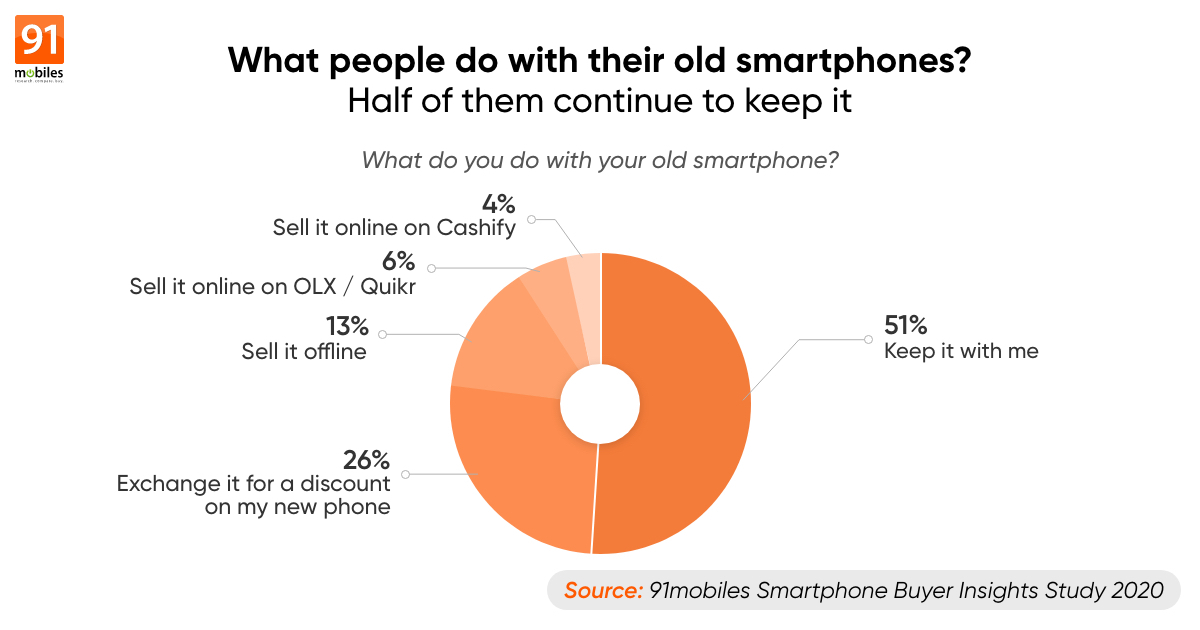 A question related to the purchase of a new smartphone is what users do with their old devices, after having bought a new handset. Well, we have some data on that too. More than 50 percent users want to retain their own smartphones with them, possibly to keep them as spare / backup options, or to pass them on to family members. About a fourth of the surveyed users said they'd want to exchange their old smartphones to get the new phone at a lower price. 13 percent said they'd sell their old devices offline, 6 percent said they'd sell on OLX or Quikr, while 4 percent said they'd sell the used phone online on Cashify.


We hope the above points would come in handy as you go about your task of promoting and marketing smartphones to Indian buyers.