"The Motorola Assist app automagically configures your device whenever you're driving, meeting or sleeping"
Even after being acquired by Lenovo, Motorola seems to be on a roll, especially in the Indian market thanks to the successful launch of two of its devices back-to-back. Both the Moto X and Moto G have made special places in our hearts thanks to their focus on offering a wholesome experience. While the Moto G scores well for its impressive specs, its bigger sibling Moto X has some interesting tricks up its sleeve like the Touchless Control and Motorola Connect. Both the devices have another useful app preloaded, dubbed as Assist and here's how you can make use of its functionality.
Setting it up
While the Moto G and X come with stock Android, the company has preloaded a few useful apps and Assist is one of them. Simply click on the app and accept its terms and conditions.
Now, you only have to enable the options you'd like to automatically kick in when you're in that particular situation. Let's take a look at al these modes individually.
While driving
With the help of GPS and sensors like the accelerometer, the Moto X can detect when you're driving. If your car has Bluetooth and you've added it as trusted device in the smartphone (can be enabled by going to Settings > Security and using PIN / Pattern for unlocking your device), then this mode will start spontaneously. To ensure that your attention is not diverted while driving, you can set up the app with options like 'Talk to me' and 'Play music'. The 'Talk to me' feature automatically reads out incoming text messages and caller names. If you want, you can also reply to the messages using voice, or choose a preset message to be sent. If you're using a Bluetooth headset or connect you car's stereo to the Moto X's audio socket, then it can also play your music automatically. However, make sure that you have selected your default music app in Assist first.
The mode will also be enabled when you're simply sitting in a car, but not driving, which can be turned off by closing it from the notification drawer (all the other modes can also be turned off from the notification drawer itself).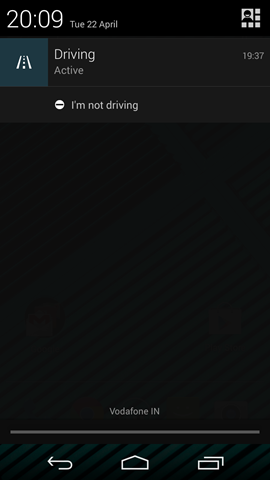 Unfortunately, the driving mode is only available in the Moto X and not the Moto G.
During meetings
The app integrates with your smartphone's calendar to ascertain your meeting schedule. So, whenever you're in a meeting, the Moto X can automatically switch to silent or vibration mode. The good part is that you can also set exceptions to this rule – the sound profile will be normal if your favourite contacts are calling you or if someone calls you twice within five minutes. You can also send a preset message to be sent to your favourite contacts in case you missed the calls.
While sleeping
Simply key in the timings when you don't want to be disturbed, and the app will configure the device to be silent during that period. Similar to the previous mode, you can set exceptions whenever your favourite contact is calling you or you get an incoming call from the same person twice (if it's an emergency, for example).
So, there you go! With this feature, Motorola saves both your time and effort by automatically configuring your phone and automating its behaviour during some situations when you're otherwise occupied.