"Motorola Connect allows you to see your calls and messages on your computer"
Out of the countless devices launched each year, the Moto X is one of the very few devices that have piqued our interest because of its cool features. If you have gone through our review or the demo of its cool Touchless Control feature, we bet you'd be swayed to buy it, in case you haven't already. We'll take you through another nifty feature boasted by the Moto X, called Motorola Connect. As the name indicates, the feature connects your Moto X with you computer. It makes use of a Google Chrome extension, allowing you to handle SMSes and view incoming calls on your desktop. Read on to see how to set it up and what all it can do for you.
Step 1
Visit the settings menu on your Moto X, and tap on Motorola Connect.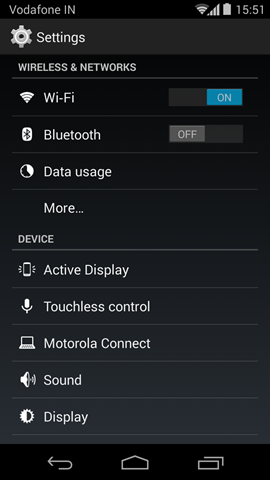 Step 2
Keep clicking on next, agreeing to use the feature, the app's terms and conditions, and finally choosing your account.
Step 3
You've successfully completed half the job and now the next step is to install the Motorola Connect extension on your desktop from the Chrome Web Store. You'll also be receiving an email with a link to download the extension.
Step 4
Just like the app, set up the extension by agreeing to its terms and conditions and signing in with your Moto ID (connected to your Gmail account).
Step 5
Voila! You've connected your Moto X to the computer and now you can access your messages and calls on your desktop from the Chrome extension.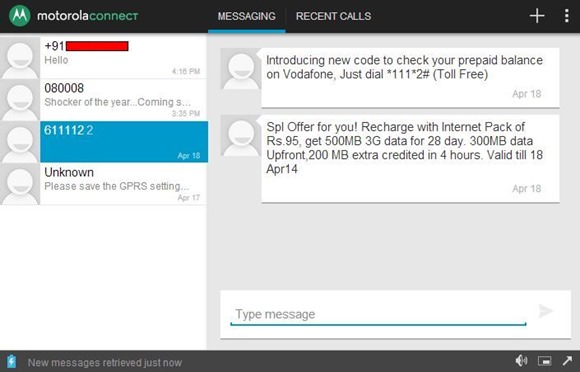 It also pops up incoming messages, though if you don't like that feature, it can be turned off in settings.

The extension also indicates the battery level of the smartphone and the audio profile. However, it can't be compared against apps like Pushbullet which mirrors all notifications. Thanks to the reply feature though, which isn't available in any other app, Motorola Connect is a great time-saver for those who use text messaging a lot and spend a considerable time in front of their computer.