"You can not only use Redmi Note 9 Pro as a TV remote but also use its IR Blaster to control set-top boxes, ACs, fans, smart boxes, DVD players, DSLRs, and more"
Redmi Note 9 Pro (first impression) is among the many Xiaomi smartphones to come with an IR blaster. It's a nifty feature that doubles the Redmi Note 9 Pro as a universal remote for various electronic devices — such as a TV, set-top box, AC, fan, smart box, DVD player, DSLR, and more. Using the Redmi Note 9 Pro as a TV remote is different from the Bluetooth-based remote control as the latter requires a cumbersome task of paring the devices via Bluetooth in order to control them. IR blaster that allows buyers to use Redmi Note 9 Pro as a TV remote, on the other hand, requires no such pairing and is compatible with some of the older devices that don't offer Bluetooth or wireless connections.
How to use Redmi Note 9 Pro as a TV remote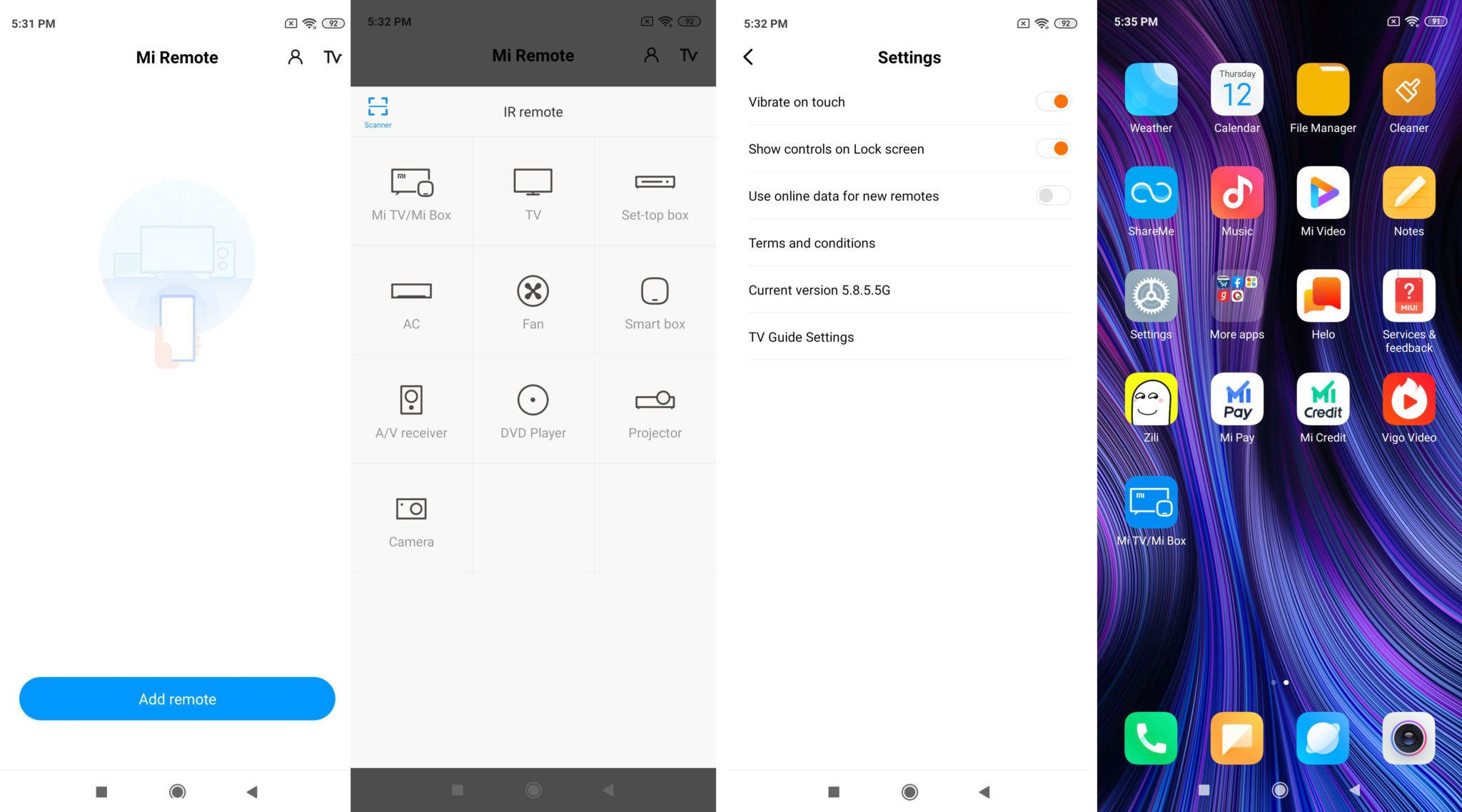 The 'Mi Remote controller' app comes pre-installed on Redmi Note 9 Pro;
Launch the app and select 'Add remote' option from the bottom of the screen;
Select the device that you want to control from the following screen, choose the brand, and switch on the device;
The next step would be to point the remote at the device and tap on/off button to make sure it's responding;
There will be as many as 14 test buttons for you to try;
Once found, your Redmi Note 9 Pro will work as a remote for that device. Similarly, you can add more devices by tapping on the '+' icon on the top left corner of the app.
The paired devices will be saved within the Mi Remote app for future use. Additionally, an app shortcut will be created for you to jump to the remote with just a tap. You can sign-in to save all the settings in the cloud and share access of the remotes with friends using QR code. To do so, open the remote's settings and tap "Share" option. The receiver will then have to scan the QR code using the scanner available under the '+' icon at the top-right corner of the Mi Remote controller app, which is available for download from Google Play Store.
That said, you also have the option to watch Live TV within the app, 'Show controls on Lock screen', enable 'Vibrate on touch' option, and set Pin on the start page for security purposes.