"HTC seems to be readying a mid-range smartphone with Snapdragon 710 SoC and 6GB RAM, though there are no rumours regarding its marketing name yet"
HTC's smartphone business might be bleeding money each year but the Taiwanese smartphone maker seems determined to continue churning out new smartphones, at least for the time being. A mysterious HTC handset has now appeared on Geekbench benchmarking platform with model number 2Q7A100. And from the looks of it, this is a mid-range smartphone, but we don't have any word about its marketing moniker just yet.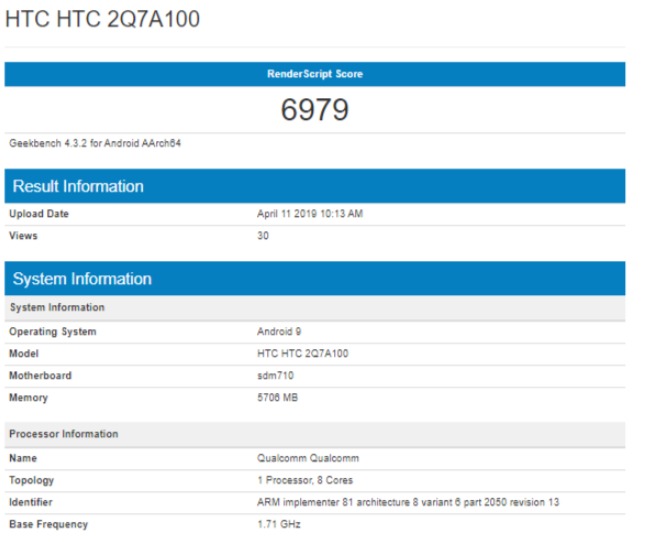 As we can see in the screenshot above, some key specifications of the handset have been revealed by the benchmark. The HTC 2Q7A100 will be powered by the Snapdragon 710 SoC, which is a relatively new series from Qualcomm that falls just below the flagship Snapdragon 8xx series in the pecking order. This chipset now even has a successor in the shape of the Snapdragon 730G. The listing shows 6GB of RAM on the handset and software version as Android 9 Pie OS.
As there's no info available on this mystery device, we're guessing it belongs to HTC's U family of phones. The series features Snapdragon 6xx range of SoCs and mid-range smartphones such as the latest HTC U12+ and U12 Life. It's also worth noting that HTC has not announced any new smartphone in 2019 as of yet but we expect to see at least a couple of handsets from the withering smartphone maker. The company's last high profile release was the Exodus, a
blockchain-focused phone with high-end specifications that earned it a few headlines across the globe. It rocks a Snapdragon 845 SoC, a 6.0-inch 1440p+ display and a special Zion crypto wallet developed by the company.