"The One M9+ from HTC screams premium like none other, and has the goods to be a noteworthy flagship"
HTC foxed us at its launch event in New Delhi earlier today, where we expected to see the One M9 (first impressions) that was unveiled at MWC. However, it chose to launch the One M9+ instead, and considering the brand is staying mum on bringing the M9 to India, it seems that the One M9+ will hold the torch as its flagship in the country. And an apt flagship it is, considering it's loaded to the gills with high-end specs, and also boasts the same iconic design and build quality that made its One M8 a mind-boggling blend of style and substance. Both the One M9 we saw at MWC and the M9+ that the brand is launching in India now bring the same build and design, but like everything else… there's always scope of improvement. HTC may not have played around with its tried and tested flagship design too much, but the new dual-tone metal chassis definitely adds to the already gorgeous looks – like dressing up a lovely ramp model in a new, sexier dress. We'll let the pictures speak for themselves now, as we take you through our first impressions of the HTC One M9+.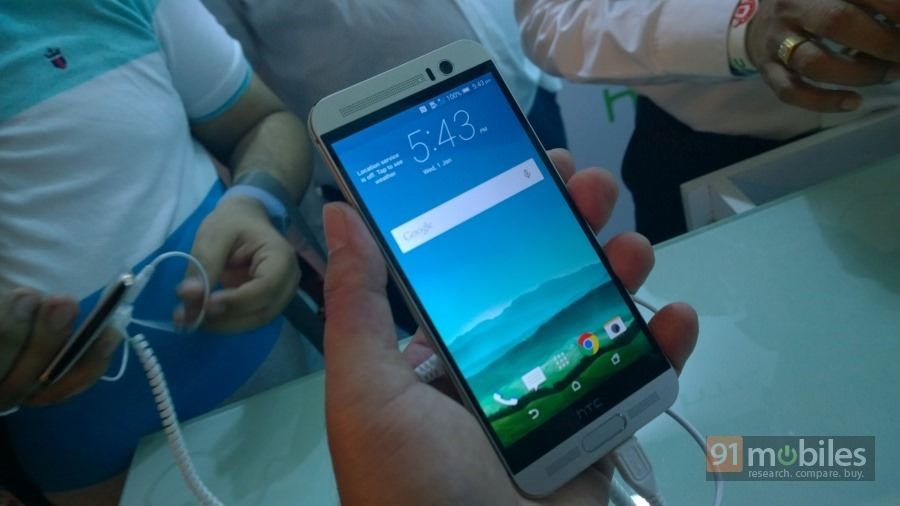 Sleek curves at the rear, precision-drilled holes for the speakers, jewellery-grade craftsmanship and brushed metal define the design of the One M9+. Again, you probably won't be able to tell the difference from a distance, but hold the phone in your hands and you'll know what we mean. The handset looks chic and stylish and screams premium.


That metal body should be able to withstand a few bumps, and the build quality is as solid as it can get… though even small nicks or scratches can easily spoil the looks. Our demo unit was in silver, but sported a champagne-coloured band on the sides that adds extra oomph to the machined industrial design of the phone.
Up front is a high-res 5.2-inch display offering a resolution of 2,560 x 1,440 pixels, and it looks supremely capable in terms of the visuals it can throw up. Above it, you'll find the earpiece that also hides a notification LED and sensors, along with the front shooter. This is no ordinary front camera though, and it hides HTC's proprietary UltraPixel technology that debuted with the original HTC One back in 2013. The one on the M9+ features a BSI sensor and f/2.0 aperture, and thanks to the UltraPixel tech, promises to make you a selfie fiend regardless of lighting conditions. Below the display, you'll find the front-facing speaker, with an oval key that looks suspiciously like a physical home button. However, it's not the home key, not even a key in fact, as it can't be pressed. It's the fingerprint scanner that adds an extra layer of security and allows you to access your device without entering a PIN.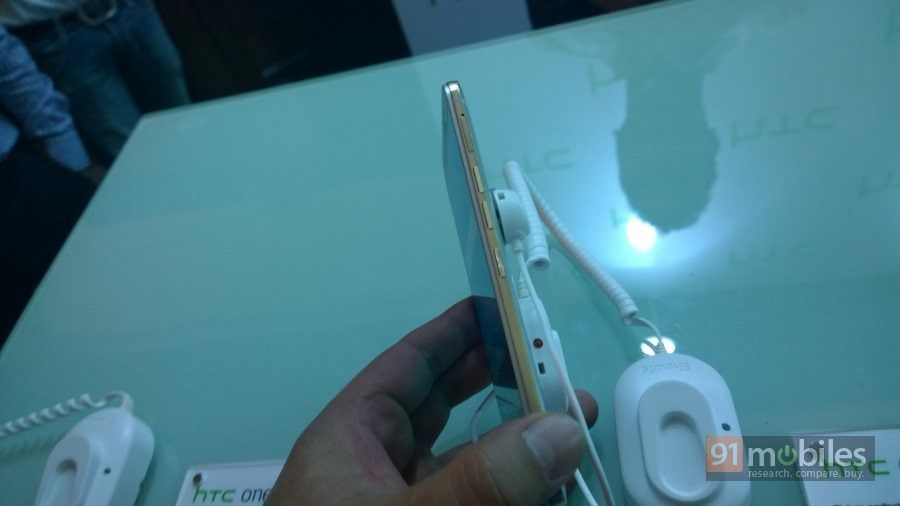 On the left, there's a tray for the microSD card and the right spine is chocablock with the power key, separate volume adjustment keys and a tray that accepts a nano-SIM. The micro-USB port and headphone socket are at the bottom.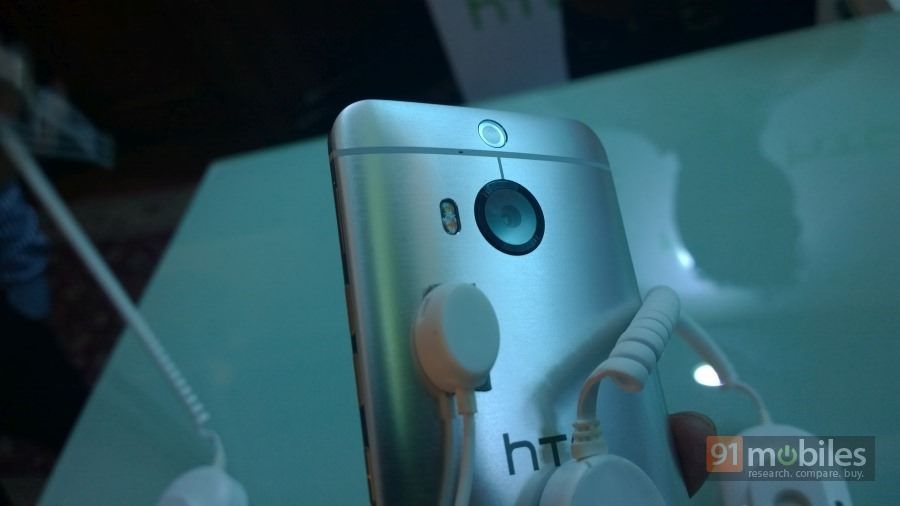 The curved rear sports a brushed metal finish, and holds a large circular lens window covered by sapphire glass and hiding a 20-megapixel shooter with a BSI sensor and f/2.2 aperture. This baby supports 4K video recording too and promises great results.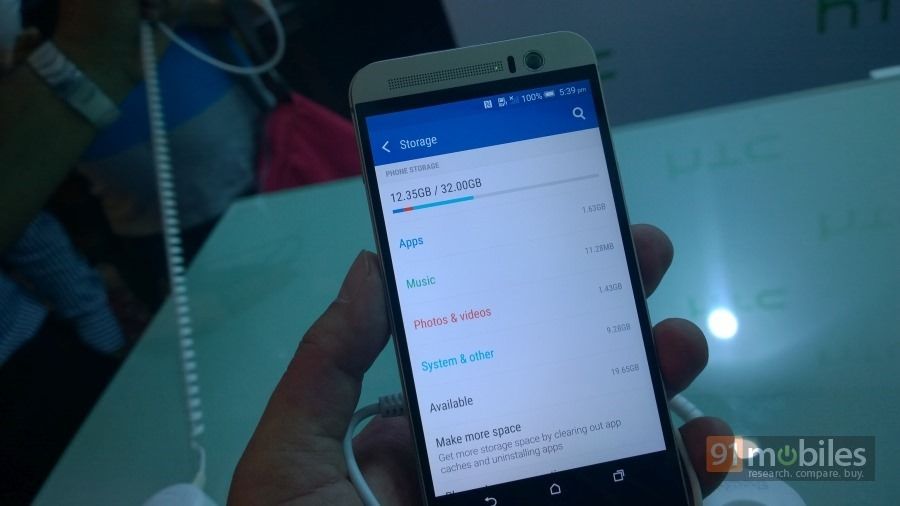 Inside purrs the new MediaTek Helio X10 chip, which is a 64-bit, octa-core CPU clocked at 2.2GHz. There's 3 gigs of RAM, and 32GB of internal storage that can be expanded up to a whopping 2TB… at least on paper, as the maximum available microSD card capacity currently stands at 200GB with Sandisk's new offering. Our demo unit had about 20GB of space available, but we'll confirm this again when we get a proper review unit. A 2,840mAh battery powers the show and the device is loaded in terms of connectivity options – covering multi-band LTE, NFC, DLNA, dual-band Wi-Fi including 802.11 ac, and video out via MHL.
The software on offer is the latest from Google – Android Lollipop, and as usual, HTC has adorned it with its custom Sense UI, which is now in version 7. There are a bunch of preloaded apps, including the BlinkFeed news aggregator, Zoe, and Kid Mode, along with support for themes and motions/gestures as well.
We also took a closer look at the camera interface and found it to be minimalistic at first glance, with all settings and options hidden on the sides and inside the menus. The camera offers a few downloadable modes as well.
Priced at Rs 52,500, the HTC One M9+ doesn't come cheap at all, and shelling out half a lakh rupees will definitely need proper justification. On paper at least, the One M9+ has it all, and we're especially keen to see how that new chipset works when stressed to the max.., even though our brief usage with the device didn't throw up any lags or freezes. The camera capabilities and battery life are also crucial and need to be evaluated for us to be able to recommend it wholeheartedly, but if we were to judge the book by its cover and go with looks alone, HTC has one sexy contender in its hands – one we can't wait to reach ours.