"The HTC Vive Cosmos comes with higher resolution displays to increase VR fidelity, and a modular faceplate that can add features to it going forward."
HTC has launched the HTC Vive Cosmos VR headset in India. The PC-based virtual reality headset is priced at Rs 89,990 with two controllers included, and can be purchased from HTC's own online store and Amazon, starting today. The new headset brings a bunch of notable changes from its other editions, including higher fidelity displays with reduced pixel gap, a modular faceplate design that allows adding of features post-purchase, a new tracking system for more accurate room scaling and other actions, and the Vive Reality System software interface for a more seamless human-machine interaction.
The new Vive Tracking System comes with six camera sensors that gauge motion based on ambient light and movement, all feeding the system together to give a broader scale of tracking a room or space. This is combined with new LCD displays inside, which now offer 1,440 x 1,700-pixel resolution on a 3.4-inch screen for each eye, to produce a combined resolution output of 2,880 x 1,700 pixels. Compared to the first generation HTC Vive, the visuals are 88 percent richer in resolution, as per HTC. The new LCD panels are also designed with a lesser gap between each pixel, which HTC claims will reduce the screen door effect.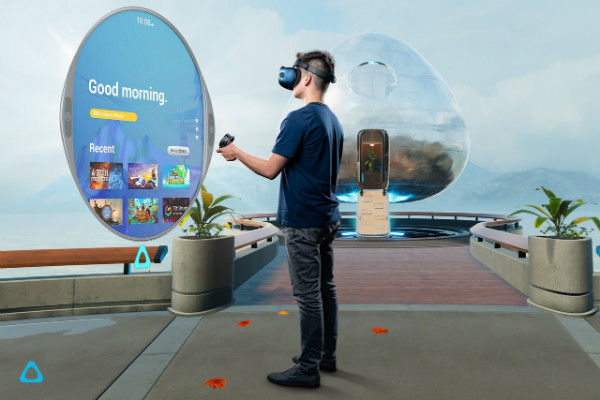 In virtual reality headsets, since the displays are so close to the human eye, visuals can often produce an effect of seeing everything through a thin, black mesh. This mesh is typically caused due to the gaps between two pixels on a display panel. This gap produces an effect that is known as the "screen-door effect" — the sensation of seeing everything through a virtual door. This is often perceived as unintuitive, and creates a jittery roadblock to seamless user experience design. With its new displays, the Vive Cosmos claims to do away with this.
The new headset also comes with Vive Reality System — HTC's new software interface that the company claims is "easy to set-up and launch into virtual worlds". The new interface aims to make experiences such as browsing and accessing apps a more seamless experience, which can be used to access services such as the Viveport Infinity membership. Buyers will get complementary, one year access to the Viveport Infinity service, priced at Rs 7,188 per year. The content service will give users out of the box access to games such as AEON, Ninja Legends and A Fisherman's Tale, as well as virtual reality video services such as GoPro and Animal Planet.