"The Huami Amazfit T-Rex appears to be a rugged smartwatch with a large battery and standard fitness tracking features."
Huami, the smartwatch maker that's also behind Xiaomi's wearable devices, is set to launch a new smartwatch under its own brand at the ongoing Consumer Electronics Show (CES) 2020, called the Huami Amazfit T-Rex. Now, ahead of its official launch, Huami has revealed the official render and marketing product shot of the Amazfit T-Rex on popular Chinese microblogging site Weibo. The renders show a standard layout smartwatch but with rugged external buffers that show its outdoor activity bearings.
The design render shown reveals a thick bezel border that appears to be made of some reinforced material. To the sides, there are four equidistant physical buttons for Select, Back, Down and Up, with each of these functions being etched on the top bezel. The overall smartwatch body looks rather chunky from the renders, but has a pleasant aesthetic appeal nonetheless, with the prominent bolts making the smartwatch look like it's built to last. The body is teamed up with a clunky rubber wrist band that will likely be interchangeable, and a display that will likely feature an AMOLED panel, and be at least 1.39 inches in size.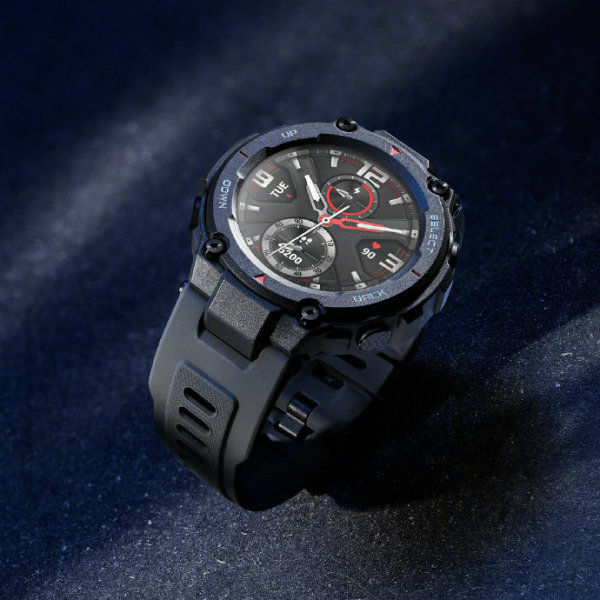 According to reports, the added thickness of the watch body is likely due to a large battery module as well, which would be a welcome addition and may even be essential for a go-anywhere rugged smartwatch. In terms of features, while there is no official confirmation, the revealed render shows a heart rate monitor and a step counter on the display itself. There should be a barrage of other fitness tracking essentials, including multiple indoor and outdoor activity modes. The range of sensors should include native GPS and GLONASS, along with Bluetooth 5, compass, barometer, altimeter, accelerometer and gyroscope, making it a fairly well-equipped smartwatch.
It is likely that the Huami Amazfit T-Rex will be a premium end smartwatch, given its complete feature set along with rugged build and a large battery pack. What will be interesting to see is if Huami launches this in global markets including India, despite a rugged smart wearable device being pretty much a niche in markets such as India. More details should be revealed once Huami takes to the CES 2020 stage on Wednesday, January 8.