"Huawei will top 5G shipment charts, followed by Apple and Samsung, while Xiomi won't make it to the top 5, as per Counterpoint Research"
With 5G technologies steadily rolling out across countries, the smartphone industry appears set for a new OEM war as the race for selling 5G devices begins. A new report, which was posted on Weibo and attributed to Counterpoint Research, has issued a projection for how 5G smartphone shipments may progress through 2020, and how smartphone makers would line up on the market share chart by the end of next year. According to this report, Huawei and its sub-brand Honor are expected to lead the 5G device shipment charts next year.
The under-fire Chinese electronics conglomerate has been pushing 5G devices already, and along with Samsung, has been among the earliest adopters of consumer-grade 5G phones. Surprisingly, the report suggests that instead of Samsung, it is Apple that is expected to take second place in the 5G shipment rankings. The latter is expected to launch its first 5G smartphone with the iPhone 12 series. While iPhones in 2019 showed stronger demand during the months following launch, and speculations have touted it to have even stronger demand next year, what makes Apple's second position surprising is that while Samsung is slated to launch 5G devices across multiple price points through the year, Apple's 5G devices would only be in the premium and flagship segments, and only sell for three months next year.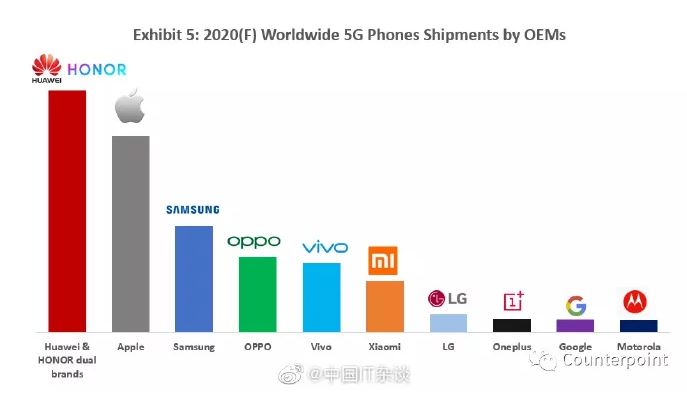 Nevertheless, beyond Huawei/Honor, Apple and Samsung, shipments are seen to be much closer by margin among the OEMs. OPPO and Vivo, which have also been among the early adopters of 5G, are expected to rank fourth and fifth in 5G shipments, with Xiaomi following up at sixth. These three manufacturers are expected to introduce 5G devices in the mainstream, which should help speed up the adoption of 5G technologies. Beyond these, the last four OEMs in the top 10 are seen to have considerably smaller market share. Nevertheless, LG, OnePlus, Google and Motorola are expected to ship a sizeable share of 5G smartphones across global markets next year, as estimates expect total 5G smartphones to account for at least 15 percent of all devices shipped next year.
With 5G penetration all set to increase, and China right at the forefront of this expansion, it is hardly surprising to see Huawei still retain the top spot of the shipment charts despite its feud with Google. With the latter's services banned in China, the US trade war has barely affected Huawei in its home turf, and the company is expected to ride strong demands for 5G services with high device shipments through 2020. What will be more interesting to see is the battle for second spot, and whether Apple's iPhones actually manage to overturn Samsung's position in the 5G smartphone market.