"The smart glasses from Huawei with AR/VR features could be launched at IFA 2019 in Berlin next month"
Huawei has applied for trademarks for smart glasses at the European Union Intellectual Property Office, as well as the Intellectual Property Office of UK. The Chinese company has used the names Huawei AR Glass and Huawei VR Glass for these trademarks. Both these glasses are categorised under Class 9, which is meant for smart glasses, sunglasses, eyeglasses, 3D spectacles, smartwatches, and smartphones. The trademarks were applied for on August 14th, according to LetsGoDigital.
It is possible that Huawei could announce these new glasses during the upcoming IFA 2019 consumer electronics in Berlin. The fair kicks off on September 6th, however, there hasn't been an official word from the Chinese manufacturer yet. All we have, are two trademarks, which don't really reveal many details. Still, we do know that Huawei is working on smart glasses with AR/VR features. However, we still advise you to take all this with a pinch of salt.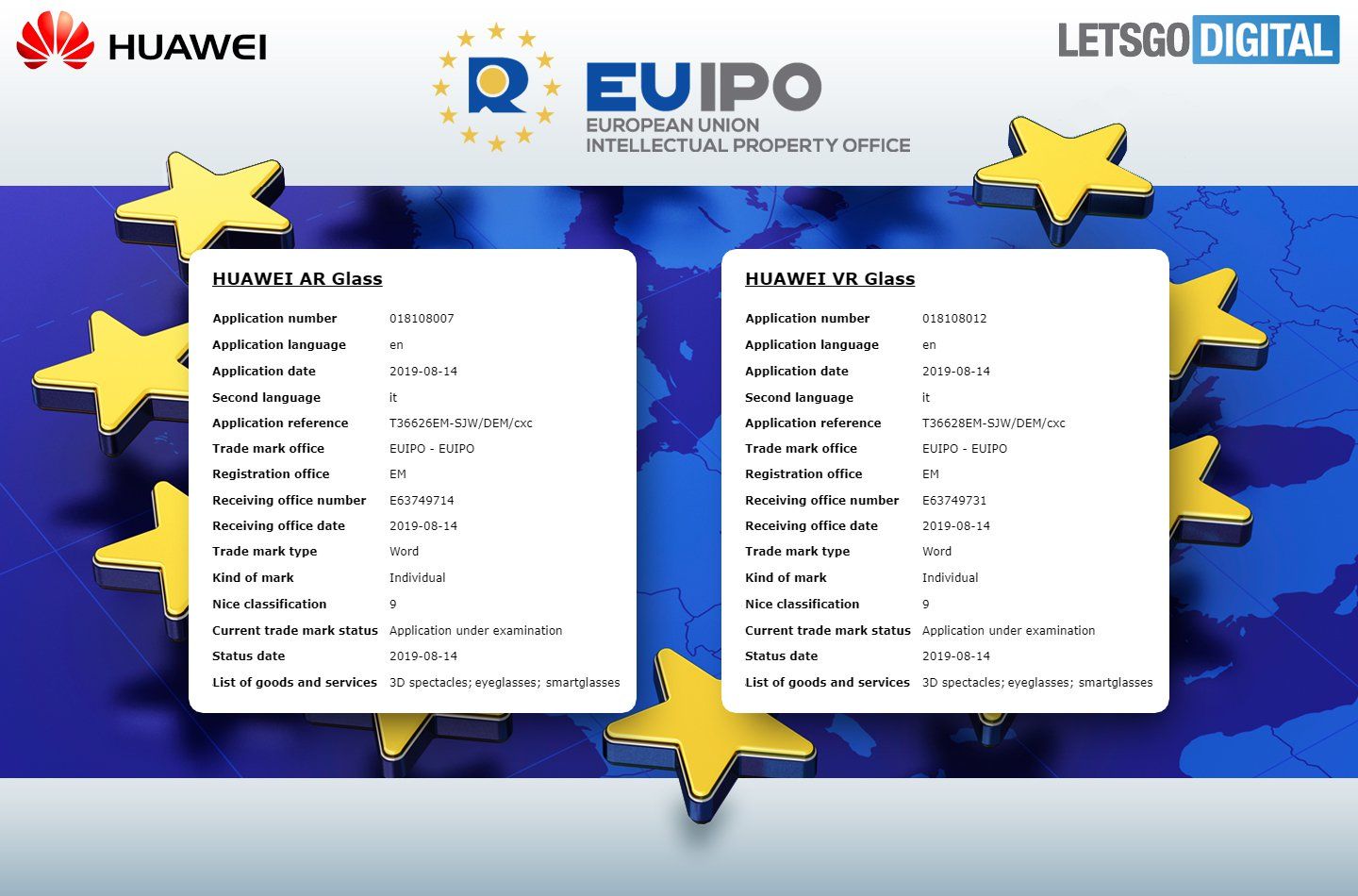 This isn't the first time that we're hearing of Huawei's AR/VR glasses. The company had revealed that it has been working on AR glasses. Huawei also announced its smart glasses earlier this year in collaboration with Gentle Monster, a fashion brand based in Korea. The smart glasses feature an assistant that can be controlled via voice. These glasses have speakers, dual-microphones and IP67 certification. The glasses come with a large 2,200mAh battery case and would connect to the phone wirelessly. It was meant to be available in select regions in July this year. The company has also launched VR headsets that run its own chipset and connected to a PC.
According to other rumours and reports, the Huawei AR and VR glasses would be stylish and easy on the eyes. The applications for these trademarks were submitted by the Forresters firm in Munich, Germany. The same firm had also filed a trademark for SuperSensing Camera, and Cine Lens. Huawei had also received a patent for Huawei AR Glasses earlier this year. However, these glasses were meant to work with a smartwatch and are probably not what the company wants to release. We would have to wait till IFA 2019 to find out if Huawei launches any new AR/VR glasses.