"Huawei Kirin A1 is the brain behind FreeBuds 3 and Watch GT 2, which are also slated to launch later this month or in the first week of December"
Huawei has started rolling out press invites to unveil "A New Ecosystem Experience in India" on November 14th. A reliable source has tipped 91mobiles that the "exclusive briefing" will see the launch of Huawei Kirin A1 chipset, which was announced back in September at IFA 2019 in Berlin, Germany. The Kirin A1 is said to be the world's first Bluetooth 5.1 and Bluetooth LE 5.1 chip, which will help Huawei rival Qualcomm, Samsung, and Apple on the accessories side of things. In fact, the press invite also suggests that the ecosystem will include headphones/ earphones, wearables, smart glasses, and speakers.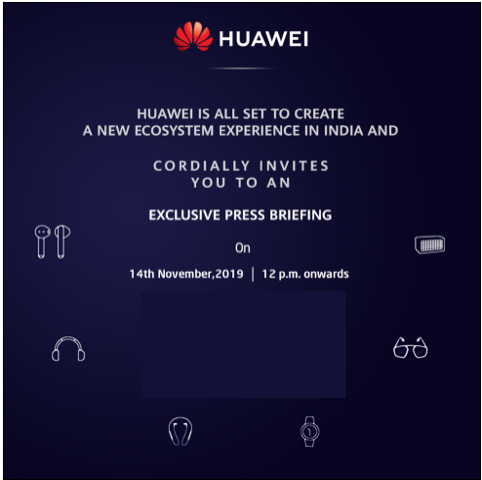 The Kirin A1 chip is the brain behind Huawei's latest FreeBuds 3 and Watch GT 2, which will also debut in India later this month. The chip is designed to address the needs of wireless devices. It's said to be smaller than Apple's flagship H1 chip, with 30 percent higher performance. Huawei claims that the Kirin A1 will ensure the device will have 50 percent lower power consumption than Apple's AirPods and 95 percent of the package size of AirPods H1 wireless chips.
Other highlights of the SoC include dual-channel Bluetooth data transmission technology, lower latency, and efficient and stable connection with anti-jamming ability. The Kirin A1 chip is touted to provide the fastest Bluetooth transmission speed in real-time of up to 6.5Mbps and Bluetooth ultra high definition audio (BT-UHD) output of up to 2.3Mbps. It'll be interesting to test these claims in the real world, so stay tuned to 91mobiles.