"Despite the US trade restrictions, Huawei has managed beat Apple in terms of smartphone shipments"
According to a Counterpoint Research report, Huawei has surpassed Apple to grab the second-largest smartphone vendor spot globally for 2019. Samsung has retained the top spot again with 296.5 million smartphone shipments last year. However, the volume of smartphone shipments declined by 1 percent across the industry. Despite the trade restrictions, Huawei has managed to grow and its home soil, China has accounted for over 60 percent of its shipments. Without Google Play Services, Huawei is struggling to find takers in the rest of the world. The company's 238.5 million shipments also includes phones from its sub-brand Honor.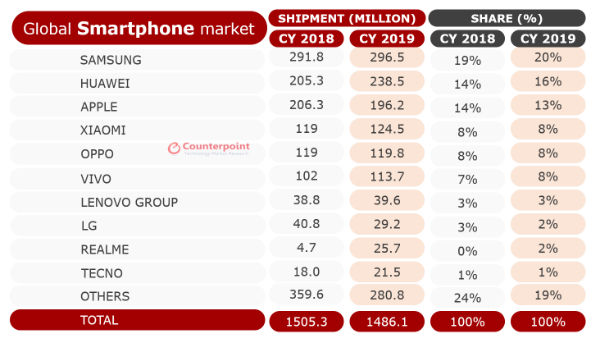 Apple attained the highest sales figure in Q4 2019 with 196.2 million units, making it the top smartphone vendor in a quarter for the first time in two years. Apple also witnessed 1 percent increase in global market share year-on-year, moving from 13 percent to 14 percent. This was driven by strong sales of the iPhone 11 series. Samsung managed to grow 1 percent as well to reach 20 percent market share. After Samsung, Huawei, Apple, it is Xiaomi and OPPO that grabbed the fourth and fifth spot worldwide with 124.5 and 119.8 million shipments, respectively. Though its market dipped in India in the last quarter, Realme continued its growth globally and remained the fastest growing brand during the quarter.
These top five smartphone brands have managed to capture 66 percent of the entire smartphone market throughout 2019, compared to 65 percent in 2018 and 62 percent in 2017. With 5G expanding rapidly, the smartphone market is expected to see a shift significantly. Samsung shipped over 6.7 million 5G phones in 2019, while Huawei sold over 6.9 million 5G units. However, the production and supply might be affected by the ongoing coronavirus attack in China.