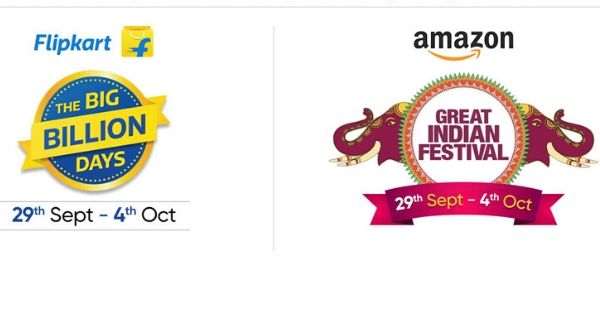 "Flipkart topped the online smartphone market share with 57 percent with realme and Xiaomi being the best selling online brands"
Counterpoint Research has published a new report that outlines the online smartphone shipments during Q3 2019. As per the report, the online channel in India reported the highest-ever market share of 46 percent during the quarter. Online shipments saw year-on-year growth of 55 percent, thanks to the various new smartphone launches and annual sales by both Flipkart and Amazon India. Flipkart had its Big Billion sale, whereas Amazon India had the Great India Festive season sale, both of which did great.
The online sales and offers on smartphones also helped Flipkart and Amazon see the best ever quarterly online phone shipments. However, Flipkart emerged as the leader of the online market with an overall share of 57 percent. Amazon India saw a better growth, 75 percent year-on-year, but managed to capture 33 percent of the online smartphone market. For Flipkart, the best selling smartphone brands were
realme
and
Xiaomi
. On Amazon India, Xiaomi,
Samsung
and
OnePlus
were the primary contributors to the e-commerce site's growth.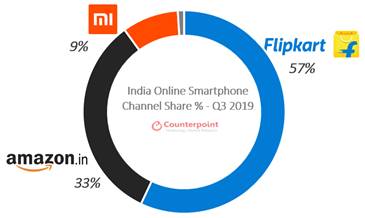 Both Flipkart and Amazon India served more zip codes than before and offered attractive discounts and promotions on smartphones. The offers also included cashback, EMI, exchange offers, and more. Xiaomi continues to lead the online smartphone market with a 38 percent share. The new Redmi 7 series helped in the growth of Amazon's market share as well. realme posted a record high with 4.5 times growth year-on-year.
Samsung also gained some market share thanks to the success of the new Galaxy M30s. The phone was sold on Amazon India and offers features such as powerful 6,000mAh battery. Vivo gained the number four spot in the online market thanks to the launch of new models such as the U10, Z1X, and the Z1 Pro. The company also gained the top spot in the Rs 10,000 to 15,000 price segment. The fifth spot was taken by OnePlus, which still leads the premium segment in India. This segment also saw an immense growth of 79 percent YoY.