"Low prices for mobile data services and affordable smartphones are the reason behind the drastic growth"
Although it shouldn't come as much of a surprise, a new report from Ericsson Mobility states that India has recorded the highest average monthly mobile data usage per smartphone in the world. Consumers in the country are using mobile data on their devices much more than in other parts of the world. This is mainly due to the data services being extremely cheap in comparison to other countries. Operators such as Reliance Jio have brought fast internet at affordable pricing. The report also states that India has seen tremendous growth in LTE adoption.
Smartphones have also become more affordable in India, which also helped in the growth of mobile data usage. Most smartphones, even the budget options, support 4G and VoLTE. Therefore, customers tend to use mobile data more to watch their favourite content, play online games, and make video calls. Manufacturers are also offering large displays and batteries on their latest devices, which further improves the media consumption experience.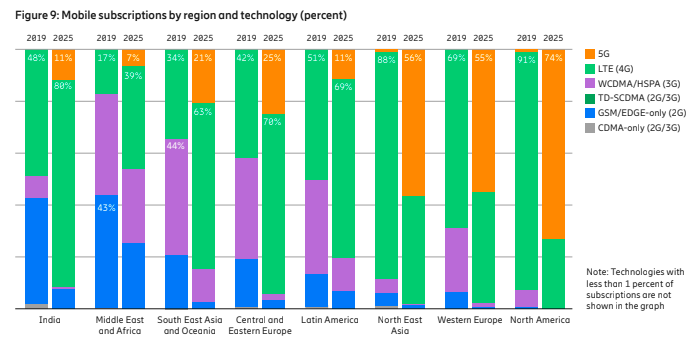 The Ericsson Mobility report for November 2019 also includes several projections for the country. For example, the company believes that 80 percent of all mobile users in India will be using LTE by 2025. According to the report, LTE subscriptions will cross the 150 million mark by the end of this year. It will pass older technologies such as GSM and Edge, which is still being used in most rural areas of the country.

Nitin Bansal, the Head of Network Solutions for Market Area South-east Asia, Oceania, and India, said the following in the report;

"Modernizing existing networks, improving network performance and increasing user experience continue to be at the core of every service provider's day-to-day business, both in India as well as globally."
By the end of 2019, more than 57 percent of all mobile subscriptions will have mobile broadband. The smartphone subscriptions share will increase to 54 percent from the current 48 percent. However, we are only talking about 4G/LTE subscriptions here. The newer 5G technology will take a couple of years to be available in the country. The report states that 5G subscriptions will only be available in the year 2022 and will account for just 11 percent of mobile subscriptions by the end of 2025.