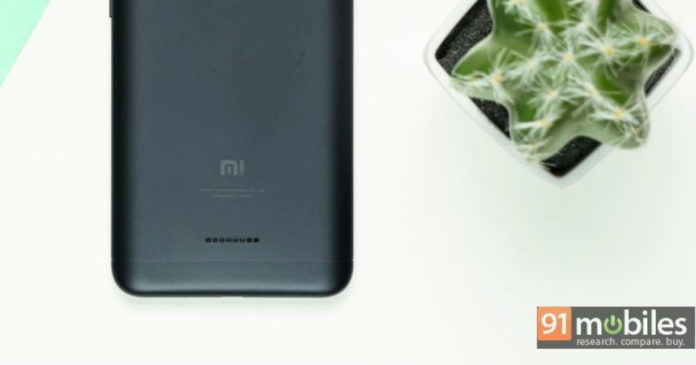 "Indian smartphone shipments saw a 14.5 percent growth in 2018 as compared to 2017"
According to a new report by IDC, smartphone shipments in India saw a huge growth in 2018 thanks to online retailers and brands such as Xiaomi, Oppo, Vivo etc. Over 142.3 million smartphones were shipping in 2018, which is an increase of 14.5 precent compared to the year 2017. The strongest quarter of 2018 was seen in Q3, but there was a decline of sales in the fourth quarter. However, the discounts and offers during the Diwali period(Q4 2018), led to an annual growth of 19.5 percent.
Online brands such as Realme and online-only smartphones from Xiaomi, Honor, Asus, OnePlus, helped increase online sales to 38.4 percent in 2018. In the fourth quarter, the online sales hit 42.2 percent. This was possible due to these online brands and retailers teaming up to provide cashback offers, financing, buyback offers and more. Compared to sales in Q4 2017, the online channel saw a 47.3 percent growth year-on-year.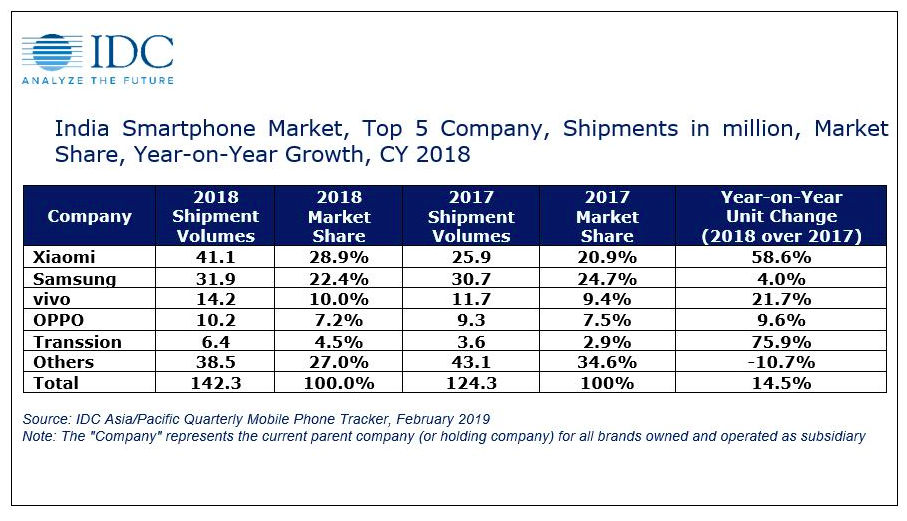 Coming to the offline channel, things weren't that great to be honest. The report states that offline retailers saw a 6.7 percent growth in 2018. In Q4 2018 the market saw a 5 percent increase in sales. Despite not growing a lot, the offline channel is still the largest smartphone distribution method in the country.
Xiaomi came on top in the smartphone market with a total share of 28.9 percent in 2018. Samsung followed with a 22.4 percent market share with Vivo in third gathering 10 percent share and OPPO in fourth with 7.2 percent. Samsung saw a decline of 7.9 percent in Q4 2018 compared to Q4 2017. In the fourth quarter market share, Realme entered fourth position thanks to its impressive sales. It gained 17.3 percent of the market in the same quarter.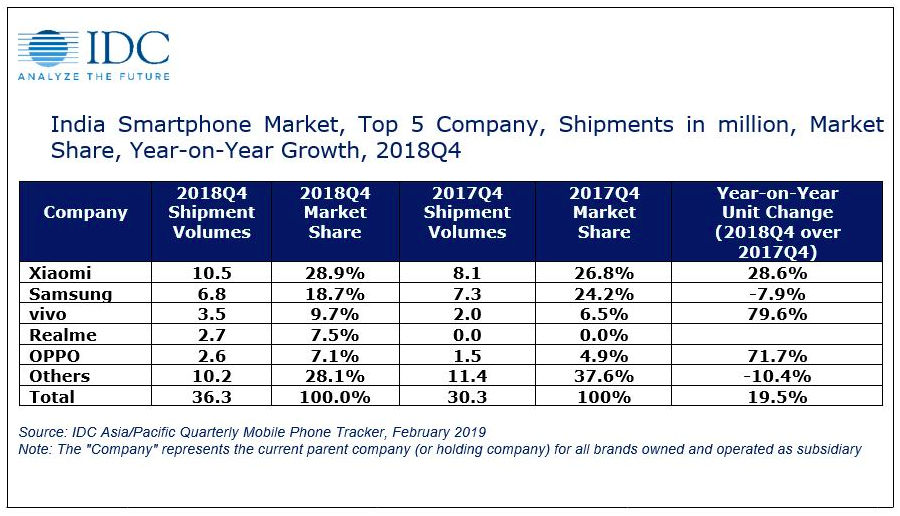 Growth was highest in the feature phone segment, which was led by the Jio Phone. This market saw a total of 181.3 million units sold in 2018 and made up 56 percent of the total smartphone market. We are talking about the overall smartphone market here, not the sales. The average selling price for a smartphone remained at around Rs 11,000 and most of the smartphones shipped in 2018 belonged to the budget segment. Customers mostly purchased devices costing between Rs 7,000 to Rs 14,000. For the entire report, head over to the source link.