"Xiaomi and Samsung have an iron grip on the Indian market with a combined share of more than 50 percent, says the report"
It's very well known that the global smartphone market didn't fare very well in 2018, and a new report by research firm Canalys has stated that the Indian market was one of the brightest shining lights for the whole of last year. The overall smartphone shipments grew by 10 percent Y-o-Y, making India the top growing market that recorded full-year growth amongst a short list of six other regions.
In pure numbers, 12 million additional units were sold last year constituting a total of 137 million units, states the report. Xiaomi had the lion's share of shipments with 41 million units and 29.9 percent market share. In fact, Xiaomi took first place in 2018 for the first time, toppling Samsung in the country. India now makes an even bigger share of shipments than China making it the biggest market for Xiaomi. The Chinese smartphone maker along with Samsung, which was pushed to second place with 35 million units shipped, took away more than 50 percent of the market share with 29.9 percent and 25.8 percent market share, respectively.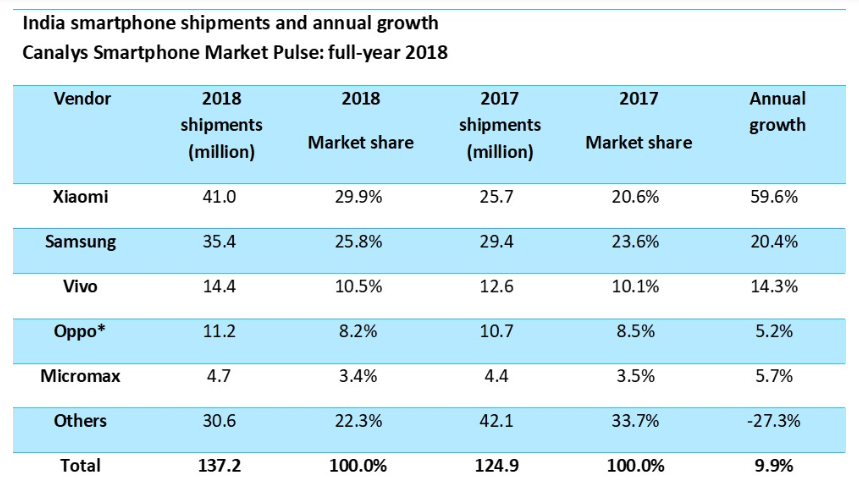 OPPO and Vivo, both subsidiaries of BBK Electronic, were ranked fourth and third respectively as both OEMs felt the sting of a slowdown in the Chinese market, thus cutting spendings in India. Note that Realme's growth numbers are not included under OPPO. Also worth noting is that Huawei couldn't make it to to the top five, while Micromax had a growth of 3.4 percent compared to last year, shipping 4.7 million units.
The report also stated that 2019 will ring in big changes as the Indian government has introduced laws to regulate online platforms like Flipkart and Amazon. This will result in sales favouring offline channels, affecting online smartphone sales of companies like Xiaomi and Realme.
Canalys Research Manager Rushabh Doshi said, "2018 was a defining year for smartphones in India. The impact of a declining Chinese market on vendors such as OPPO, Vivo, and Xiaomi was pronounced, with OPPO and Vivo reducing both their above- and below-the-line marketing efforts significantly to counter falls in their Chinese businesses. Xiaomi, on the other hand, focused heavily on India, with excellent results. India is now the biggest market for Xiaomi worldwide. The Chinese vendors have done well to ride the spread of 4G and the boom in local apps and services. 2018 was undoubtedly the year app-based economies flourished."