"Realme, ASUS, Nokia, and OnePlus were the fastest-growing brands year-over-year"
The first and second quarter of 2019 saw several new smartphone launches in India. There were plenty of price cuts on older devices during this time as well. Thanks to the new launches and price cuts, the smartphone market in India has seen a record Q2 2019. The smartphone shipments in Q2 2019 grew by 37 million units compared with the same quarter last year. The report comes from Counterpoint Research, which has just released the stats for smartphone shipments in India. According to the report, Xiaomi is still at the top of the list with the highest smartphone market share in India.
Xiaomi had 28 percent share in the market, similar to Q2 2018. The company saw a 6 percent year-on-year growth in shipments, thanks to new launches and offline sales. Other Chinese brands such as OPPO and Vivo saw an increase in shipments via offline channels, thanks to the IPL and Cricket World Cup promotions. Vivo had success with the Y91 series of smartphones and also the Z1 Pro, which is an online exclusive. OPPO, on the other hand, saw a year-on-year decline of 3 percent in shipments. However, thanks to the F11 series and other budget smartphones, OPPO managed a 53 percent growth in QoQ.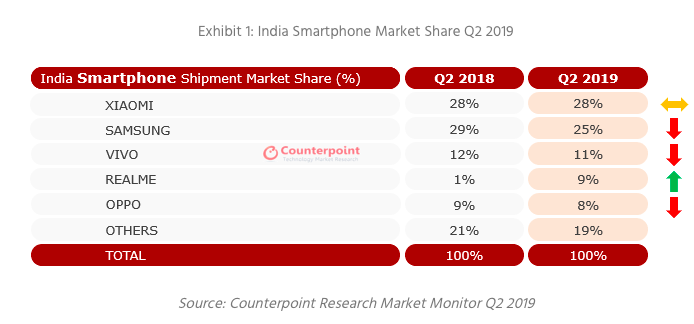 Samsung remained in the second spot and saw a decline in smartphone shipments compared with Q2 2018. However, the company did see 30 percent growth QoQ, thanks to the new M series and A series smartphones. It also announced price cuts for several old devices, which helped in the growth. The Galaxy A10 turned out to be one of the bestsellers in the budget segment, while the Galaxy S10 series showed strong sales in the premium market. However, OnePlus was the number 1 smartphone brand in the premium segment thanks to the OnePlus 7 series.
Finally, Realme managed to remain in the top 5 for the last 3 quarters. The Realme C2 and the Realme 3 Pro helped the company become the fastest brand to reach 8 million sales in less than one year. Huawei also saw a decline due to the trade ban but remained in the top 10. The report also showed that there was a steep 39 percent decline in the feature phone market.