It's time to declare which smartphone has won the Best Affordable Flagship Phone of 2020 award. This was certainly one more difficult category to judge, given how truly impressive all the nominees were. But the 30-team jury of Indian Gadget Awards (Voice of the Industry) has finally reached its verdict. This award is, of course, part of IGA 2020, India's biggest and most prestigious awards platform, bringing together 30 of the biggest tech influencers on one platform. The awards are being co-hosted by 91mobiles, Geekyranjit, Trakin Tech, and MySmartPrice. Here's the device that the 30 jury members have chosen to be the Best Affordable Flagship Phone of 2020.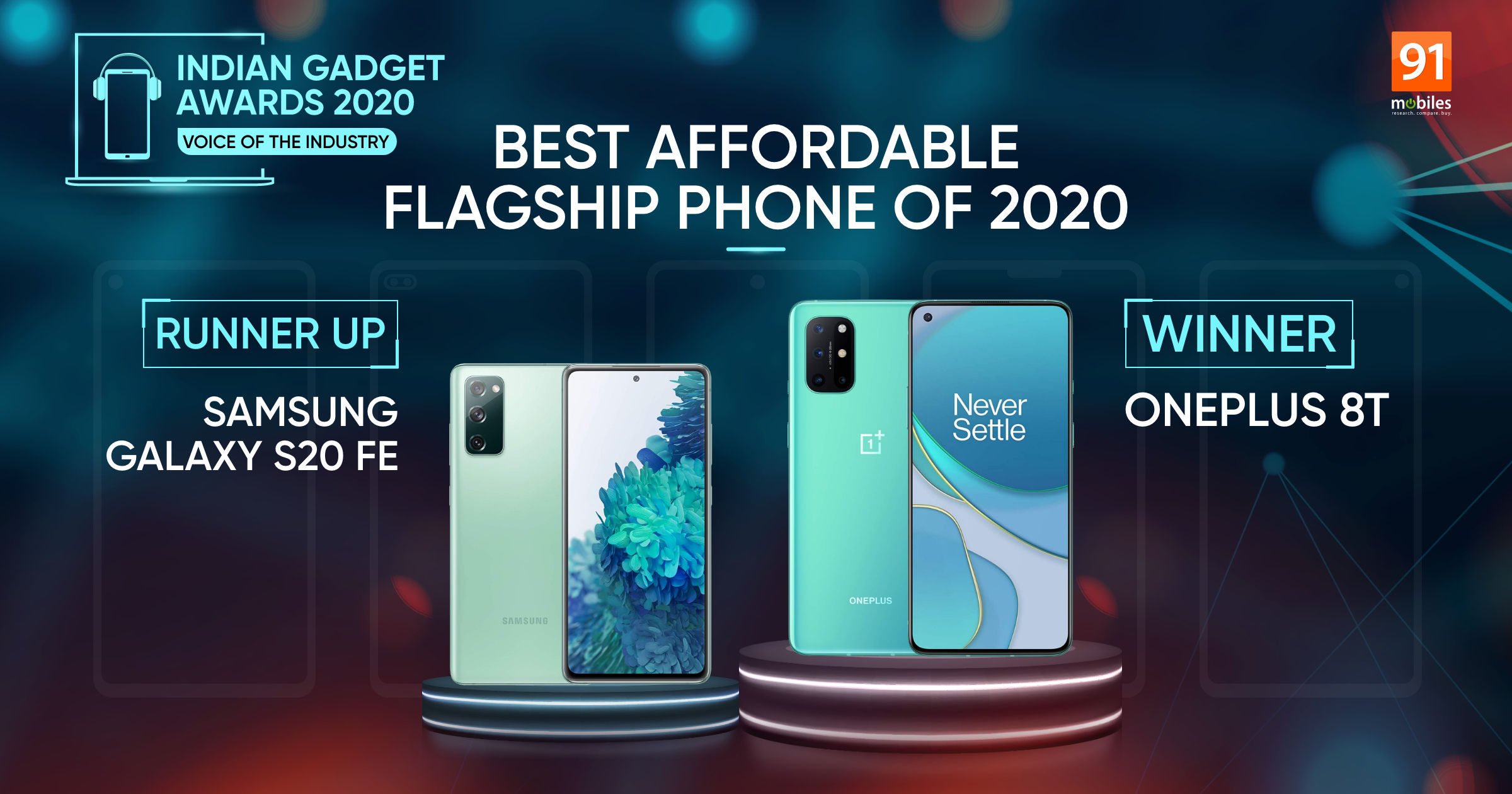 The winner of the Best Affordable Flagship Phone of 2020 title is: OnePlus 8T
OnePlus delivered a truly full-bodied flagship experience through its 8T, while still managing to keep the price down. The OnePlus 8T's 120Hz display makes it an absolute delight to use, while its use of the Snapdragon 865 chipset ensures ultra-fast performance, along with 5G support. Another big highlight of the OnePlus 8T is its whopping 65W fast charging support, which can charge its 4,500mAh battery to 100 percent in just 39 minutes. This exquisitely designed phone also amazed us with its photography chops that are enabled by its 48MP quad-camera setup. It's definitely a worthy winner for the award of the Best Affordable Flagship Phone of 2020.
Runner-up for Best Affordable Flagship Phone of 2020: Samsung Galaxy S20 FE
The OnePlus 8T only edged narrowly above the Samsung Galaxy S20 FE, which too is a very astonishing smartphone. It brought many premium features from the flagship S20 range into the affordable flagship segment. These include the gorgeous 120Hz Super AMOLED display and the mighty Exynos 990 chipset. The triple camera setup on its back was also super impressive and so was its 32MP front camera. The Galaxy S20 FE was a surprise launch that didn't waste any time in turning into a fan favourite.
Just to refresh your memory, here are the rest of the nominees for the Best Affordable Flagship Phone of 2020:
Xiaomi Mi 10
The Mi 10 holds a 108MP rear camera that induces a great amount of detail and colours in your photographs. It's an excellent device for those who consume a lot of content on their phones, as it bears a Super AMOLED display with a 90Hz refresh rate. Moreover, it's powered by the top-notch Qualcomm Snapdragon 865 processor, making it a beast in terms of performance.
Realme X50 Pro
The Realme X50 Pro was the first phone in India to launch with the Snapdragon 865 chipset at its heart. It was also the first in the country to offer 65W SuperDart Charge fast charging support, which allows it to go from 0 to 100 percent in just 35 minutes. Stereo speakers, a 48MP quad-camera setup with 60x zoom support, and a 90Hz AMOLED display are some of its other highlights.
Apple iPhone SE 2020
The latest iPhone SE came as a brilliant option for Apple fans who didn't want to spend a bomb buying a premium iPhone model. The great part about it was that it offered the same A13 Bionic chip that the flagship models of its time offered. Moreover, its single 12MP camera is extremely good at capturing photos and videos.
Xiaomi Mi 10T Pro
The Mi 10T Pro's display features a stellar 144Hz refresh rate, making it perfect for gamers who demand the highest-end hardware from their phones. It's no surprise that it uses the Snapdragon 865 processor and carries on its back the same 108MP camera that's present on the Mi 10.
All these phones are winners in their own right but the OnePlus 8T ended up getting this award for the sheer class and all-roundedness it brings to the affordable flagship segment.
For your reference, here is the full list of winners of the Indian Gadget Awards 2020.