The year 2020 was a good one for budget TWS earbuds. Lots of them made it to the market and offered affordable options to those who couldn't afford high-end ones. This category of the Indian Gadget Awards (Voice of the Industry) will reward the truly wireless pair of earbuds that offered the richest features and the best audio at an affordable price. Just in case you weren't aware, IGA 2020 is the country's biggest and most prestigious awards platform. This unique event brings together 30 of the most prominent voices from some of the biggest tech publications and YouTube channels in India. This event is being co-hosted by 91mobiles, Geekyranjit, Trakin Tech, and MySmartPrice and the results are finally in. Let's see which device wins the crown for the Best Budget Truly Wireless Earbuds of 2020.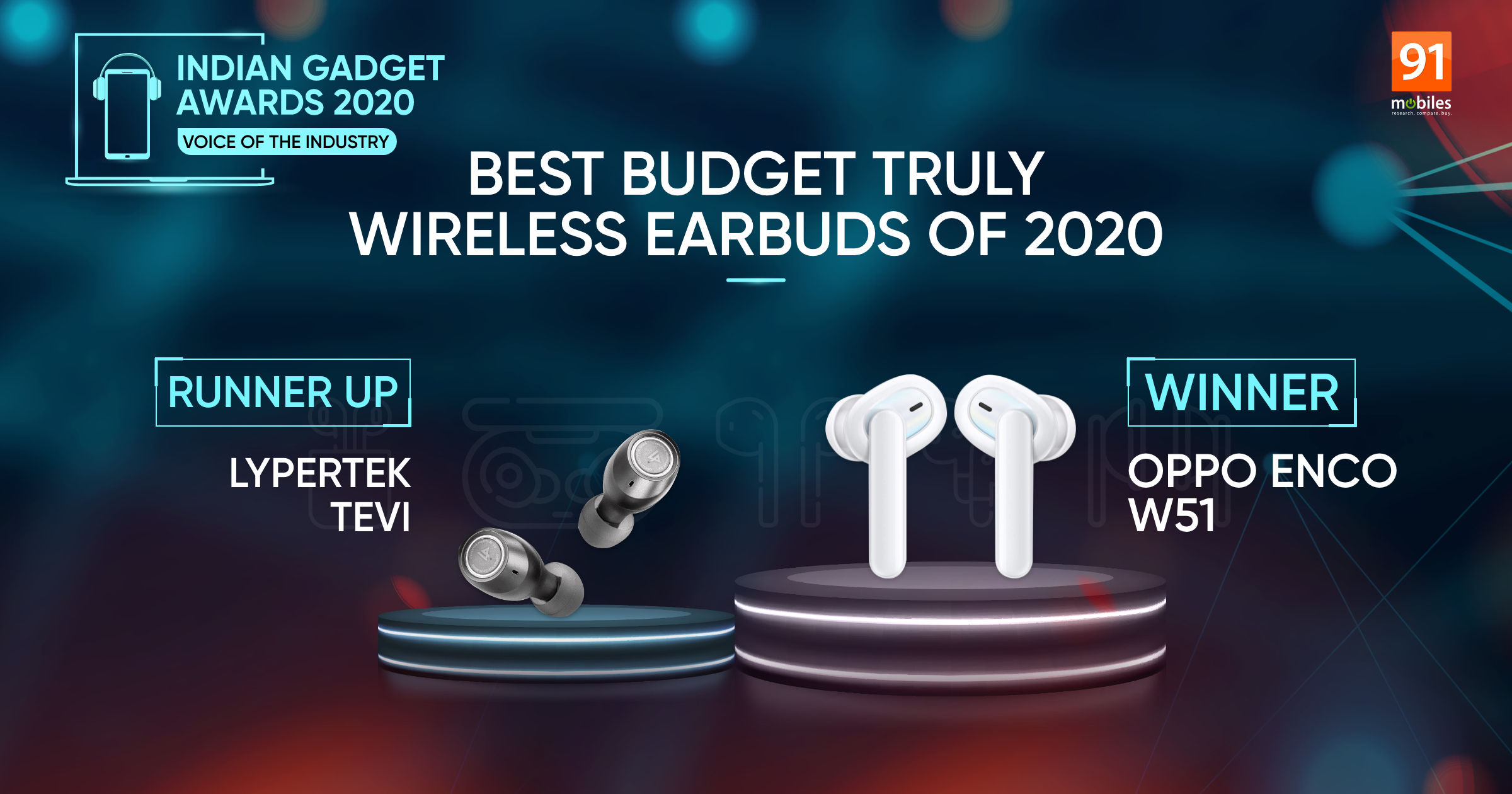 The winner of the Best Budget Truly Wireless Earbuds of 2020 title is: OPPO Enco W51
The OPPO Enco W51 was a surprise hit last year. It came with a rather simple design and support for Bluetooth 5.0, which led to a smooth and stable user experience. But its main draw was active noise cancellation (ANC), a feature that's quite uncommon in the budget segment. The earbuds make use of a set of six microphones (three on each ear) to minimise ambient sounds, whether you're listening to music or are on a phone call. These earbuds carry an IP54 rating for dust and water resistance and boast 20 hours of battery life (counting the charging case). The OPPO Enco W1 earbuds pack tremendous value for money and are a no-brainer if you're in the market for budget TWS earbuds. It's no wonder that they've won the award for the Best Budget Truly Wireless Earbuds of 2020.
Runner-up for Best Budget Truly Wireless Earbuds of 2020: Lypertek Levi
Another set of earbuds that grabbed our attention this year was the Lypertek Levi, with their uncompromised sound and a bevy of useful features. The earbuds have been equipped with 6mm dynamic drivers that deliver seamless wireless sound over Bluetooth 5.0. Another brilliant attribute is that they offer 8 hours of playback on their own, while their case holds an extra 40 hours of charge. That means a total of 48 hours of playback is on offer on a single charge, which is incredible. Moreover, not only do these earphones support fast charging, but they also offer support for wireless charging. Although they don't offer ANC, they do come with excellent sound isolation and a helpful ambient mode that lets just enough outside sound in for safety purposes.
Just to refresh your memory, here are the rest of the nominees for the Best Budget Truly Wireless Earbuds of 2020:
OnePlus Buds Z
With the OnePlus Buds Z, the company finally took the plunge in the TWS market. Along with 10mm dynamic drivers, these earbuds also offer amazing bass boost algorithms, making them ideal for those who like their music to have thumping bass. They even feature 20 hours of battery life with their case.
Realme Buds Air Pro
The Realme Buds Air Pro earbuds impress with their active noise cancellation and their low-latency mode for gaming. These earbuds effortlessly deliver stunning sound, no matter what kind of music is played on them. And their promised 25 hours of total playback is the icing on the cake.
Mee Audio X10
The Mee Audio X10 earbuds are the perfect workout companion thanks to their snug fit and their IPX5 rating. These earphones ship with 5mm HD micro-drivers and can provide up to 4.5 hours of music playback on their own. An additional 18 hours of charge is stored in the case, bringing the total playback time to 22.5 hours.
Anker Soundcore Liberty 2
The Anker Soundcore Liberty 2 ended up impressing us with their highly accurate sound. They achieve this with the help of its diamond-coated drivers. Moreover, they come with personalised EQ settings that are created based on your music listening experience. They offer an impressive 32 hours of playback through the charging case.
All the truly wireless earbuds mentioned above are great choices but only one among them could receive the crown for the best.
For your reference, here is the full list of winners of Indian Gadget Awards 2020.