Every year sees manufacturers doling out excellent fitness trackers for the health-conscious, and this year was no different. We saw some really exciting products come our way through companies like Xiaomi, Amazfit, Samsung, Fitbit, and others. The 30-member jury of the Indian Gadget Awards (Voice of the Industry) represents the biggest personal tech experts who have experienced the best this segment has to offer. Let's see which of the nominees emerges as the jury's pick for the title of the Best Fitness Tracker of 2020.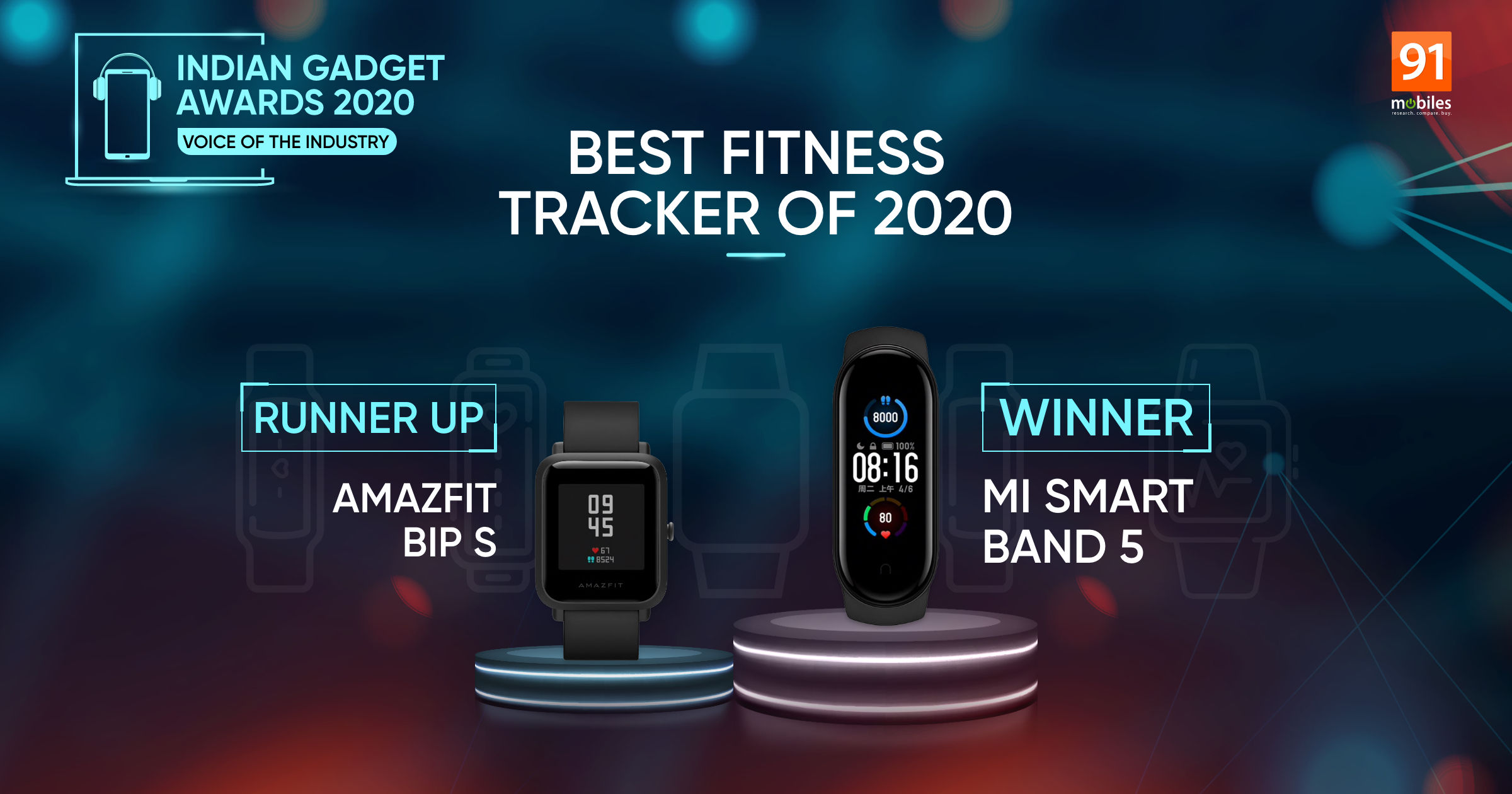 The winner of the Best Fitness Tracker of 2020 title is: Mi Smart Band 5
Year on year, Xiaomi's fitness trackers have been getting incredibly better. The Mi Smart Band 5 is no small update to its predecessor. For the first time, it is offering a magnetic charger that makes it way easier to charge the fitness band. But it's not like you'll be using the charger much, since the wearable boasts of a two-week battery life (3 weeks if you're on battery saver mode). This is on top of the gorgeous AMOLED display that it sports. The fitness tracker comes with 50m water resistance and a total of 11 sports modes, including yoga tracking. With the Mi Smart Band 5, you also get 24-hour heart rate and sleep monitoring, apart from menstrual cycle tracking.
Runner-up for Best Fitness Tracker of 2020: Amazfit Bip S
The Amazfit Bip S is a worthy runner up in the Best Fitness Tracker of 2020 category. It blurs the line between fitness tracker and smartwatch with its excellent design. And it does it all while keeping the price very affordable. Apart from a heart rate monitor and an always-on display, it also delivers the benefits of GPS as well as GLONASS. Moreover, this lightweight fitness tracker also boasts of a 15-day battery life. Ten different sports modes make their way into it, aside from advanced sleep tracking. The Amazfit Bip S is also waterproof up to 50 meters. All these features make it a complete package that's hard to ignore for anyone who's in the market for a fitness tracker.
Just to refresh your memory, here are the rest of the nominees for the Best Fitness Tracker of 2020:
Goqii Vital 3.0
One of the unique features of the Goqii Vital 3.0 fitness tracker is its ability to measure body temperature, which is quite important considering the times we are living in right now. Moreover, it also comes with a 12-month subscription to Goqii Play and a 3-month subscription to Goqii Health Coach.
Samsung Galaxy Fit 2
Everything about the Samsung Galaxy Fit 2 spells premium. It's got a thin and lightweight design and comes with all the bells and whistles that you'd expect from such a device. It also features automatic workout-tracking, which is something quite useful for keeping a check on your daily activities.
Fitbit Charge 4
The Fitbit Charge 4 is one more gadget this year that came with a SpO2 sensor, along with all the essentials. It's an excellent gadget to have if you want to ensure that all your fitness goals are met and kept a track of.
All the fitness trackers mentioned above are great choices but only one among them could receive the crown for the best.
For your reference, here is the full list of winners of the Indian Gadget Awards 2020.