Flagship smartphones have the added responsibility of bringing to the market flagship mobile SoCs, and the Best Flagship Mobile SoC of 2020 turned into a three-pronged race for the most part. Qualcomm offered the Snapdragon 865+ right at the start, followed by Samsung's much improved Exynos 990. Apple, however, dealt a telling blow with the A14 Bionic — a chipset that is clearly made for the next generation of computing. This is one category where the esteemed jury of Indian Gadget Awards came together in unison, to make a decision that is evident for all to see.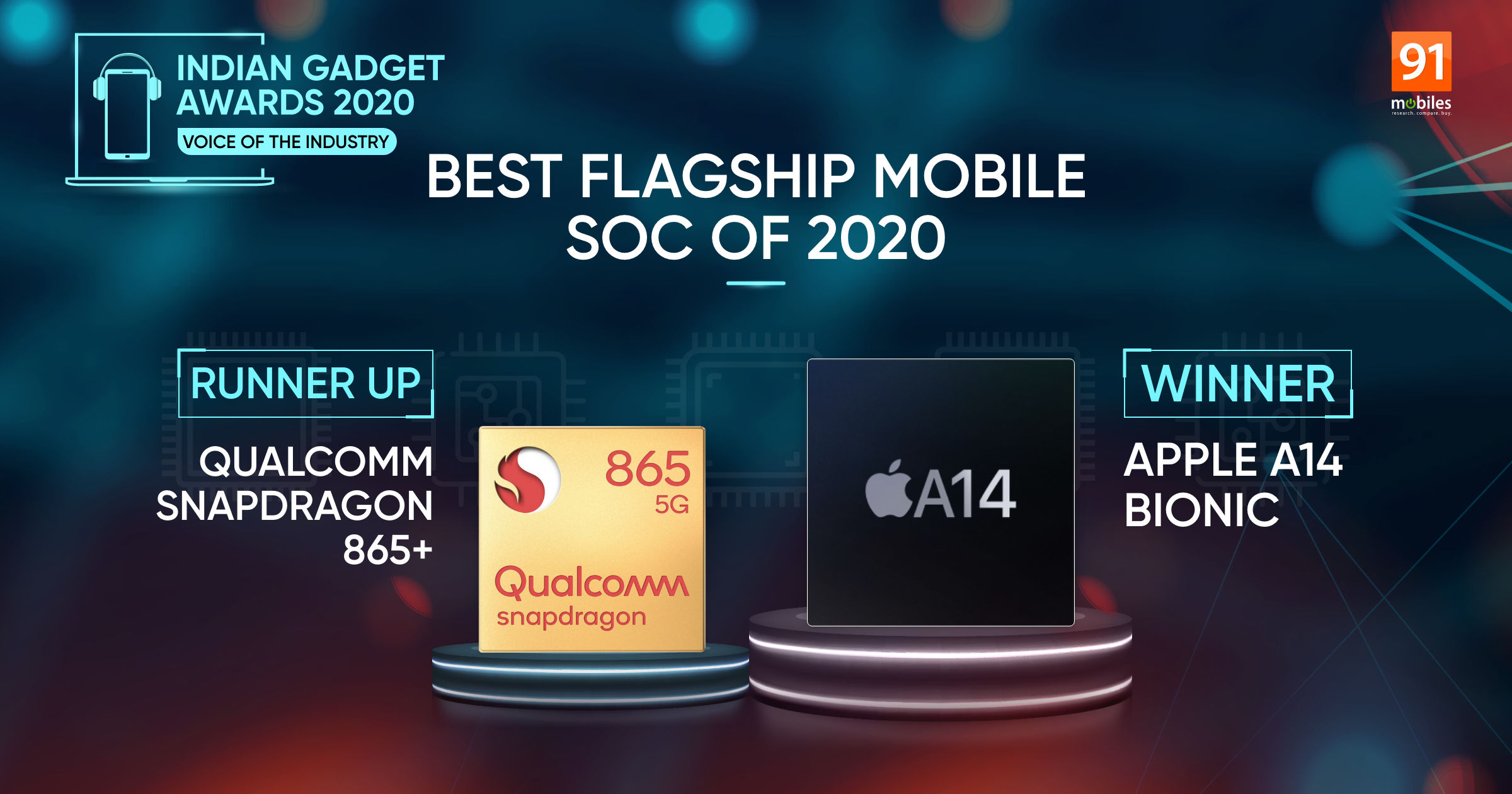 The Best Flagship Mobile SoC of 2020 is: Apple A14 Bionic
Apple became the first mainstream chipset manufacturer to offer the 5nm standard in a consumer chipset. The result? Apple's iPhone 12 lineup, as well as the new generation iPad Air, are all powered by a truly next-generation chipset. Alongside offering 5G connectivity, the A14 Bionic offers sublime overall performance, better efficiency of power, great abilities in terms of image processing, AI tasks and a neural engine that is widely regarded as the best in the industry. Safe to say, the A14 Bionic will remain formidably powerful even in the time to come.
The runner-up for the Best Flagship Mobile SoC of 2020 is: Qualcomm Snapdragon 865+
Qualcomm's Snapdragon 865+ has marked a year of improvements for the company. The flagship chipset that powered many Android flagships of 2020 offers excellent gaming performance, while efficiency is largely taken care of by background cores. Qualcomm has also focused majorly on 5G and integrated security features with this chipset, on the whole offering an SoC that can ensure that the flagship smartphones that you purchased in 2020 will remain considerably powerful and eligible for upgrades for at least the immediate future.
Our other nominee for the best flasghip mobile SoC of 2020 was:
Samsung Exynos 990
Samsung's Exynos line of processors have been very capable, but had somewhat fallen behind most competitors in the outright performance department. While 2021 will be the real exciting year for Samsung in the chipset space, the Exynos 990 set the ball rolling by offering highly reliable performance in its flagship phones.
For your reference, here is the full list of winners of Indian Gadget Awards 2020.