Gaming laptops are among the most sought after and aspirational gadget categories around the world. Not only are they packed to the hilt with the latest technologies in computing, but they also offer gateways for users to execute demanding professional tasks and lose themselves in the world of gaming — often even while on the move. This category is even more crucial, given how gaming got a turbo boost in 2020. At the Indian Gadget Awards, our esteemed 30-member jury put their heads together to pick the ultimate gaming laptop that was launched in 2020. The winning laptop is not only a beast at gaming, but is an all-round performance monster that deserves every bit of the attention that it's gotten.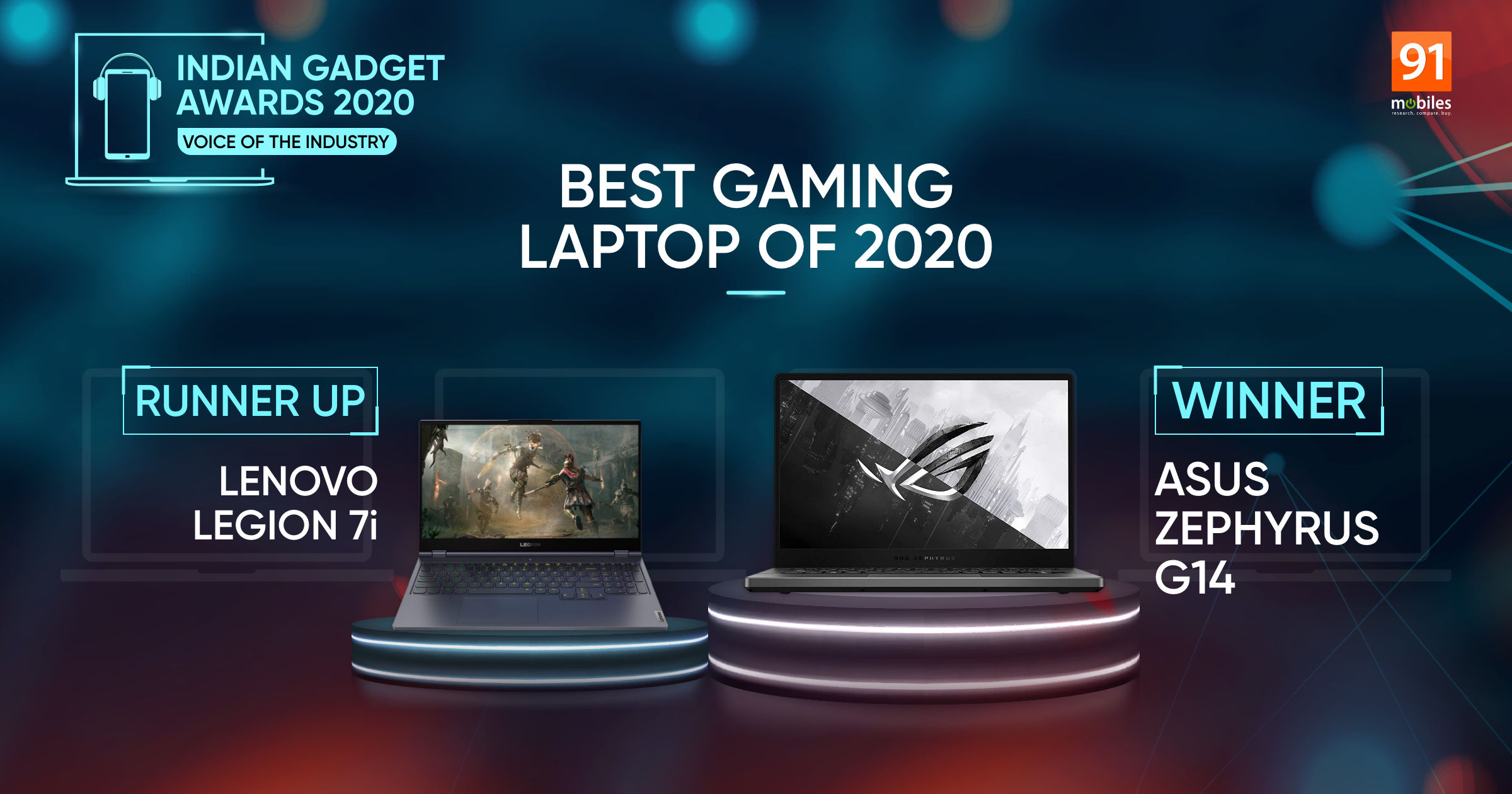 The Best Gaming Laptop of 2020 is: ASUS Zephyrus G14
The Zephyrus G14 was a standout laptop ever since it was launched, and it rode on its appeal and ASUS' overall impressive Republic of Gamers portfolio to take the title of being the best gaming laptop launched in 2020. This AMD-powered machine offers everything that you'd expect from a top-notch gaming laptop in today's world in terms of configurations. However, it does so in style thanks to uniformly slim bezels that make it super compact. This improves its portability — something gaming laptops have struggled with majorly, over time. It also has an excellent cooling system for a thin and light gaming laptop, hence establishing its credibility firmly.
The runner-up for the Best Gaming Laptop of 2020 is: Lenovo Legion 7i
The Lenovo Legion 7i is not just a very good gaming laptop, but a very impressive laptop on overall terms. It is a mean machine that can help you play all the AAA games that have launched recently — Cyberpunk 2077 and Assassin's Creed: Valhalla are just two of the recent ones. Along with that, it has an excellent trackpad and the super reliable keyboard that Lenovo laptops have always been known for. Its stately looks ensure that the Legion 7i will not look out of place at boardroom meetings either.
The other nominees for the best gaming laptop of 2020 were:
Alienware Area 51m-R2
The first generation of Dell's Alienware Area 51m series of laptops established desktop-grade customisability as well as the chance for future upgrades to internal components. While the second generation remains as impressive as always, the cost and proprietary requirements from component makers will remain a concern until this design becomes viable.
MSI GT76 Titan
The GT76 Titan from MSI is a bit of a legend in the gaming arena, thanks to it offering the best possible range of specifications in gaming laptops through 2020. Its super fancy RGB LED lighting has been the icing on the cake, but its bulk makes it more of a desktop replacement than an outright laptop.
Acer Predator Helios 300
Acer has been a steady mover in the gaming laptop space for a long time now, and the Acer Predator Helios 300 is one beast of a laptop as well. Like the others in this list, the Predator Helios 300 will also not leave you disappointed in terms of the specifications on offer.
For your reference, here is the full list of winners of the Indian Gadget Awards 2020.