A number of big brands came up with really alluring mid-range camera smartphones in 2020, but there was one that was clearly way better than the rest. The device that excels at photography more than anything else has received the crown of Best Mid-range Camera Phone in 2020's Indian Gadget Awards (Voice of the Industry). The IGA 2020 event is a first of its kind collaboration in the country yet as it has brought together 30 of the biggest experts in the personal tech industry. The event is being co-hosted by 91mobiles, Geekyranjit, Trakin Tech, and MySmartPrice. Without spending any more time on introductions, let's get on with the winner announcement.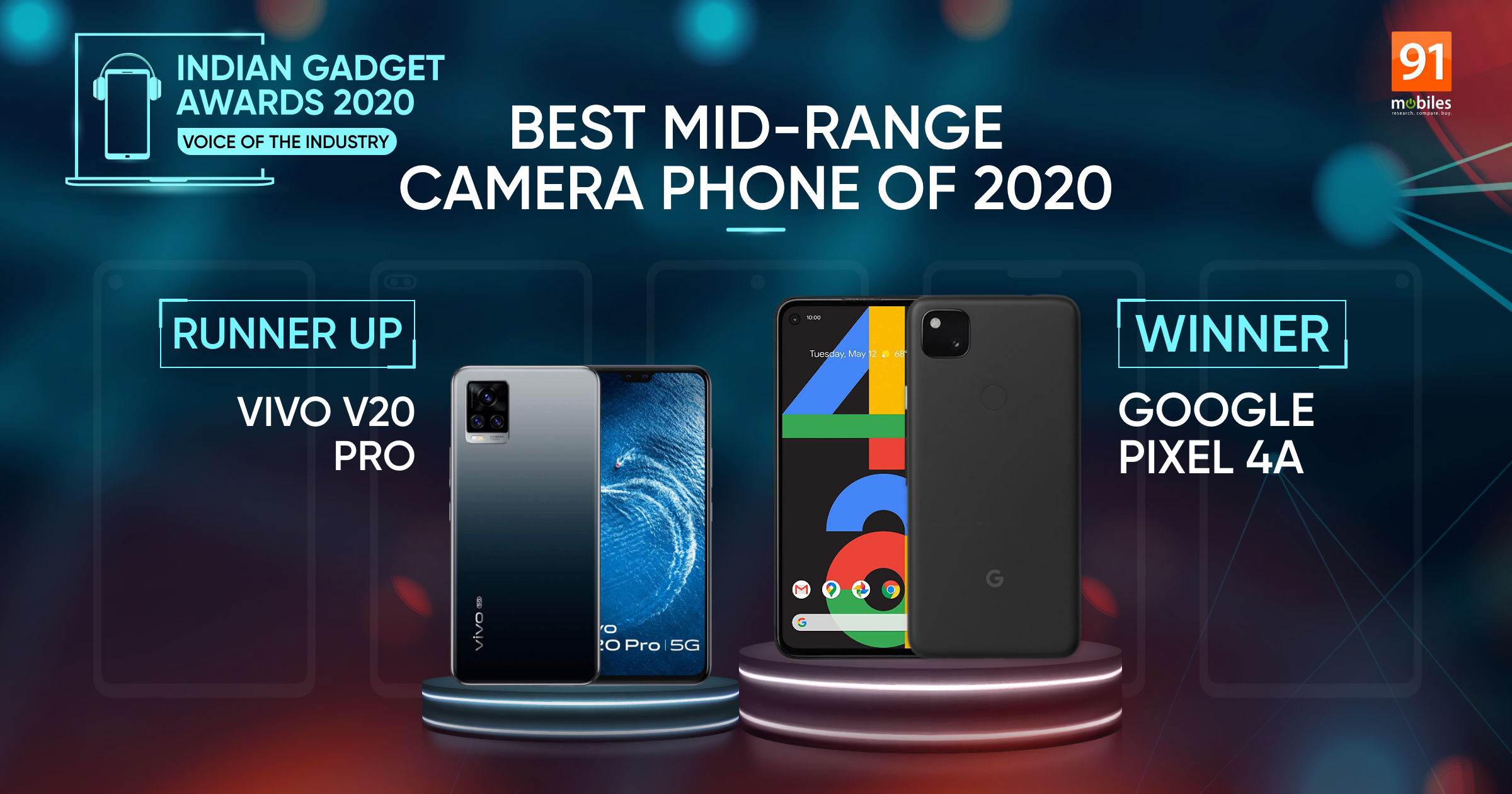 The winner of the Best Mid-range Camera Phone of 2020 title is: Pixel 4a
Google's Pixel 4a did things differently, in the sense that it didn't look to be a slightly toned-down version of the Pixel 4. Rather, it was a completely new device built on strict mid-range guidelines. However, its single 12MP rear camera ensured that the Pixel DNA was thriving conformably in it. Despite all other nominees sporting multiple camera setups, the Pixel 4a's single camera managed to trump them with its sheer photography brilliance. It should also be noted that it uses an old sensor, proving that Google's image processing capabilities are still way ahead of the competition. The Pixel 4a's photography chops also include stunning low-light imaging and astrophotography. In this category, it was a clear winner.
Runner-up for Best Mid-range Camera Phone of 2020: Vivo V20 Pro
The Vivo V20 Pro looked very impressive on paper and it translated that remarkability into real-world usage quite effortlessly. Despite its mid-range price, it delivered an excellent photography setup with its 64MP + 8MP + 2MP combination. Its USP was also its 44MP Eye Autofocus Dual Front Camera system, which offered stunning portraits with rich colours and depth. While its rear camera setup had plenty of bells and whistles, the dual front cameras were also pretty well endowed, with impressive features like Steadiface Selfie Video and 4K Selfie Video making the cut.
Just to refresh your memory, here are the rest of the nominees for the Best Mid-range Camera Phone of 2020:
OnePlus Nord
The OnePlus Nord ended up shaking up the market big time in 2020, with its near-premium features that were being offered at a mid-range price. A total of six cameras can be found on this phone, each delivering a distinct attribute that tremendously enriches the photography and videography experience of the user.
Realme X3 Superzoom
The Realme X3 Superzoom is an apt smartphone for anyone who enjoys zoom photography. With the help of its periscope-style lens and its other cameras, the phone is able to offer up to 60x digital zoom, apart from 5x optical zoom. And for a change, this isn't a mere gimmick. The phone really returned some remarkable zoomed-in shots in good light.
Samsung Galaxy M51
With its 7,000mAh battery, the Samsung Galaxy M51 is already a highly tempting offering, but its 64MP rear camera setup makes sure that it offers a great photography experience as well. The phone also impresses with features like Single Take and Night Mode. For selfie enthusiasts, it holds a 32MP front camera.
As you can see, all these smartphones surely offer amazing cameras, but there can only be one winner.
For your reference, here is the full list of winners of the Indian Gadget Awards 2020.