Mid-range smartphone chipsets these days can rival their more powerful brethren in terms of capabilities. Apart from features like fast number crunching, AI chops, gaming-focussed enhancements and power efficiency, this segment even boasts 5G capabilities in some cases. Choosing a winner was tough, and the decision to make for the 30-member jury of the Indian Gadget Awards 2020 was not an easy one.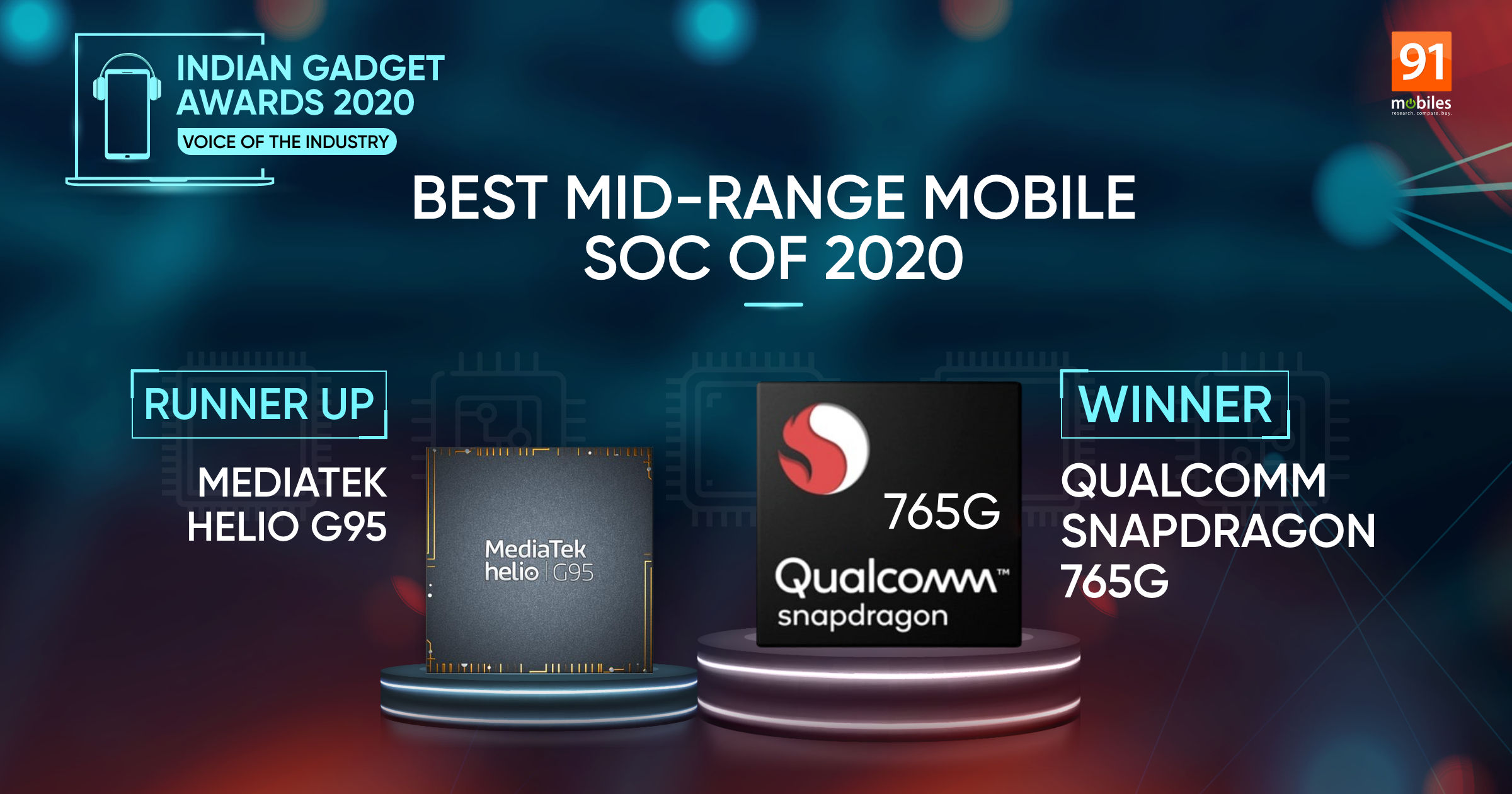 The Best Mid-range Mobile SoC of 2020 is: Qualcomm Snapdragon 765G
The Qualcomm Snapdragon 765G is a marvellous mobile chipset. It offers excellent overall everyday performance, hence bringing smooth usage, gaming and a hassle free experience to users without breaking their banks. The Snapdragon 765G borrows a lot from older Snapdragon 8 series chipsets, including features of AI processing, background efficiency and core gaming performance. All things considered, there wasn't a better mid-range processor than the Snapdragon 765G, which means that it ruled 2020 quite easily.
The runner-up for the Best Mid-range Mobile SoC of 2020 is: MediaTek Helio G95
MediaTek has a major mass-market volume in the budget space, but its aspirational Helio G95 has broken into the more premium segments as well. The Helio G95 offers great overall performance on the gaming front, and while it may not be as outright powerful or efficient as the Qualcomm counterpart, it is still quite clear that phones powered by the Helio G95 are no pushovers. No surprise to see, then, that 2020 saw frequent usage of MediaTek's flagship Helio G series processors in the upper rank smartphones.
The other nominee for the best mid-range mobile SoC of 2020 was:
Qualcomm Snapdragon 732G
The Snapdragon 732G was a consolidation of sorts, an incremental improvement over the Snapdragon 730G from the previous year. The reason for this was to make sure that this mid-range chipset stays relevant for longer and caters to the budget and mid-range smartphone segments alike.
For your reference, here is the full list of winners of Indian Gadget Awards 2020.