Here we are with yet another category of the Indian Gadget Awards (Voice of the Industry) – Best Selfie Phone of 2020. This winner was particularly tricky to choose since front cameras have just gotten incredibly good these last few years. But we do have a worthy winner, which we'll be revealing in a bit. Just like all other categories, this one too has been judged by a panel of 30 prominent voices from the industry in an event that is being co-hosted by 91mobiles, Geekyranjit, Trakin Tech, and MySmartPrice. That said, let's move on and tell you who the winner of the Best Selfie Phone of 2020 award is.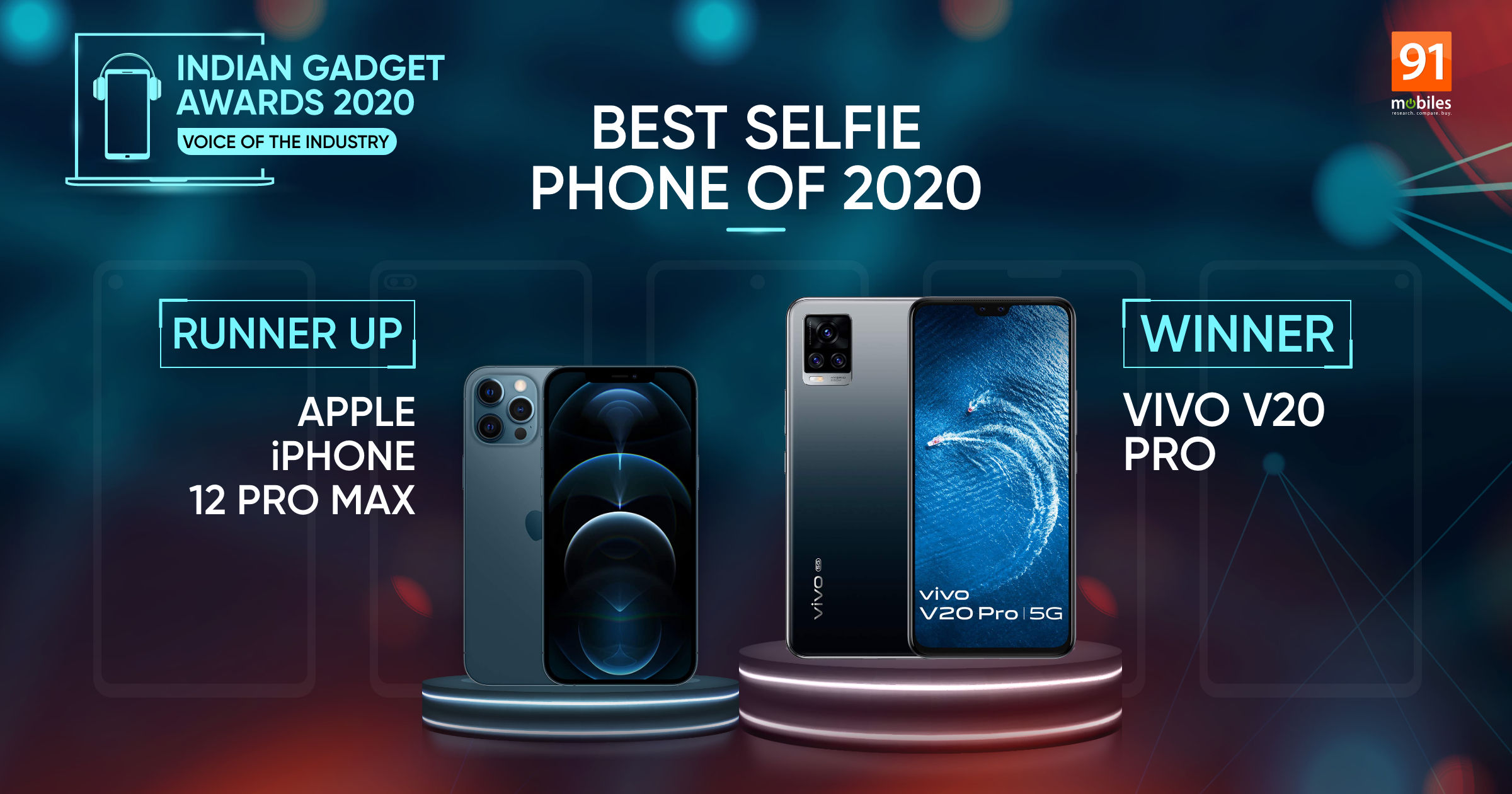 The winner of the Best Selfie Phone of 2020 title is: Vivo V20 Pro
The Vivo V20 Pro was the most worthy selfie-focused smartphone among the nominees, based on the collective opinion of our esteemed jury. The phone excels at capturing highly detailed and extremely sharp selfies. All this is made possible by its Eye Autofocus camera setup, which can sharply focus on subjects from 15cms away and zoom out to infinity. This dual-camera setup includes a 44MP main unit and an 8MP ultra-wide shooter that allows for the capture of group selfies. Apart from a selfie-focused night mode, the device also offers other useful features like 4K Selfie Video, Dual-View Video, Slo-Mo Selfie Video, and more. Anyone who has used the Vivo V20 Pro for clicking selfies will tell you that it delivers the most well-rounded front camera experience out there. It's no surprise then that the phone has won the Best Selfie Phone of 2020 prize in the Indian Gadget Awards.
Runner-up for Best Selfie Phone of 2020: Apple iPhone 12 Pro Max
An iPhone seldom goes wrong in the camera department, and this has once again been proven by the Apple iPhone 12 Pro Max. This new device's selfie camera has the same hardware as last year's iPhones – a 12MP main camera and an SL 3D sensor for depth. That's just about enough for capturing stunning selfies that are highly detailed and feature excellent contrast levels. But a big change this year was the introduction of the Night Mode to the front camera, which facilitated truly amazing results in dimly lit environments. Additionally, the Dolby Vision recording technology, which was one of the headlining features of this year's iPhones is present on the front camera as well, allowing users to capture videos with ample detail and 60 times more colours.
Just to refresh your memory, here are the rest of the nominees for the Best Selfie Phone of 2020:
Samsung Galaxy S20 Ultra
A 40MP selfie shooter can be found in the punch hole of the Samsung Galaxy S20 Ultra. This high-resolution camera is moreover, aided by PDAF, which ensures that the focus never misses its mark. The device can also capture 4K selfie videos at up to 60fps.
OPPO Reno 3 Pro
The OPPO Reno 3 Pro's selfie setup includes a 44MP main camera and a 2MP depth sensor. While the main snapper effortlessly captures crisp and highly detailed selfies, the depth sensor makes sure that your portrait selfies come out looking stunning as well.
OnePlus 8 Pro
The OnePlus 8 Pro carries on its front a 16MP selfie camera that delivers excellent selfies in all lighting conditions. It's especially good at capturing selfies in low light and the video quality of the front camera is also something worth raving about thanks to its gyro-based EIS.
Google Pixel 4a
On the front surface of the Pixel 4a is an 8MP sensor that's paired with an f/2.0 lens. This combination works brilliantly to ensure that your selfies always come out looking sharp and detailed. The Night Sight mode, which greatly improves photos clicked in low light, is also present on the front camera.
As you can see, the competition was tough, but the Vivo V20 Pro has emerged as the winner of the Best Selfie Phone of 2020 award.
For your reference, here is the full list of winners of the Indian Gadget Awards 2020.