2020 was all about staying indoors but that didn't stop selfie enthusiasts from clicking lots and lots of self-portraits and posting them on social networks. In this category of the Indian Gadget Awards, we'll be evaluating six smartphones to crown the Best Selfie Phone of 2020. Our jury of 30 experts from the Indian tech media community will be picking one that delivers the best selfies.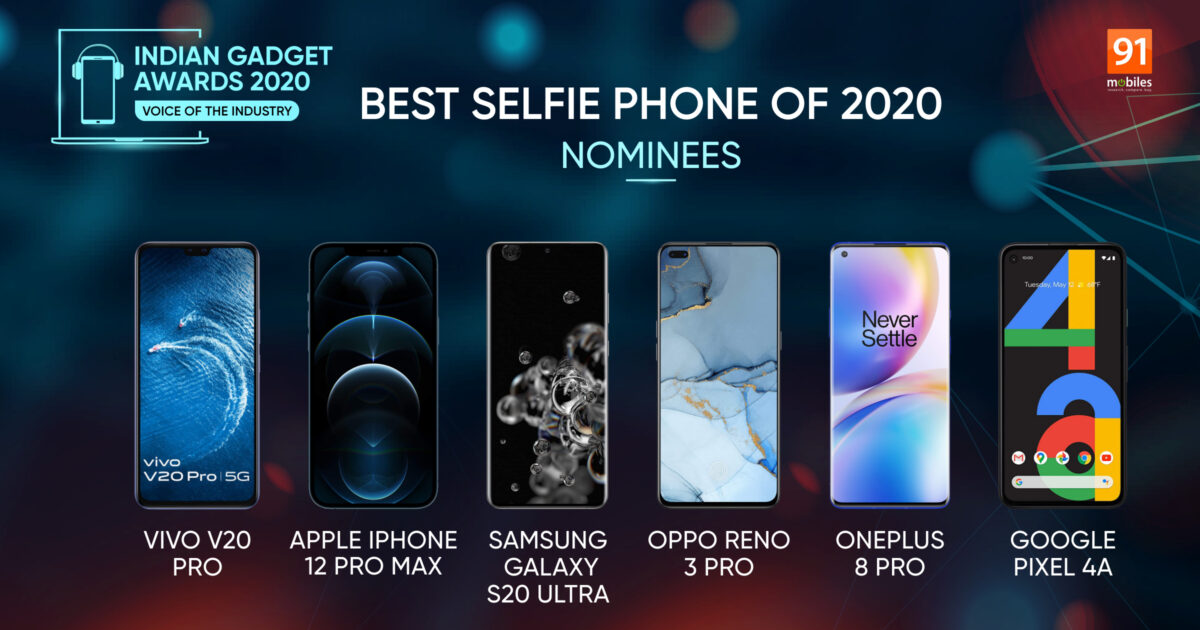 The first thing that anyone usually wants from a selfie phone is the ease of capturing selfies without having to tweak many features or add effects later. In that regard, all the phones that have been nominated have been proven to be handy selfie companions. Not just that, they have all ensured that they deliver a front camera experience that's adept at accurately capturing your facial features whether you're posing alone or with others. Let's take a look at the nominees for the best selfie phone of 2020.
The V20 Pro features what Vivo calls the Eye Autofocus Dual Front Camera. Its main 44MP camera uses eye-tracking to ensure that the focus stays steadfast no matter how much you move between clicking selfies. This camera is accompanied by an 8MP wide-angle shooter that allows for a 105-degree field of view along with distortion-correction, so clicking groupfies can be an effortless experience. Those are not the only things that earn the phone this nomination though. It also comes with an AI Extreme Night Mode for filing an appropriate amount of light in low-light images. 4K Selfie Video, Slo-Mo Selfie Video, and Dual View Video are some of this phone's other interesting selfie-related offerings.
The iPhone 12 Pro Max comes with the same 12MP front camera that was used by its predecessor and is also accompanied by the same Structured Light (SL) sensor for adding background blur. However, Apple has added some major improvements to this TrueDepth camera system with this year's iPhone, making it a highly attractive device for selfie enthusiasts. Apple's much-revered Night Mode has come to the front camera, allowing you to capture high amounts of detail and natural colour in low light selfies. Moreover, the Dolby Vision recording tech, which is a headlining feature for the rear camera system, has also made its way onto the front camera of the iPhone 12 Pro Max. Used by film studios, this technology captures videos with ample details and more colours.
This top-of-the-line Samsung flagship carries a 40MP sensor inside the punch-hole cutout on the front. Coupled with an f/2.2 lens, this camera is able to deliver sharp and detailed selfies in all lighting conditions. It also comes with PDAF to make sure that the focus never misses its mark. The auto-HDR processing features on the Samsung Galaxy S20 Ultra greatly enhance its image quality, while several AI features are always at work to deliver a hassle-free selfie experience. The phone can even capture 4K selfie videos at up to 60fps, making it a great device for vlogging enthusiasts.
The OPPO Reno 3 Pro's dual punch-hole on the front panel is home to a 44MP selfie camera and a 2MP depth sensor. This phone is a worthy addition to our list of nominees for the Best Selfie Phone of 2020 award, as it clicks crisp and detailed high-resolution selfies whenever you want them. Its depth sensor ensures that the bokeh effects come with background gradients that give a more refined look to your portrait selfies. There's even an Ultra Night Selfie Mode, which captures multiple shots and uses AI Noise Reduction to deliver high-quality selfies even in challenging lighting conditions.
The OnePlus 8 Pro is another worthy nominee in this category. It carries on its front a 16MP snapper, which is enough to shoot beautiful selfies in all lighting conditions. For those who use their front cameras for capturing videos, the gyro-based EIS system that OnePlus has equipped this phone with will come in very handy. It will ensure that there are minimal shakes to the video when you are walking while speaking to the front camera. Overall, the OnePlus 8 Pro delivers a great selfie experience that focuses more on image quality than on additional features.
Like the rear camera on the Pixel 4a, the front camera too provides an extremely satisfying experience. This 8MP front camera is paired with an f/2.0 lens that — coupled with the sensor's 1.12µm pixel size — makes sure that photos in low light are as stunning as those in regular lighting conditions. Plus, you also get the benefit of the excellent Night Sight mode on the front camera. Google's expertly crafted portrait mode doesn't need a second camera to ensure that your portrait selfies come out looking stunning every time you click them.