It's time to reveal the winner of the Best Smartwatch of 2020 award. There were some really interesting nominations in this category that throughout the year kept raising the bar for the kind of experiences smartwatches should provide. The Indian Gadget Awards (Voice of the Industry) wish to recognise all such technological innovations that made 2020 such a remarkable year for gadgets. This event — co-hosted by 91mobiles, Geekyranjit, Trakin Tech, and MySmartPrice — marks the coming together of 30 of the biggest in the tech media industry in this one-of-a-kind event. Let's see who the winner of the Best Smartwatch of 2020 category of IGA 2020 is.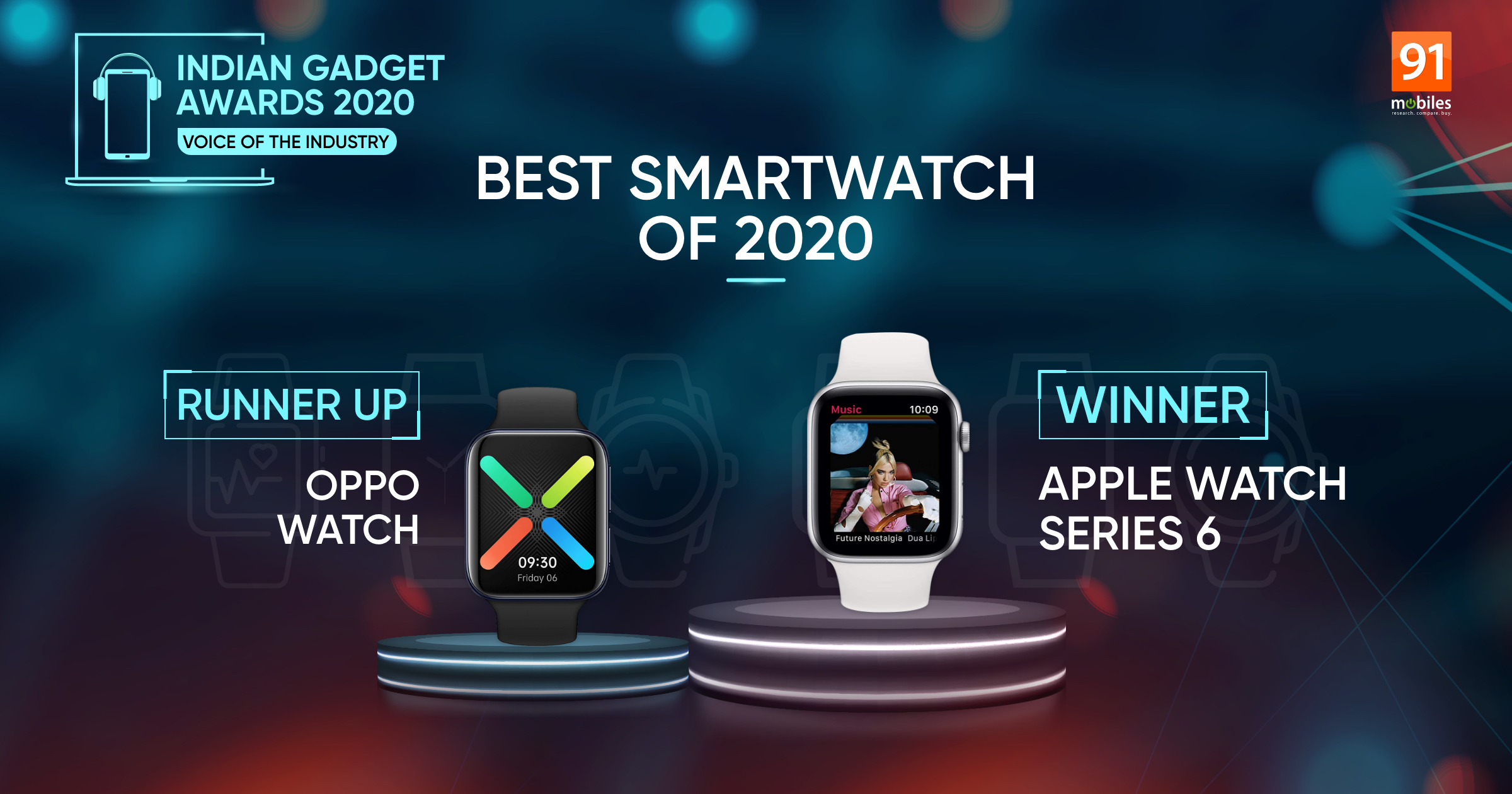 The winner of the Best Smartwatch of 2020 title is: Apple Watch Series 6
There were very few complaints from its predecessor, so the job of the Apple Watch Series 6 was pretty simple. Yet, the company added a whole bunch of impactful features to it, making it the most coveted wearable out there. It now comes with a sensor to monitor blood oxygen saturation, which is proving to be incredibly important during these times. Its software has also been laced with additional features. One among them is aimed at improving your mental health with mindfulness exercises. Another is the watch's ability to detect that you're washing your hands and encourage you to go for a full 20-second wash. Those and plenty more improvements have found their way into Series 6, making it a clear winner in the Best Smartwatch of 2020 category.
Runner-up for Best Smartwatch of 2020: OPPO Watch
The OPPO Watch was the first smartwatch from the company, and it turned out to be quite a hit due to the bang for the buck it delivers. This smartwatch ships with a gorgeous curved AMOLED display that accentuated by its premium design. Its Wear OS software makes sure that everything, from music control, text messaging, 24-hour heart-rate tracking, and exercise tracking to mobile payments, is taken care of. The OPPO smartwatch also guarantees excellent battery life, while offering VOOC Flash Charging support that can take its battery from 0 to 46 percent in just 15 minutes. Special 5-minute workouts come pre-loaded in the device for those who wish to quickly burn calories.
Just to refresh your memory, here are the rest of the nominees for the Best Smartwatch of 2020:
Apple Watch SE
The Apple Watch SE is a toned-down offering from the company, one that comes with all the essential features you'd expect from a smartwatch. It sports the same display as the Series 6 watch and carries inside it the Apple S5 wearable chip, which makes it twice as fast as the Apple Watch Series 3.
Samsung Galaxy Watch 3
Like the Apple Watch Series 6, the Samsung Galaxy Watch 3 also delivers a SpO2 sensor that helps in tracking blood oxygen levels. Moreover, it also offers a fall detection feature and an emergency feature that triggers a custom SOS alert to your emergency contacts when it detects that you have tripped and fallen.
Fitbit Versa 3
The Fitbit Versa 3 brings years of the company's rich experience of health tracking to the smartwatch realm. Apart from a heart rate monitor and a SpO2 monitor, it also kicks in an advanced sleep tracker that tracks sleep stages and gives a sleep score accordingly. Moreover, it also possesses the ability to track menstrual cycles.
Mobvoi TicWatch Pro 3 GPS
As its name suggests, Mobvoi's TicWatch Pro 3 GPS ships with built-in GPS and five GNSS (Global Navigation Satellite System) constellations that help in precise workout tracking. It's compatible with Android and iOS both and offers 10 different workout modes in its TicExercise app.
As you can see, there were so many excellent options to choose from but only one among them has managed to reign supreme!
For your reference, here is the full list of winners of the Indian Gadget Awards 2020.