Truly wireless earbuds are no longer novelties. In fact, they are as everyday a gadget as the smartphone, growing steadily in terms of market size helped by their ubiquitous presence across all price points. Through 2020, reputed audio makers all pulled their punches to bring forth truly wireless earbuds that offer much more than just impressive audio quality. Factors that the 30-member jury of the Indian Gadget Awards 2020 kept in mind while judging this category also included complementary features on the earbuds, fit and ergonomics, build quality, battery life, carrying ease, and more.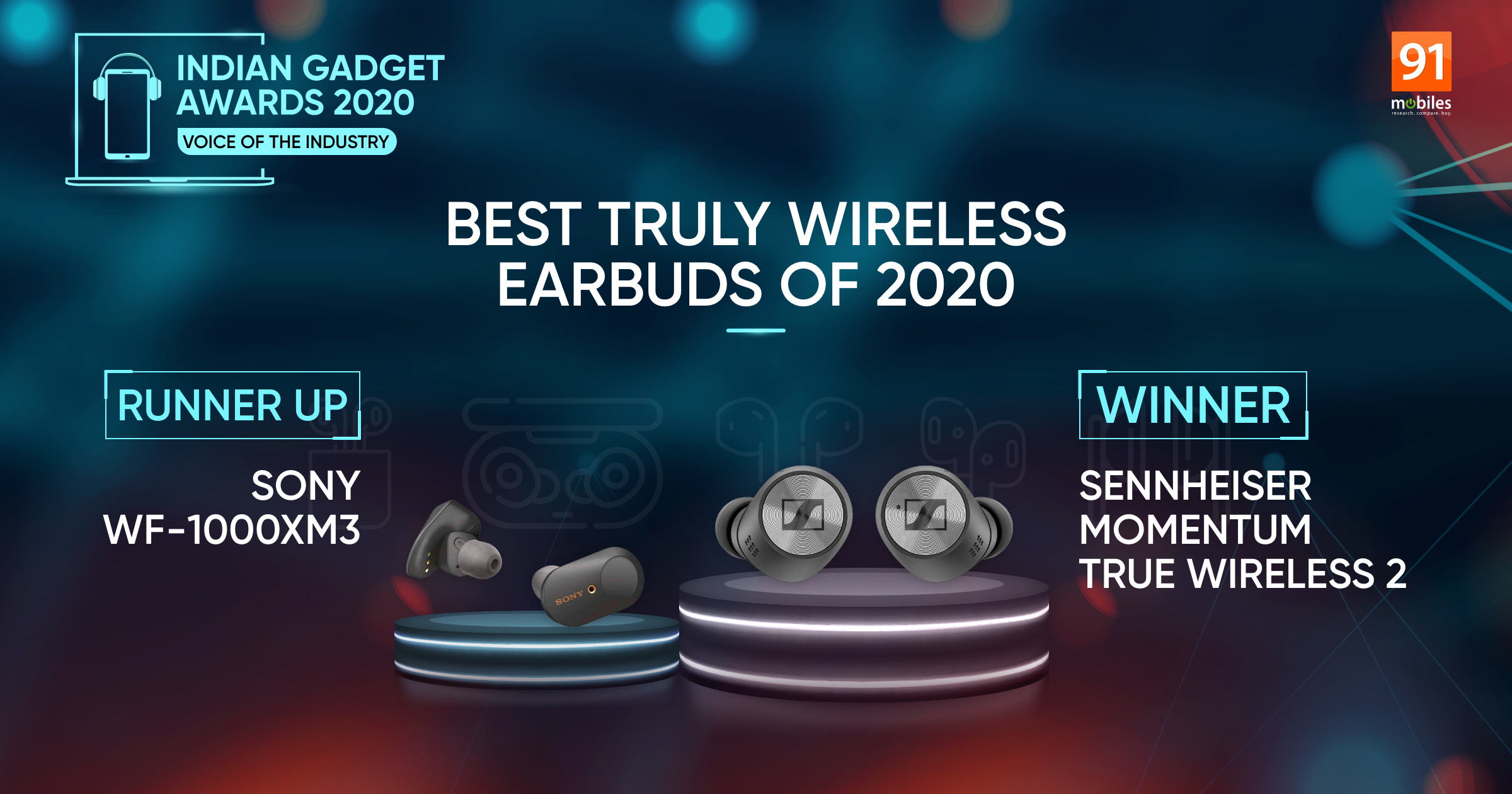 The Best Truly Wireless Earbuds of 2020: Sennheiser Momentum True Wireless 2
The Sennheiser Momentum True Wireless 2 struck sharp in their first generation itself, bringing an uncommon but premium overall build quality and matching it with suave design. Now, they have further bettered audio quality with sharper audio response from their dynamic drivers, and combining all of this with active noise cancellation, IPX4 durability rating to ensure that you can easily carry them along for workout sessions, and overall battery life of close to 30 hours that actually delivers on that promise. They are a wholesome pair, and more importantly, deliver everything in a no-fuss, simplified overall package.
The runner-up for the Best Truly Wireless Earbuds of 2020: Sony WF-1000XM3
The Sony 1000X lineup has a venerable market reputation, and its latest offering in the truly wireless space is the WF-1000XM3 — a pair that brings forth the typical audio response and performance that the flagship Sony earbuds have offered in other formats. It matches this performance with active noise cancellation, and a whole bunch of fancy features to go with it. These include automatic wear detection, adjustment of noise cancellation based on atmospheric pressure and ambience, a quick listening mode, and more.
The other nominees for the best truly wireless earbuds of 2020 were:
Jabra Elite 85t
Jabra's true wireless products have typically been known to offer great value, impressive audio quality and great overall durability for gym and workout usages. The Elite 85t continues this legacy, and further fine-tunes the active noise cancellation performance on offer.
Samsung Galaxy Buds+
Samsung's swanky new Galaxy Buds+ offers a sleek pair of earbuds that look stylish, and sound good too. The real USP of these earbuds is how light they are — just 6 grams — therefore being very well geared to help those who keep their earbuds on for long hours.
Shure Aonic 215
Professional audio company Shure has been steadily entering the consumer audio categories with more energy, and the Aonic 215 TWS are a testament to that. The pair offers all the features that you'd expect from pro earphones while maintaining Shure's studio-grade audio authenticity.
Samsung Buds Live
Samsung's new kidney beans, aka the Buds Live, also claim to offer flagship-grade audio performance, while experimenting with the overall fit and ergonomics. The Samsung Buds Live are a valiant effort in finding a universal earbuds design that can fit all, while being super comfortable and snug.
Here is the full list of winners of Indian Gadget Awards 2020.