The value-for-money smart TV market has been growing steadily over the past few years, and 2020 really saw it take flight. Among factors such as more brands launching smart TVs at increasing frequencies, the work from home trend arising and spending more time at home also pushed us to watch more TV than we probably have ever before. As a result, competition for the top spot in this category was equally difficult — and coveted. After much debate, our esteemed 30-member jury of this edition of Indian Gadget Awards narrowed down on the worthiest products in this segment, including the one that truly pushed the bar and surpassed the expectations of consumers and experts alike.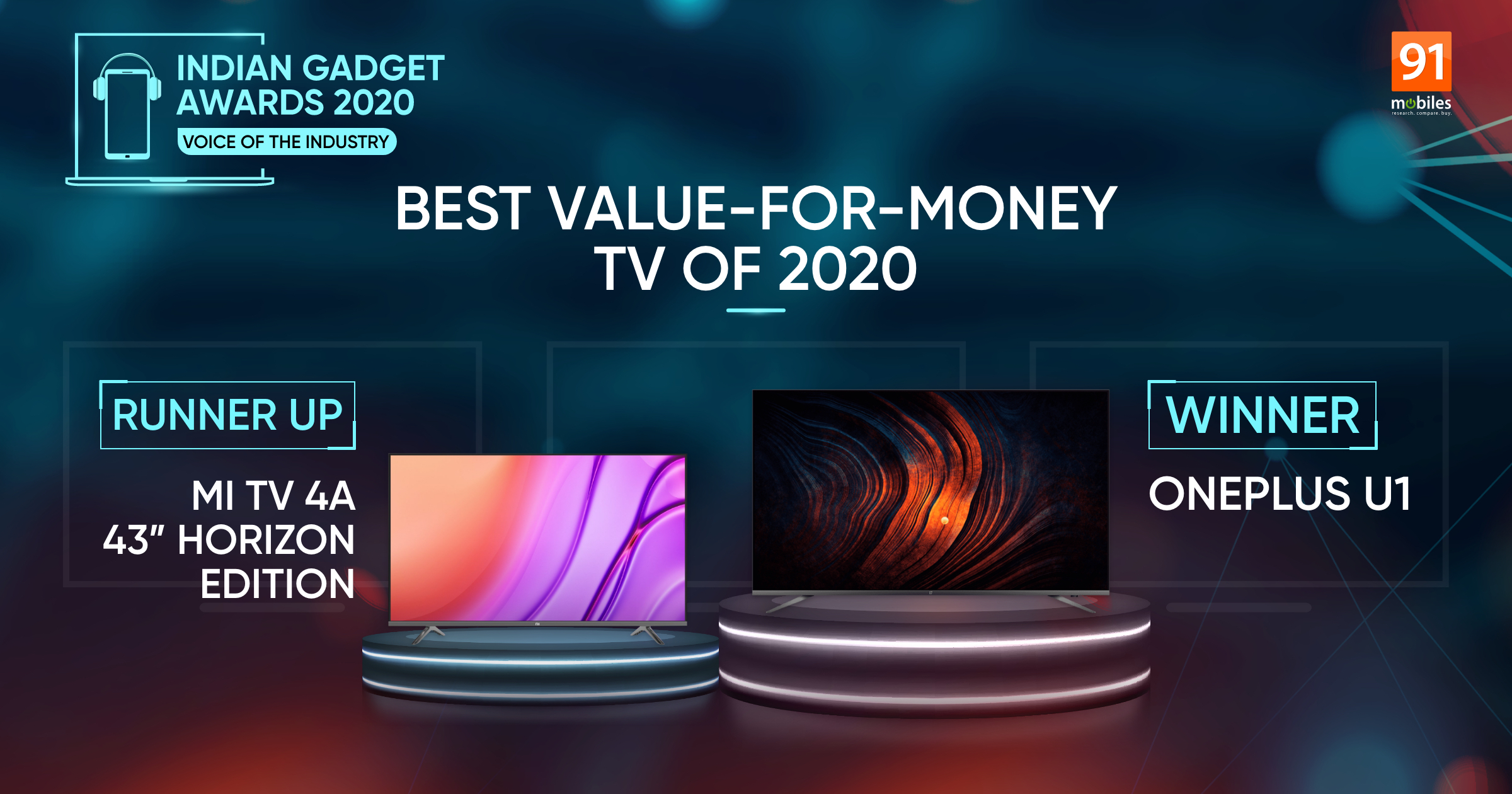 The Best Value-for-Money TV of 2020 is: OnePlus U1
Our best value-for-money smart television of 2020 was OnePlus' first attempt at an "affordable" TV, after debuting in the smart TV space with its QLED range. The OnePlus U1 essentially offered every single thing you would want in a smart TV, while offering a premium overall build quality and the general finesse that you would associate with more upmarket or traditional TV makers. It doesn't attempt to do anything fancy or out of the ordinary; instead, it delivers reliable picture quality with appreciable upscaling and robust audio delivery, which is all that you'd really demand from a TV in the long run.
The runner-up in the value-for-money TV segment is: Mi TV 4A 43-inch Horizon Edition
Xiaomi can be safely credited as being the company that set the affordable smart TV ball rolling in India, and its Mi TV lineup is still going strong. In fact, its 2020 offering — the Mi TV 4A Horizon Edition is as 'value for money' as you'd want a TV to be. At the heart of this TV is pragmatism — even in today's world, most of us really stream content at full HD. Still many of us have space constraints at home, therefore making a large TV impractical. The Mi TV 4A Horizon Edition offers you all the features that you'd want from an industry-standard smart TV, but does so in a full HD, compact package.
The other nominees for the best value for money smart TV of 2020 were:
Realme SLED TV
Realme entered the smart TV space with a new display technology aimed at improving the strengths of LED TV panels. Its SLED TV is a valiant first attempt, which also threw in focus on eye strain to give you a TV that claims to protect you during long TV watching hours.
Motorola Revou 55-in
Motorola joined Nokia's rank to cash in on its brand familiarity in India, by introducing its own TV lineup. While it stuck to tested LED panels, Motorola became one of the first to offer Android TV 10 out of the box. An integrated soundbar with the TV further sweetened the deal.
TCL 55C715
TCL's TVs have remained very consistent over time in offering great picture quality and competitive features. Come 2020, and TCL attempted to further improve the one area where it has faced considerable criticism, its smart TV interface, to offer a TV that you'd love to keep for years.
Vu Premium 55-in 4K
Vu has long promised to take India to the global list of top TV manufacturers, and its 'Premium' range of smart 4K TVs for 2020 was yet another rendition of what the TV maker can offer. To cash in on local viewing habits, Vu has been touting a 'cricket' mode in its TVs as its key USP.
Samsung The Frame 2020
Samsung's new Art series televisions are proof that innovation does not need to be only about technological improvements. Samsung's The Frame is a TV that doubles up as an art canvas, and when working as a TV, does all you'd desire from a flagship QLED TV. The best part? It doesn't even cost a bomb to do all of that.
For your reference, here is the full list of winners of Indian Gadget Awards 2020.