Innovation, or useful innovation to be precise, is possibly the biggest liability on technology's shoulders. We see new innovations on a regular basis, but how many of them really impact us in the long run? That's precisely what our jury at the Indian Gadget Awards judged the nominations on, to narrow down on the most innovative gadget of 2020. Standing out in a sea of smartphones, laptops, TVs and wearables launched through the entire year is no mean feat. One thing is sure… the most innovative gadgets of 2020 can definitely lead the way for others to follow.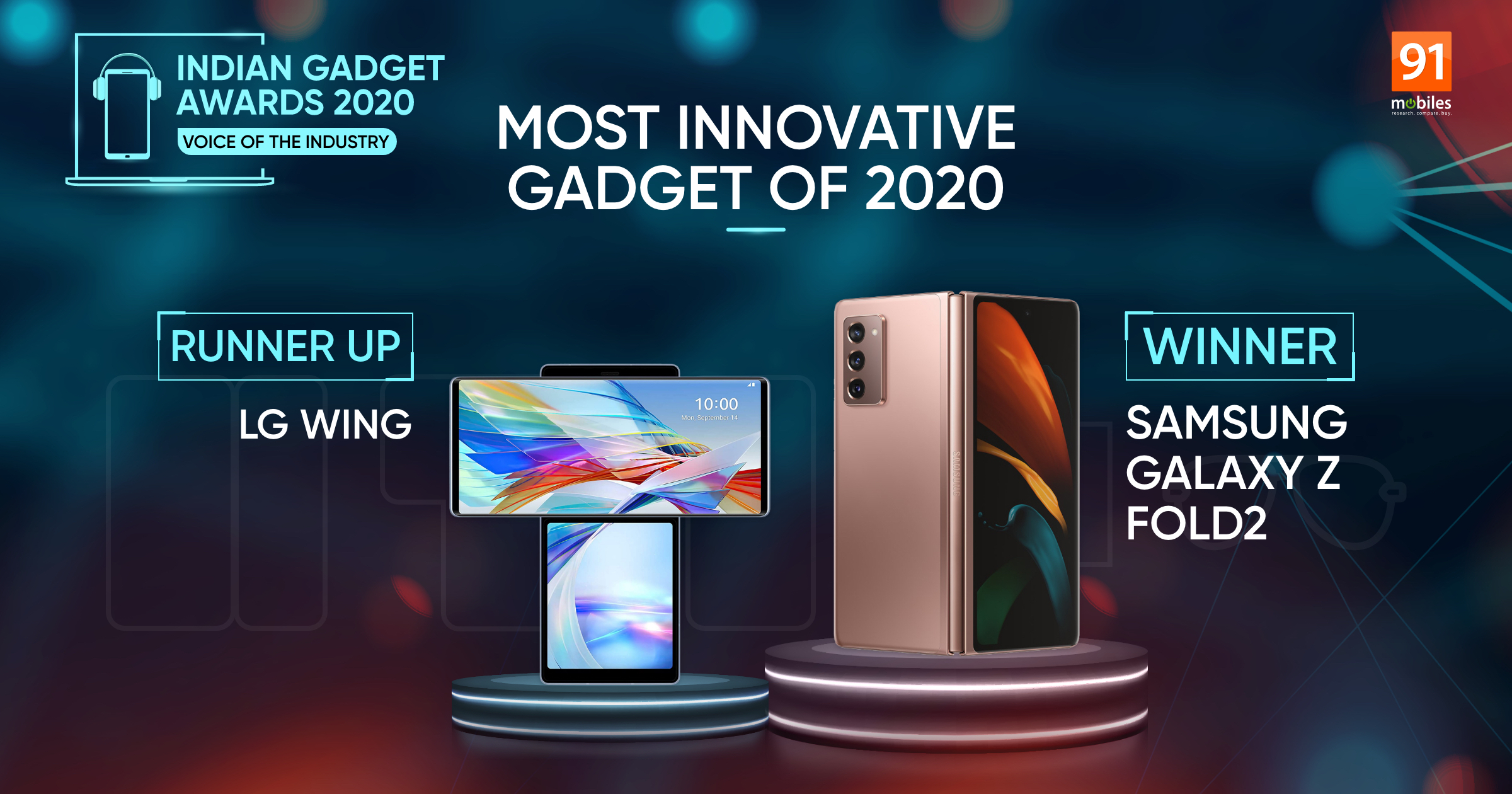 The Most Innovative Gadget of 2020 is: Samsung Galaxy Z Fold2
The Samsung Galaxy Z Fold2 comes together as one beautiful, cohesive unit that has made major strides towards making foldable phones an everyday reality. At the core of its innovation is the use of technology to reinforce its build, sturdy up its hinges, and make sure that it is a smartphone that can last the rigours of being subjected to regular use. With a new hinge technology, better displays and cameras, and sure to increase app support for continuous flow through displays, the Samsung Galaxy Z Fold2 has showed us that smartphones are ready to break out of the mould that we created for them.
The runner-up for the Most Innovative Gadget of 2020 is: LG Wing
So LG's two-screen offering may not be the most practical, but what's innovation without a bit of flamboyance? That's exactly what the LG Wing offers. It has two displays, with one on top of the other, and they swivel on each other. The result — a phone that looks like a glass cross when folded out, one that can also do quite a bit more than the average smartphone. That's exactly why it makes the cut in terms of innovation, for even if the LG Wing will likely always remain unconventional, it has proved to us that innovative ideas for smartphones can be made in practical, production form. Way to go, LG!
The other nominees for the most innovative gadget of 2020 were:
Samsung The Sero
Just like LG decided to make a full display swivel around on a hinge with the LG Wing, Samsung decided to do this on a larger size. The result is The Sero — a Samsung TV that can turn on a hinge to be oriented both horizontally and vertically. It is a testament to vertical videos on social media, which is a reality that we all know and acknowledge.
Moto Razr 5G
Motorola decided to play possibly the best nostalgia card till date, with the Moto Razr 5G. It brought the iconic Razr back from the dead, and used its sleek form factor, and combined it with Android and 5G connectivity to give a phone that harks back to the good old times of phone design.
Vivo X50 Pro
The Vivo X50 Pro has tried to take smartphone videography to the next level by using a mechanical stabilisation process that actually fits within the sleek confines of a smartphone's body. It has certainly paved the way for such stabilisation tech to be adopted in the future.
Samsung Odyssey G9
This massive overkill of a monitor has proved how gaming monitors can be in the future. A giant slab of curved glass that flickers fast enough to show us smooth graphics has existed over the past years, but Samsung has taken it a notch further by offering it in a practical layout.
Snap Spectacles 3
The Spectacles 3 by Snapchat bring to you 3D photography and 3D filters, which means that you can now wear these glasses in public, take images of what you see with 3D depth, and apply filters that also adapt to this 3D space. Sounds fun?
Here is the full list of winners of Indian Gadget Awards 2020.