The Indian Gadget Awards 2020 are by far the biggest, most prestigious set of tech awards in the country, and a true voice of the industry. We say this because these awards have 21 of the biggest tech publications and YouTube channels participating, and a total of 30 jury members. However, in reality, you dear reader, are the ones whose participation helps make this exercise huge. It's your opinion that really matters, which is why we asked our readers to choose their favourite brands and smartphones, and received over 50,000 votes. This particular Users' Choice awards category focusses on the Most Loved Phone Brand of 2020, and lists 14 of the biggest names in the smartphone world as nominees.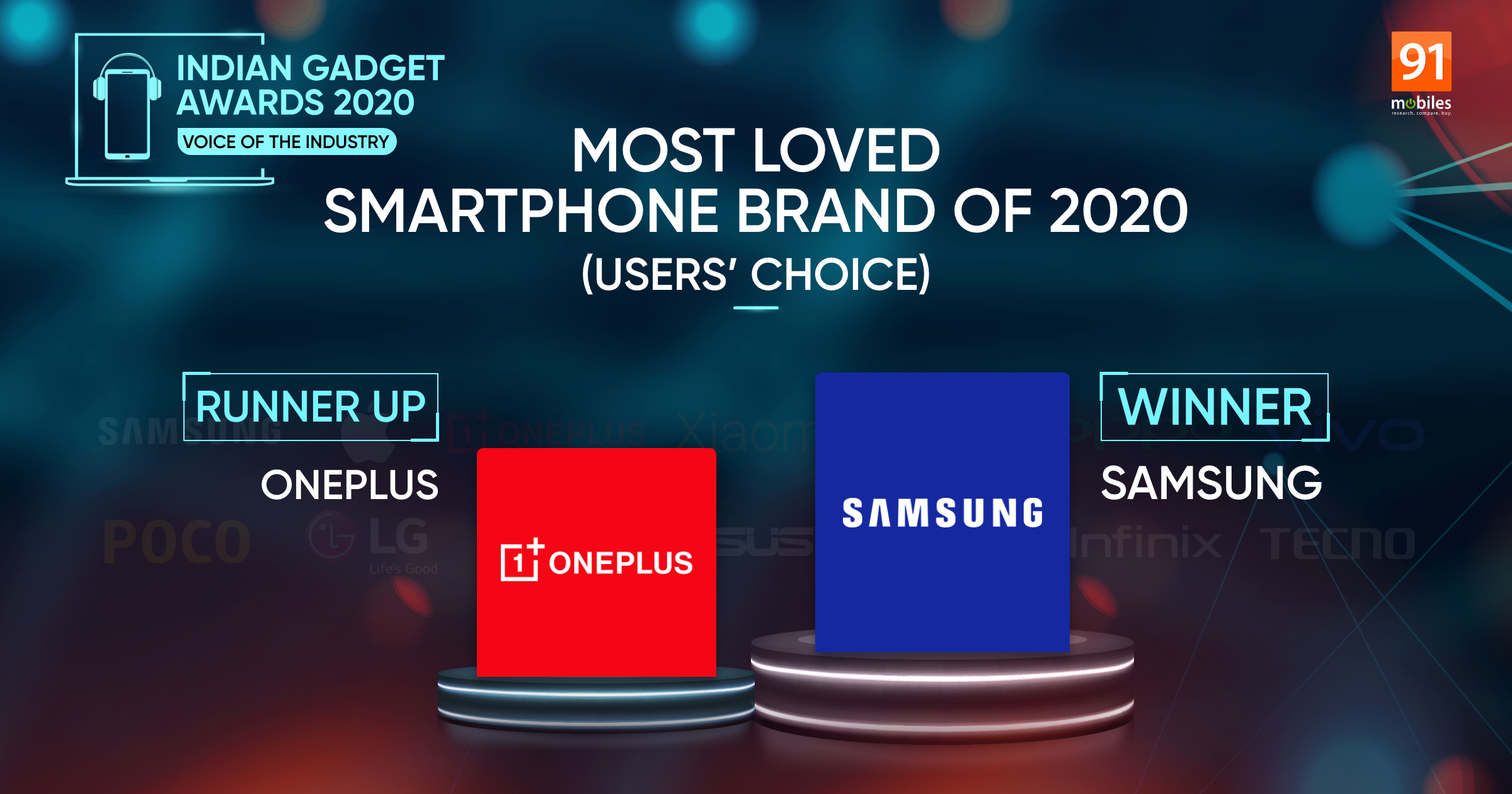 The winner of the Most Loved Phone Brand of 2020 Users' Choice title is: Samsung
Samsung seems to be doing a lot of things right, for it has emerged as the favourite phone brand of a vast majority of our readers and viewers. The key of course has to be a solid product lineup. Samsung is the only smartphone brand in the country which has offerings spread across the full price spectrum, covering all categories like budget, mid-range, affordable flagship, and going all the way up to premium flagship. The brand seems to have played its cards right, and seems to have amassed a loyal following across its M, A, S and Note series of smartphones. In fact, it now has a new F series in the mix as well. Apart from ensuring each of those series has several compelling options for potential buyers to choose from, programs like Galaxy Assured, Reward Yourself and Galaxy Forever kept users engaged with the brand and loyal as well. Congratulations brand Samsung, on winning this highly prestigious award!
Runner-up for the Most Loved Phone Brand of 2020 Users' Choice title is: OnePlus
OnePlus is well known for changing the game. It has been going that very consistently ever since it landed in India, and managed to create a lot of hype around its smartphone, and also, build up a loyal fan following. In the year gone past, the brand changed tact by re-entering the mid-range phone segment and disrupting it with the OnePlus Nord, a smartphone that set benchmarks for rivals to follow. Even in the flagship space, OnePlus' 8 series offerings kept challenging premium smartphones and giving them a run for their money, which is something that has been the brand's core philosophy ever since the beginning. Here's to never settling!
Here are the rest of the nominees for the Most Loved Phone Brand of 2020:
Apple: The Cupertino giant was nominated for its iconic iPhones and for upping the ante with each new generation.
Xiaomi: This electronics brand has single-handedly disrupting quite a few product segments, and continues to come up with one compelling phone after another.
Realme: Won its nomination due to its aggressiveness, changing the face of the affordable phone segment, and showing phenomenal growth in a short period of time.
OPPO: OPPO is a brand high on innovation, and while does seem to have had a quiet year, we're looking forward to bigger things from it.
Vivo: Stuck to its core ethos of offering great designs and innovating heavily on the camera prowess of its smartphones.
POCO: Nominated for coming out of its parent brand's shadow and trying to carve out its own identity with devices like the POCO X2 and X3.
LG: For offering solid smartphones with superb audio capabilities, and trying new things with devices like the LG Wing.
Google: Nominated for its sharp focus (pun unintended) on the camera and delivering a smooth user experience without trying to follow the herd.
ASUS: For its emphasis on use cases like gaming and coming with devices that follow the memo to the T.
Micromax: This Indian brand keeps trying hard to re-enter the smartphone space, and its recent offerings have been quite compelling too.
Infinix: For being the underdog in the budget space, offering VFM options that score high on many aspects.
Tecno: For being able to deliver value in a highly competitive space and coming up with smartphones that could appeal to the masses.
For your reference, here is the full list of winners of Indian Gadget Awards 2020.