Highlights
The Indian smartphone market witnessed a decline for the first time in 2020

Xiaomi continues to lead the Indian smartphone market with 27 per cent market share
Samsung, Vivo, and Realme occupy the second, third, and fourth positions, respectively.
A new survey by market research firm IDC (International Data Corporation) reveals that the Indian smartphone market witnessed a decline in 2020 for the first time after several years of growth. It also sheds light on the market share held by several leading smartphone OEMs such as Samsung, Realme, and Xiaomi. IDC attributes the YoY drop in annual shipments between 2020 and 2019 to the COVID 19 pandemic, which severely restricted the sale of smartphones throughout the country last year. Despite the overall slump, over 150 million smartphones were shipped in India, which is quite impressive, considering the circumstances.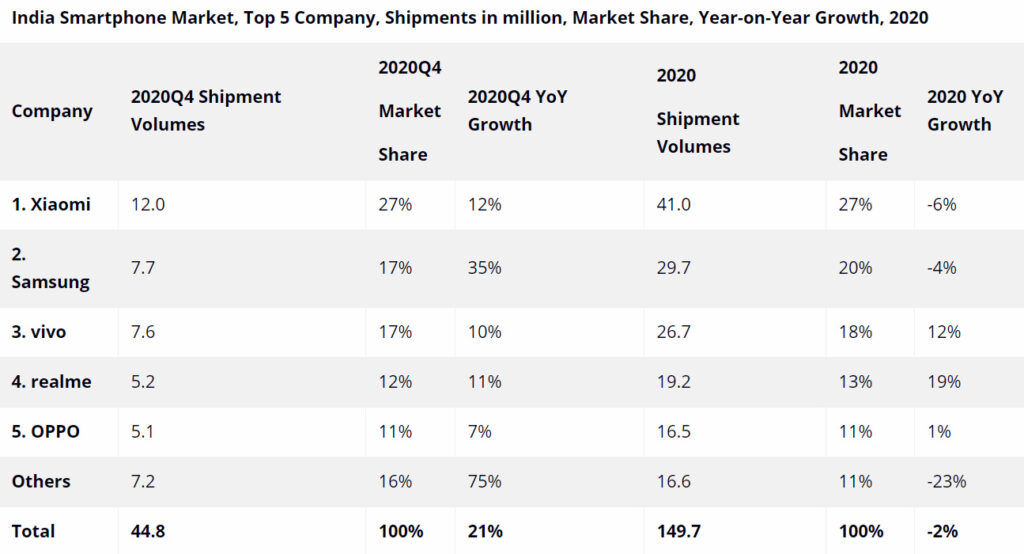 Xiaomi dominates the smartphone market in India
Xiaomi continues to maintain its lead over Samsung, Realme, OPPO, and Vivo with 27 per cent market share in Q4 2020 and managed to ship over 12 million smartphones in the time period. This is thanks to the Redmi 8 series, with the Redmi 9 series taking over in the second half of 2020. Samsung comes in second, with a 17 per cent market share and 7.7 million units. However, both Samsung and Xiaomi seem to have lost a little ground to Vivo and Realme, who witnessed 12 per cent and 19 per cent growth in Q4 2020, respectively. It is a bit surprising to Vivo to rise through the ranks, considering that their Q4 2020 offerings have been lukewarm, at best.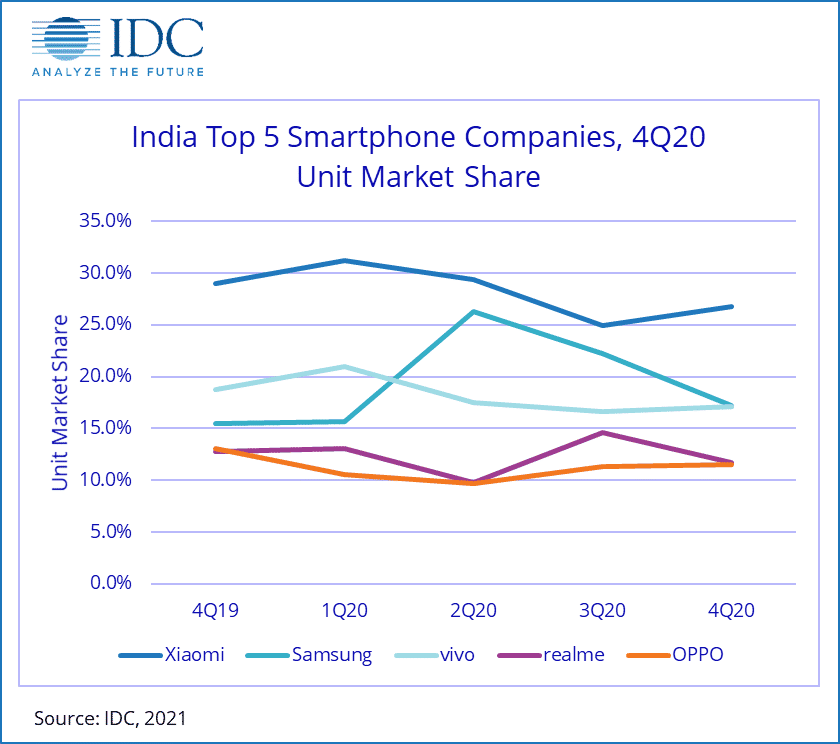 Despite the overall slump, the general market trend has remained more or less the same in 2020. Chinese OEMs continue to dominate the Indian market with their impressively-specced, affordable offerings, while Indian OEMs struggle to keep up. With the lockdown-related restrictions all set to decrease, we can expect the Indian smartphone market to shoot back up next quarter. Once again, Xiaomi will very likely top the charts thanks to its upcoming Redmi Note 10 line of smartphones. Realme shouldn't be too far behind either. Once 5G trials start in major cities, 5G-ready smartphones will be all the rage.