"More than 37 million smartphones were shipped to consumers in India in the second quarter of 2019"
India is one of the biggest smartphone markets in the world. In Q2 2019, the smartphone market in the country saw its highest ever second quarter. A total of 36.9 million smartphones were shipped to consumers, which is a 14.8 percent increase over the same quarter last year. It is also a 9.9 percent increase year-on-year. The data is courtesy of a new report by the International Data Corporation (IDC). The report also states that about 69.3 million mobile devices were shipped to India in Q2 2019, which saw an increase of 7.6 percent compared to Q1.
This new report from IDC is in line with a recent one from Counterpoint, which also showed that smartphone shipments in Q2 2019 had reached a record high. Both the reports peg Xiaomi as the market leader in India. The highest shipments were by the online channel thanks to offers, EMI options, online only launches, cashbacks and more. It saw a 12.4 percent growth year-on-year, whereas the offline channel only saw an 8.5 percent increase in sales. The offline sales were mostly driven by the marketing for IPL, Samsung's Galaxy A series, and Xiaomi's offline expansion.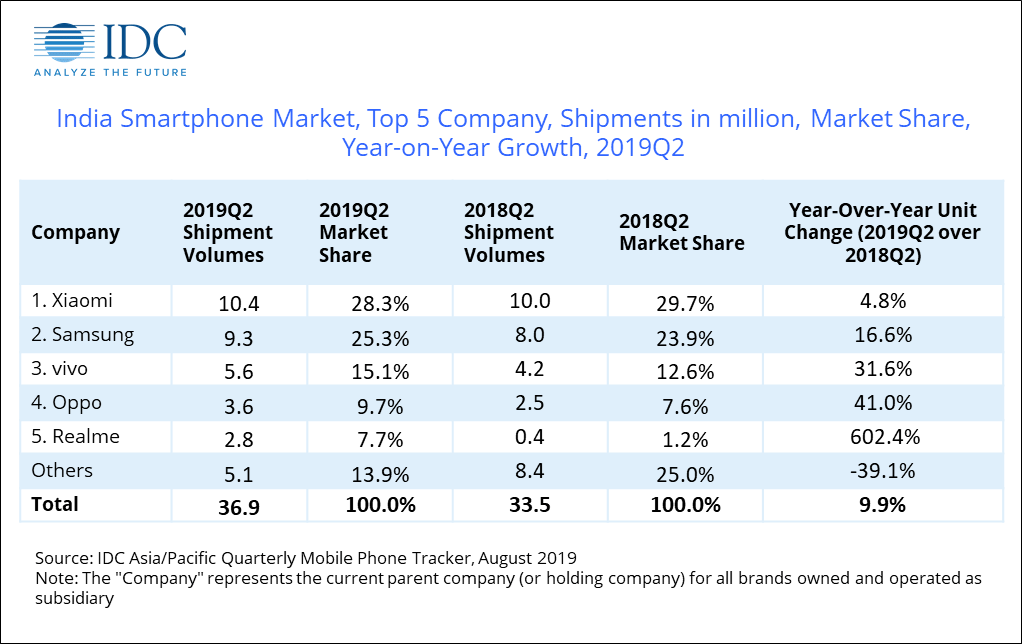 The average selling price of smartphones during Q2 2019 was around $159, with over 78 percent of the market seeing sales of phones costing less than $200. Smartphones priced between $200 and $300 saw the fastest growth thanks to customers wanting to upgrade. It was also due to the fact that Chinese smartphone brands were offering innovative technology and flagship features at affordable pricing. OnePlus led the smartphone sales in the $400 to $600 segment with the help of the latest OnePlus 7 phones.
In the higher premium segment, Apple beat Samsung thanks to higher demand for the iPhone XR due to price cuts. Overall, Xiaomi was crowned as the market leader, followed by Samsung, Vivo, OPPO, Realme, and the others. Both OPPO and Vivo saw strong growth thanks to the latest A3s, A1K, and the A5s from OPPO, and the Y91 and Z1 Pro from Vivo. Realme had a great quarter as well, with the brand coming in second in the online shipment space. The feature phone market saw a decline of 26.3 percent year-on-year with only 32.4 million units shipped in Q2 2019.