Highlights
Xiaomi (including POCO sales) sold close to 5.3 million units, capturing 30.9 percent of overall market share
Despite witnessing a drop of 20 percent YoY, Apple was the least impacted brand among the top 10 vendors
Samsung settled in third with 2.9 million shipments and 16.8 percent market share
Smartphone shipments in India drastically declined in the second quarter of 2020 due to the coronavirus pandemic that caused production disruption and import delays, according to research firm Canalys. India witnessed a total of 17.3 million shipments in India in Q2, compared to 33 million the same quarter last year. This is a whopping 48 percent drop. However, Xiaomi sold close to 5.3 million units, including its POCO sub-brand, and thereby captured 30.9 percent of overall market share. However, in Q2 2019, the brand shipped close to 10.3 million phones and had a 31 percent market share. Xiaomi was followed by Vivo with 3.7 million shipments in the quarter, compared to 5.8 million in Q2 2019. The company's market share grew from 17.5 percent to 21.3 percent in Q2 2020 even as shipments declined on y-o-y basis.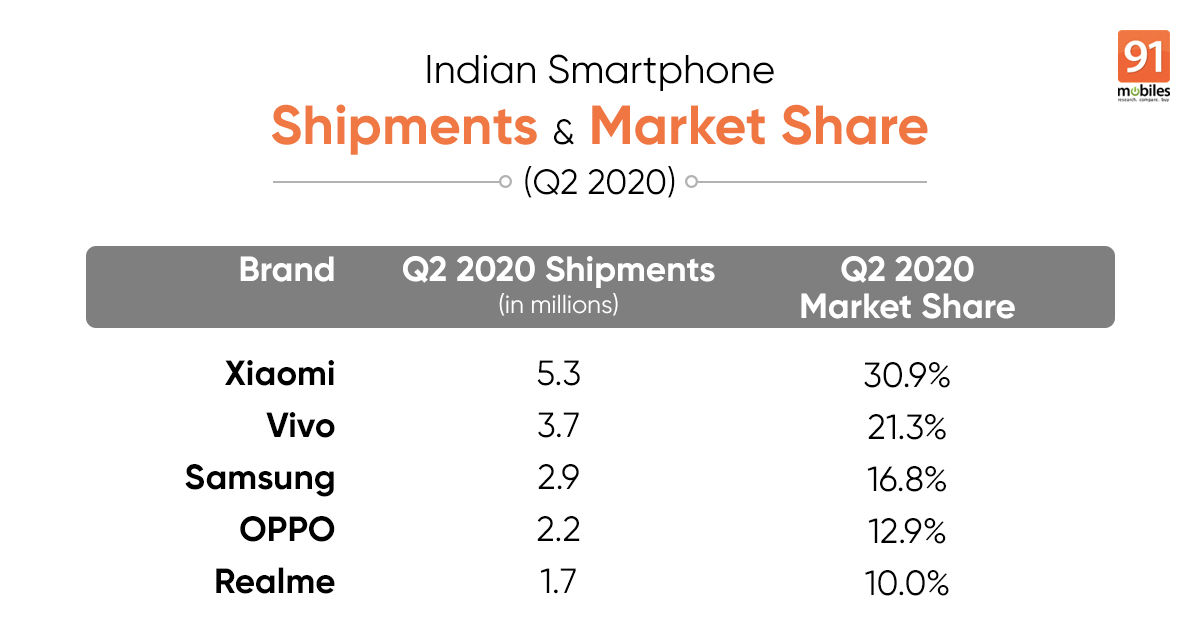 Samsung, which shipped 7.3 million units and had a market share of 22 percent during the same quarter last year, slipped to third position with 2.9 million shipments and 16.8 percent market share. OPPO came in at fourth position with 2.2 million shipments and 12.9 percent market share. This is a drop from 3 million units sold in Q2 2019. Lastly, Realme managed to land in fifth position with 1.7 million units sold and 10 percent market share. This is a decline from 2.7 million units from the same quarter last year. Other brands shipped 1.4 million and managed 8.1 percent market share. Interestingly, Apple witnessed a drop of 20 percent YoY; however, Canalys says that the brand was least impacted among the top 10 vendors.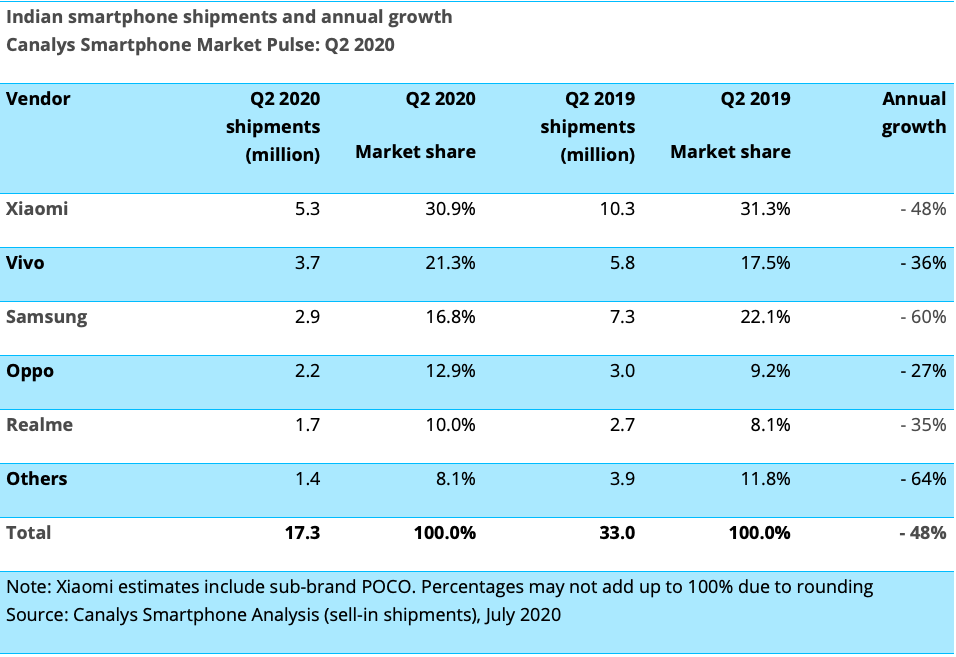 Canalys analyst Madhumita Chaudhary said, "While vendors witnessed a crest in sales as soon as markets opened, production facilities struggled with staffing shortages on top of new regulations around manufacturing, resulting in lower production output. The fluidity of the lockdown situation across India has had a deep-rooted effect on vendors' go-to-market strategies. Xiaomi and Vivo have undertaken an O2O (offline-to-online) strategy to support their massive offline network. Online channels, too, while seeing a positive effect of the pandemic on market share, have seen sales decline considerably."

With Jio announcing that it is ready to deeply 5G network as soon as the spectrum is made available, vendors who suffered due to the COVID-19 pandemic are now finding new hope, Canalys said in its post.