"IDC's quarterly mobile phone tracker has revealed the upsurge of the likes of Vivo, Realme and OPPO, while Xiaomi and Samsung continue to hold fort"
Quarterly smartphone shipments in India have reached the highest-ever figure of 46.6 million units for July-September 2019, revealing the strong growth pace seen in India against the steadily sluggish global smartphone market. During the festive season, smartphone OEMs in India reportedly shipped a record high of 46.6 million units, resulting in 9.3 percent growth over last year. The online sales channels are finally showing their might in providing orders and discounts against the offline channels, accounting for its highest-ever shipments share of 45.4 percent of the entire industry.
In terms of OEM-wise rankings, Xiaomi saw an 8.5 percent yearly increase in shipments to maintain a lead and reach 27.1 percent in market share. Samsung had a fairly disappointing pre-festive season, with shipments down 8.5 percent and market share down to 18.9 percent. The biggest benefactors of the Indian industry appear to be Vivo, Realme, and OPPO, which now stand third, fourth, and fifth respectively to hit 15.2 percent, 14.3 percent, and 11.8 percent market shares, respectively. While Vivo grew 58.7 percent annually and OPPO shipments rose by 92.3 percent, the most drastic of the lot is Realme, which expanded in shipment figures by over 4x.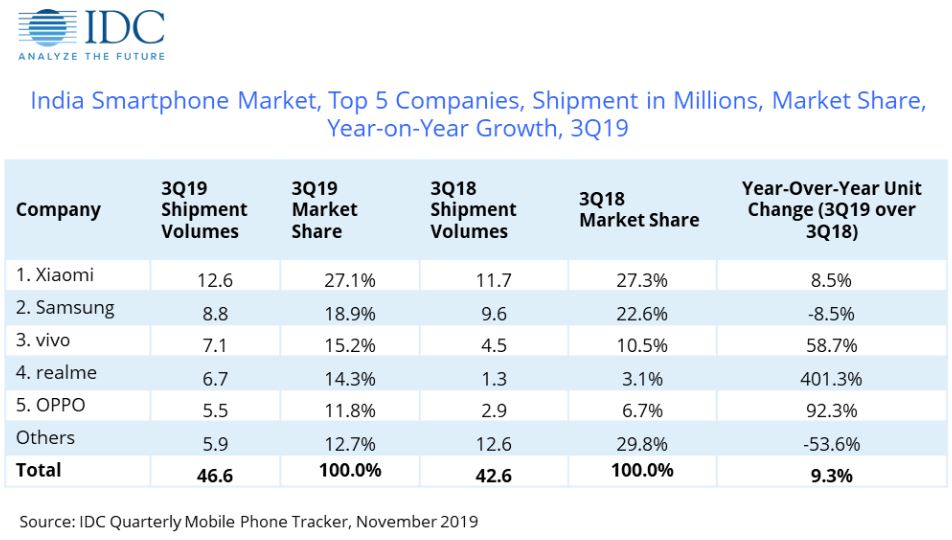 According to IDC's latest Q3 2019 numbers, the festive sales have exceeded smartphone sales from Q3 2018, bringing shipment numbers up by 26.5 percent from Q2 2019. While the numbers have received significant boost from aggressive online brand campaigns, the offline market has slowed down by 2.6 percent annually, even though it still remains the largest contributor to mobile phone sales in the country. The sub-Rs 15,000 (under $200) smartphone segment reportedly witnessed a marginal decline, even though it continues to account for 80 percent of all devices sold in the country.
The category of devices priced between Rs 15,000 and Rs 40,000 (~$200-$500) have noted a marginal increase than before, showing a positive market shift towards high median price of devices. The segment with devices priced between Rs 20,000 and Rs 40,000 was reportedly the fastest growing in this quarter, with IDC naming OnePlus 7, Redmi K20 Pro, and Vivo V15 Pro as the key contributor to a segment that saw shipments nearly double over last year.
The price bracket of Rs 15,000 to Rs 20,000 attracted the second-highest rate of growth at 47.8 percent annually, buoyed by devices like the Redmi Note 7 Pro, Samsung Galaxy A50, and so on. At above $500, which is considered the 'premium' market, Apple continues to enjoy a stronghold, and the latest iPhone 11 prices have made it further compelling in this category.