"The new Intel vPro chipsets offer better performance and improved security with Intel Hardware Shield"
Intel has announced the new 8th generation Core vPro mobile processors that will bring better performance, battery life, faster Wi-Fi, and improved security to notebooks. The new chipset is based on Intel's Whiskey Lake architecture. According to the chipmaker, these chipsets will provide up to 65 percent improvement in performance and up to 11 hours of battery life.
The new Intel vPro chipsets can be configured with the Intel Wi-Fi 6 modules to provide fast Wi-Fi 6 connections to users. It offers Bluetooth 5.0 with the Wireless AC 9560 RF transceiver chip. All of this will allow for faster streaming, video conferences, and more. Manufacturers can also add the Intel XMM 7360 M.2 chip that features LTE Cat. 10 for super fast data connectivity. These new chipsets are meant for business users and employees who want faster performance on the go.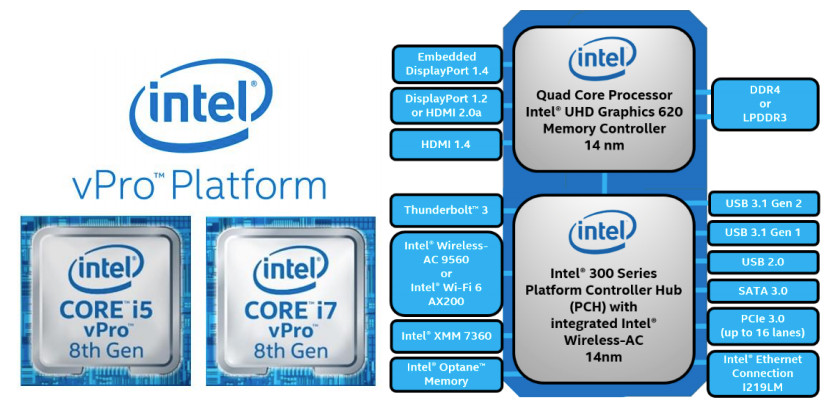 The chipsets also support faster 40Gbps Thunderbolt 3, has 16 PCIe 3.0 lanes, and USB 3.1 Gen 2 with 10Gbps transfer rate. It also comes with the new Intel Optane memory H10 SSDs to make the system even faster. Now you can launch apps quicker, multitask with ease, and transfer large files faster. The chipset features Intel UHD 620 graphics with DDR4 or LPDDR3 memory. Finally, alongside the new vPro processors, Intel has also launched the Hardware Shield technology.
The Intel Hardware Shield Technology provides extreme protection to your system and helps defend against attacks. It will make sure that your OS is running on original hardware and provide hardware to software security. This will mean that both your hardware and software are secured well. Intel also announced that it will be working with manufacturers such as Dell, HP, Lenovo and several others to bring the new chipsets to market, soon.
HP has already announced a bunch of new laptops from its ZBook and EliteBook range, which will be available next month, with the new 8th generation Intel Core vPro processors. You can expect other manufacturers to follow suit and update their products with the latest chipsets.