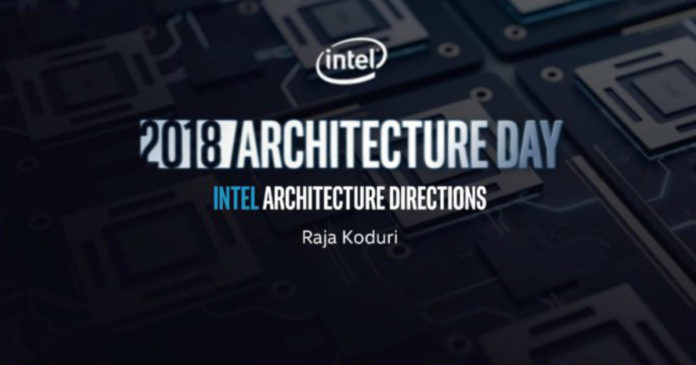 "Intel is simultaneously improving the potential of its integrated graphics solutions and releasing Deep Learning Reference Stack, among other future-forward technologies"
Intel's Architecture Day event, held in Santa Clara, California, has been a rather productive one this year. After all the struggles that the company has faced with 10nm manufacturing process for desktop processors and underwhelming mobile performance, Intel seems to be hitting back at the charts with a bunch of new architectures and technologies, in a bid to take computing platforms forward. The new announcements involve an all-new CPU architecture, a 3D-stacked packaging technology for logic chips, sharper integrated graphics, improved memory and storage standards, and more. Of course, putting it like this somewhat trivialises the gravity that the updates announced carry, for they are the ones that will be powering a majority of our computers going forward.
Sunny Cove
Intel has stated that the new Sunny Cove microarchitecture will debut late 2019, in a future generation of Xeon (server) and Core (customer) lineups of processors. Among the highlighted features of the new architecture are an enhanced architecture that enables its processors to execute more parallel operations, a new bunch of algorithms that reduce latency of operations, larger buffers and cache memory to handle the increasingly large pools of data that general, and modern-day computing entails. More importantly, it brings specific enhancements to the architecture that will allow it to improve computing prowess majorly around very specific operations, such as artificial intelligence tasks, cryptography, and more.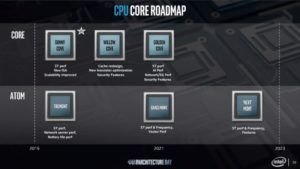 Intel also states that Sunny Cove will improve per-clock performance, as well as efficiency of power consumption in general processing tasks. The new Sunny Cove architecture is possibly a new base architecture, which is confirmed to be built on Intel's 10nm architecture. In essence, this appears to somewhat be the 10nm+ architecture, falling in the 'plus' cycle since Intel finally seems to have grasped the nuances of the 10nm fabrication standard. Its products might be seen under the codename Ice Lake-U once we reach the end of 2019 and will precede an eventual move to the 7nm process, which Intel is already confirmed to be working on.
Foveros
Intel's fancy name for its new 3D stacking of logic chips is not in essence an all new technology — 3D-stacked packaging has been around in memory chipsets and sensors for quite some time. What makes Foveros stand out is that this is the first instance of stacked logic chip integration in the entire industry. Stacking logic chips make for a high-density, enhanced performance chipset that still consumes lesser power than conventional die.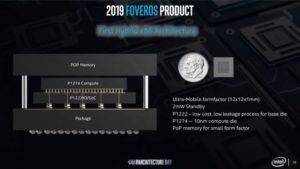 In a press statement, Intel says, "Foveros is expected to extend die stacking beyond traditional passive interposers and stacked memory to high-performance logic, such as CPU, graphics and AI processors for the first time. The technology provides tremendous flexibility as designers seek to "mix and match" technology IP blocks with various memory and I/O elements in new device form factors. It will allow products to be broken up into smaller "chiplets," where I/O, SRAM and power delivery circuits can be fabricated in a base die and high-performance logic chiplets are stacked on top."
This, too, will debut in product form in late 2019, with 10nm-fabricated high performance stacked chipsets, which will presumably have some sort of benefit in the eventual form factor of a device. Maybe this is when we will finally see laptop-replacing tablets in the true sense, given the potential of amplified performance.
Gen11 graphics
Continuing the rather amusing lack of creativity in naming in the line of Intel's integrated graphics solutions is its next generation architecture, Gen11. The next generation of integrated graphics in Intel chipsets will feature 64 execution units (EUs), up from 24 EUs in Gen9 integrated graphics. The increase in power is expected to break the 1 teraflops performance barrier, and double the performance per clock available in Gen9. The new standard will be integrated into 10nm processors made available in early 2019 itself, and while this does not really challenge a discrete graphics card's performance, it significantly improves playability and rendering. This may be particularly useful for mid-range laptops, in the general sense.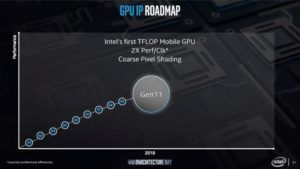 Intel further stated, "Gen11 graphics is expected to also feature an advanced media encoder and decoder, supporting 4K video streams and 8K content creation in constrained power envelopes. Gen11 will also feature Intel Adaptive Sync technology enabling smooth frame rates for gaming."
Other announcements
While these were the key takeaways from the Intel Architecture Day event, some other announcements included plans to build a discrete graphics card by 2020; the launch of One API project that provides developers with a unified portfolio of tools to map software specific to hardware; Intel Optane DC memory and storage standard that further speeds up transfer rates; SSDs based on Intel's 1TB QLC NAND die and their performance benefits; and the open source Deep Learning Reference Stack for Xeon scalable platforms.