"The Apple iOS 13.2.2 update is a part of a long list of updates that have been steadily fixing a number of broken iOS 13 features."
Apple is now rolling out the iOS 13.2.2 update for users worldwide. The update seemingly fixes the much-discussed background app refresh issue, where Apple's aggressive memory management algorithm in iOS 13 was causing apps in the background to shut down in background, even during brief interludes and on Apple's latest hardware. Rolling out today, other aspects of Apple's changelog include fixes for abrupt network unavailability after a phone call, random disconnection of mobile data, inability to read encrypted email messages, and single sign-on authentication and charging issues.
Ever since the rollout of iOS 13, Apple has come under heavy fire for rolling out updates with several bugs and broken features. The most notable of the lot was Apple's RAM management issue. Users took to forums across Apple's own site, Twitter, and Reddit to talk about the rather abrupt issue, where background apps began to crash even within one minute of not being used. The presumable factor behind this was that Apple was maintaining its margin of available memory at a significant value in order to keep the overall device performing smoothly.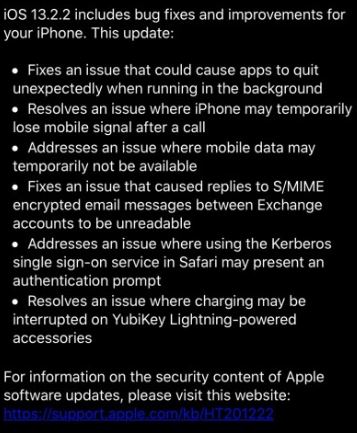 However, such a factor was debilitating to any form of multitasking, where even switching over to the Messages app to retrieve one-time passwords would lead to the banking or payment app pages reloading. As a result, having a smooth UI with such a tradeoff made practically no sense, particularly on devices like the iPhone XS and iPhone 11 lineups. With iOS 13.2.2, the issue is being ironed out, along with other sticky bugs that would cause iPhones running iOS 13.2 to lose cellular connectivity after disconnecting a phone call.
Users also faced random mobile data disconnection issues with iOS 13.2, as well as reported encrypted emails becoming unavailable to read. While iOS 13.2.2 is fixing a whole bunch of broken features, Apple is believed to have multiple granular updates lined up in future, which will hopefully fix all the known issues. The latest update is only about 100MB in size, which should come as some respite for Apple's millions of users worldwide.