"iOS 13.2.3 is yet another minor update and arrives just 11 days after the last previous iOS 13 update"
Apple is currently seeding a minor iOS 13 update to all compatible iPhones and iPads. The iOS 13.2.3 update includes several fixes for bugs related to the Mail, Files, and Notes apps. It also fixes a bug related to the Messages app, along with background content download issues with apps. The previous update was also a minor one and it fixed an issue where some apps would quit immediately when in background. Apple's rollout of iOS 13 has been plagued with issues, but the company has been releasing fixes quite quickly. The last major iOS 13 update was iOS 13.2, which brought Deep Fusion and AirPod Pro support to the latest iPhone 11 series.
iOS 13.2.3 is a minor update and won't take too long to install on your device. We do recommend that you download and install the update as it fixes some important bugs. For example, the update quashes a bug that caused the search function to not work within system apps such as Mail, Files, and Notes. It also fixes a bug with the Messages app where the chat may not display links, attachments, and photos.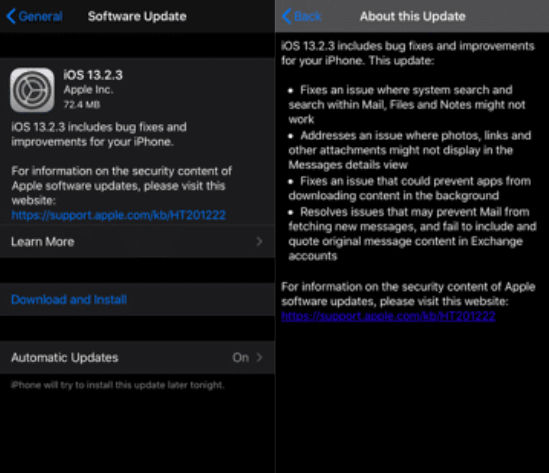 Apple states that the update fixes another bug that sometimes prevented certain background apps from downloading content. This would mean that apps wouldn't download important information when in the background state, and which adversely affects multi-tasking. Also, the update fixes a bug related to the Mail app, where it wouldn't be able to fetch new emails or the original message content on Exchange accounts. Although this is a minor update, it does fix a bunch of important bugs.
With iOS 13.2.2, Apple also fixed an issue where the iPhone would temporarily lose cell service after a call and lose cellular data. As mentioned earlier, the company has been rolling out bug fixer updates every other week or so. The iOS 13 is a big update and it brought several changes to the Apple mobile operating system. One of the most important changes was the inclusion of Dark Mode, but it also got other features such as an improved Photos app, Reminders app, Look Around view in Maps, better Photo editing interface, Deep Fusion technology, and more.