Highlights
Will help public health agencies develop apps that make use of the Exposure Notification API

Apple and Google say that around 22 countries across the globe have received access to the API

iOS 13.5 update will skip FaceID authentication quickly and offer access to the passcode screen if it detects the user is wearing a mask
Apple has released the iOS 13.5 stable update to the public. This brings the COVID-19 Exposure Notification API, which is an opt-in feature that can be enabled from the system settings. It will allow public health agencies use apps that leverage the Exposure Notification API. Once a user enables the feature and also installs an app that utilises said API, the device will constantly transmit a beacon via Bluetooth that includes a random Bluetooth identifier. The Exposure Notification API with will download a list of keys for the beacons that have been verified as belonging to people who are COVID-19 positive and check them against the list. If there's a match, the user will be notified about further steps.
Privacy features are built into the Exposure Notification API. 'Temporary Exposure Keys' are now generated randomly instead of being obtained from a tracing key, and all the metadata linked with Bluetooth is encrypted to further safeguard the identity of a person. Apple and Google say that most of the states in the US and 22 countries across the globe have received access to the Exposure Notification API. Additionally, with the iOS 13.5 update, iPhones or iPads will now jump from FaceID authentication and take you quickly to the passcode screen if it detects you're wearing a mask. This also works automatically with App Store, Apple Books, Apple Pay, iTunes, and other apps that support signing in with FaceID.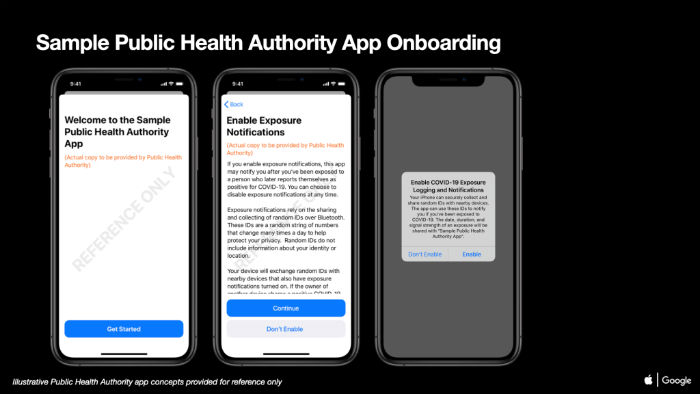 The iOS 13.5 update also lets you disable automatic face zooming feature in a group FaceTime call. It brings an option to automatically share health and other essential information from your Medical ID with emergency services during an emergency call. It also fixes an issue that shows a black screen when playing a streaming video from some websites and another in the share sheet where suggestions and actions may not load. The iOS 13.5 and iPadOS 13.5 updates are rolling out to compatible Apple phones and tablets now.